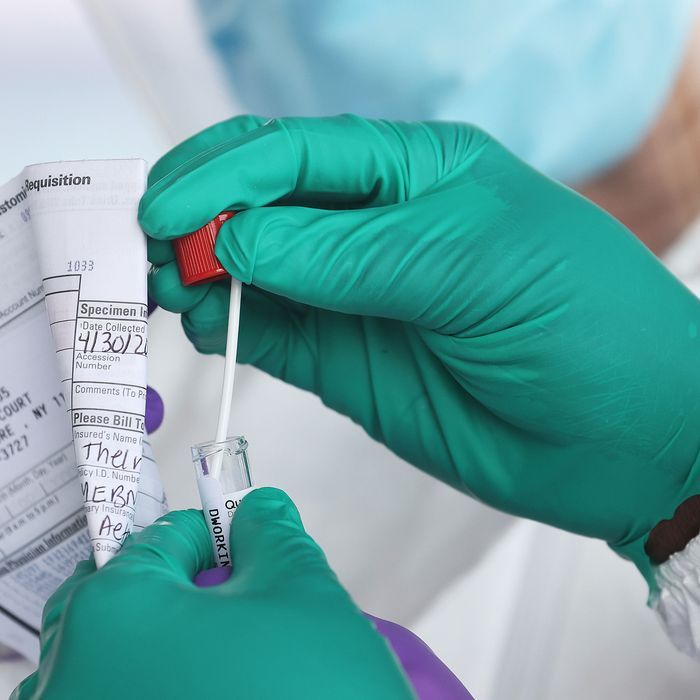 Photo: Al Bello/Getty Images
In mid-November, scientists in South Africa (which has a robust genetic-sequencing program) discovered a new variant of the coronavirus, which the WHO has since named Omicron. The WHO has categorized Omicron as a "variant of concern," joining previous strains Alpha, Beta, Gamma, and Delta — the latter of which is currently the predominant strain in much of the world. To earn the label "variant of concern," a variant needs to meet one or more of three diagnostic criteria: basically, that it is more transmissible, is more severe (or different in symptoms), or reduces the effectiveness of available vaccines and medicines.
In response to South Africa's announcement, a number of nations — including the United States — banned travel from the country (at least among noncitizens), a measure some scientists say does little to slow the spread. The first case of the Omicron variant in the U.S. was identified in California, and it is spreading rapidly, now comprising 13 percent of cases in New York and New Jersey. In response, President Biden has announced a plan to make at-home COVID tests reimbursable by insurance, and to require international travelers to show proof of a negative COVID test a day prior to flying into the United States.
Health officials are racing to learn more about the new variant, and there's a lot they don't yet know. Here is what we do know so far.
How do you pronounce Omicron?
Although it sounded as though President Biden and Dr. Anthony Fauci repeatedly referred to the "omni-cron" variant in an early press conference, the consensus seems to be that it's pronounced "ahm-ih-cron" or "ohm-ih-cron."
Is Omicron more transmissible than Delta?
The WHO recently stated that Omicron spreads faster than any previous variant. The Omicron variant has already been identified in more than 77 countries. "It moves fast," says Michael Osterholm, an epidemiologist and a member of Biden's COVID-19 advisory board. "I have little doubt that this is going to become the dominant variant in the very near future for much of the world."
On Saturday, December 18, CNN's medical analyst, Jonathan Reiner called the Omicron variant "the most contagious virus that we've ever seen," and compared it to the measles.
Is Omicron more severe than previous variants?
There are some indications that Omicron may result in generally milder symptoms than earlier strains, but the WHO has warned against interpreting "mild" too liberally, and says that people with underlying health issues and the unvaccinated remain at risk of severe disease.
Osterholm adds that because the earliest reports of Omicron were seen in otherwise young, healthy adults, we can't assume infections will be mild for everyone. "As an epidemiologist, having worked on many, many emerging disease outbreaks, you have to be very careful about those early reports," he cautions. "We can often see two weeks or more delay between the onset of cases and the actual onset of severe disease." Because the Omicron variant was discovered so recently, and because hospitalization and death are lagging indicators, we don't yet have a clear picture of the strain's severity — and large numbers of mild cases can still overwhelm hospitals.
Will the vaccines be effective against Omicron?
Existing vaccines still protect against severe disease and death as a result of the Omicron variant but have reduced efficacy against infection. Booster shots are currently recommended in order to bolster one's defenses against Omicron, but it is particularly essential for the unvaccinated to get vaccinated.
Ratner adds that vaccine-makers can adapt current vaccines to protect against this new strain (something they have already begun working on). "That's an example of the power of the mRNA platform for this disease," he says. "You're not starting from square one." It's still unclear whether an Omicron-specific shot will be necessary, though, and it would likely take "three and a half to four months" to develop, Osterholm says.
What can I do now to protect myself from Omicron?
First and foremost: Get vaccinated if you haven't been. The vaccines protect very well against severe illness caused by Delta, which remains the most dominant strain in the United States. If you're an adult and haven't yet received a booster shot, you should do so, according to the CDC.
Vaccinated and unvaccinated people alike should continue wearing masks indoors (outside the home) and distancing when possible. "Even before this variant, we were seeing upticks in COVID activity across big regions of the country," says Ratner. "It's frustrating because I think we should all be doing much more than we are in terms of masking when indoors with groups of people you don't live with."
What should I do if I think I've been exposed to Omicron?
On December 27, the CDC cut its recommended isolation period in half for those exposed to all COVID variants if they are asymptomatic. Rather than isolating for ten days, the CDC now says those who test positive for COVID and don't have any symptoms can shorten their isolation period to five days, followed by five days of mask-wearing when around other people. If an unvaccinated person or someone who has not received the booster is exposed to COVID, they should follow a similar protocol: quarantine for five days followed by five days of masking around others.
The CDC says this change reflects data they've been gathering since 2020, which shows that COVID transmission typically "occurs early in the course of illness." However, some are skeptical of its timing. On December 21, the CEO of Delta Airlines, Ed Bastain, wrote a letter to CDC director Rochelle Walensky asking that the agency reduce its recommended quarantine period from ten days to five for those who test positive with a breakthrough case of COVID. Bastian cited the current impact on his company's workforce as his reason for asking. The letter's contents were confirmed by Reuters. The CDC declined to give Reuters any comment on the switch in relation to Bastain's letter.
Regardless of the change, the agency recommends those who test positive and are showing symptoms continue to isolate if they are still symptomatic after those initial five days. "It is vital people stay home and test when sick and adhere to recommended masking in order to mitigate the spread of #COVID19," Walensky tweeted, "especially as we continue to see more of the #OmicronVariant."
Should I cancel my holiday plans?
Not necessarily, but you should exercise caution. "The pandemic is not over," says Javaid. "All plans of all sorts need to be taken with a grain of salt."
While we're in a much better position than we were last holiday season, Ratner says certain limitations still apply: "Should you be having large gatherings indoors with lots of unvaccinated people? The answer to that is no, regardless of this variant."
On Sunday, December 19, Dr. Fauci advised caution even among the vaccinated and boosted. "Be prudent in everything else you do: When you travel in your indoor settings that are congregated, wear a mask," Fauci said during an appearance on CNN's State of the Union. He also warned that, the way things are going, it's "going to be a tough few weeks to months as we get deeper into the winter." In a separate appearance on NBC's Meet The Press, Fauci warned that the Omicron spread could lead to more breakthrough infections, but said that they would likely me much more mild than among the unvaccinated. "There's a major difference with regard tot he risk of severity," he said.
Still, there's no need to despair or panic-cancel any plans just yet. If you're vaccinated and boosted, and so are the people you hope to gather with (and if any children who can't yet be vaccinated are tested beforehand), "I think that's still appropriate relative to Omicron," says Osterholm. For extra security, the CDC also recommends rapid/at-home COVID-19 testing prior to larger holiday gatherings.
This post has been updated.