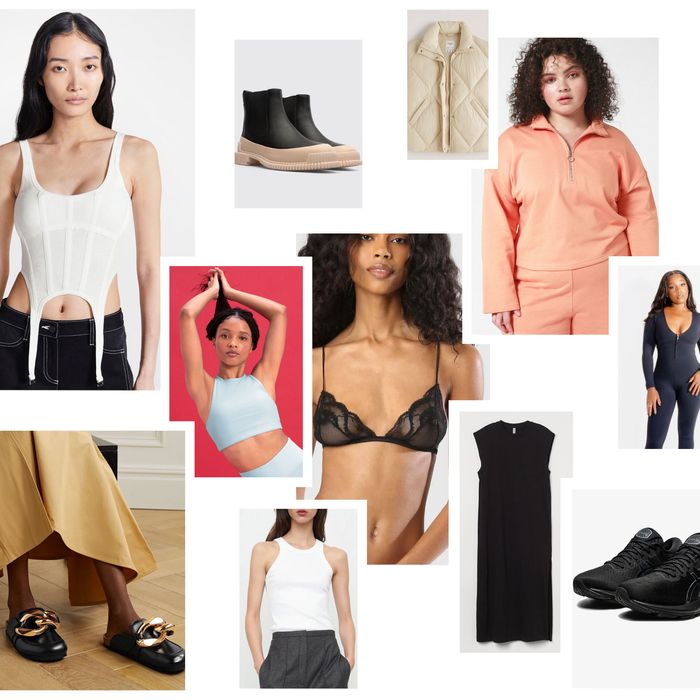 Photo-Illustration: by The Cut; Photos: Retailers
One thing I've missed during this second year of working from home is seeing what my stylish colleagues wear every day. Yes, of course, I still get to see them on Zoom, but only from the waist up, and even when I can get them to give me a twirl for the camera, it's just not the same. In general, I feel a little out of touch with what people are actually wearing. My morning commute on the subway was a good way to stay tuned in to trends — but not the ones that are made up on the runway and on social media. I'm talking about real life, the stuff we wear so much it becomes an integral part of how we move through the world. To get a sense of what my colleagues really got use out of this year, I asked them to tell me about one or two pieces they never took off.
The Perfect Tank Top
"This year, I was all about finding the perfect white tanks to wear with no bra," says style director Jessica Willis. "One of my favorites is from Totême. I'm actually wearing it right now as I write this. It's so soft and high quality, and it hugs the body perfectly because of the stretch in the fabric, but it never stretches out of shape."
A Bra That You Can Wear As a Top
"I also obsessed over the perfect wireless lace bra that I could wear underneath open button-ups and jackets or with see-through tops," Willis adds. "This is a favorite that I wore throughout summer."
A Comfy Combo of a Bra and a Tank Top
"Back in May, I said I was ready to dress uncomfortably again in my important quest to get sexier," says fashion news writer Andrew Nguyen. "The way I would achieve this is wearing a corset, which I truly did almost any time I was seen in public. Luckily, though, being sexy actually didn't mean I had to be uncomfortable since my everyday corset is basically a ribbed tank with boning. Two birds with one stone!"
A Liberating Pair of Sneakers
"This year, I found that a good pair of sneakers can really set you free," writes fashion assistant Vivian Chuang. "From lockdown sanity walks and long runs to those at-home workout routines that didn't make it past week four of quarantine, this pair supported me through it all," she adds. "I switched to Asics, a brand known for support on long workouts and a reputation for being virtually indestructible, when my old Nike trainers were falling apart, and I haven't looked back. Now that we're venturing back out again, my all-black pair still feels right on a night out, and I regularly choose them over the 'fun shoes' that would leave me with aches and scrapes before night's end."
Activewear to Replace Your Jeans
"I have not worn jeans since February 2020 — at this point, it has almost become a challenge to see how long I can go without them," writes social-media editor Daise Bedolla. "Instead, I've found pleasure in athleisure, specifically in Recess," she continues. "Founded by friends and partners Anne Curtis, Isabelle Daza, Roxanne Farillas, and Paulina Ortega to offer good, affordable activewear options in the Philippines, the brand caught my eye because of its color range. But the leggings and bras are both supportive (if you actually want to work out) and buttery soft (if you just want to lounge around). My High Standards bra and Lady Legend leggings — both in the color Chill — have gotten the most use in the past couple of months, and I've been slowly transitioning to the Comfort Zone pullover and pants. I have them in the color OJ, but I'm eyeing Pandan next."
A Bodysuit That Makes Getting Dressed Easier
"Between getting older and navigating our new lifestyle, comfort has been king," says junior fashion-and-beauty writer Asia Milia Ware. "The most comfortable piece for me became a go-to bodysuit; not only is it comfy and you can move in it, but it saves me a lot of brain space. I don't have to think too much about what to wear with it. I can style it with a blazer, or I can throw a sweater over it and keep it pushing. I've always been a one-and-done kind of girl who obsesses over one-pieces and jumpsuits, but this one is specifically tailored for comfort. Even with its compression material, it's still super-stretchy."
A Little Black Dress That's Always Flattering
"The piece of clothing I've worn the most this year is perhaps one of the simplest items I own," says former senior culture editor Kerensa Cadenas. "It's just a totally plain black jersey H&M tank dress that I bought several sizes too big because, as I've gotten older, I only want my clothes to float around my body, not bind it. During the summer, it was easy to just throw over my head as I attempted and failed to have a hot vaxx summer. Going into the fall, it's been a staple piece I've been able to dress up with platform loafers and an insane Champagne-themed sequined jacket I got in Woodstock as more formal events have reemerged. I even bought it in multiple colors, but I keep coming back to the OG. It has been a comforting staple at a time when I don't really understand what my body looks like anymore after being locked in my apartment for so long. Honestly, I probably just need to buy another one in black."
A Bracelet You Never Have to Take Off
"Because I'm someone who loves jewelry you don't have to take off, the welded bracelet from Catbird has become my favorite piece," writes Cut editorial intern Brooke LaMantia.
Chunky Boots That Make You Feel Taller
"I got chunky military boots, and they are amazing," says senior writer Sangeeta Singh-Kurtz. "I feel like Lara Croft every time I wear them, which I didn't think would be as often as I do. The thing about them is that they're extremely adaptable; recently, I wore them to do a moderately difficult hike, and another day with a miniskirt to see a Broadway show. They also make me a little taller, and that makes me feel sort of powerful, like if I saw a rat on the subway platform, I could just stomp on it if I wanted."
Unfortunately, the pair Singh-Kurtz has are from a Danish brand called Angulus that doesn't ship to the United States. But these boots by Ganni and Camper (below) are a good dupe!
Loafers With Similar Powers
"By far my most worn shoe, these chunky loafers have become my go-to when I want something comfortable but more stylish than tennis shoes," says LaMantia. "As loafers become more popular, this pair feels trendy but unique."
A Quilted Vest That's Perfect for Errands
"Somehow, vests really became my thing this year, probably because of the lack of commuting in my life," says Ware. "A quick walk to the gym doesn't call for a huge coat, and hopping into an Uber and out to an event doesn't either," she explains. "Throughout all the seasons, I found a vest that was my go-to. I wore a cropped puffer for casual days and a wool one if I was going out or just wanted to feel more dressed up at the beginning of the year, and as the seasons transitioned, I got a more lightweight vest that was the perfect summer accessory. Currently, this leather one is all I wear; it's warm, and I love the oversize fit. I still love a great coat, but the vest definitely had my heart this year."
Fancy Slides That Are Worth the Investment
"Pre-pandemic, I had a lot of very high and very uncomfortable shoes in my closet, so when I started working from home, I realized all of these shoes are great for work events or meetings but not really anything else," writes the Cut's editor-in-chief, Lindsay Peoples Wagner. "In my search to find chic but comfortable shoes, I stumbled upon these JW Anderson gold-chain slippers, which have sold out multiple times and were worth the hunt to find. I love the gold embellishment because it adds a note of shine and makes them look fancy even though you're basically wearing a cozy cork slipper. They look great with sweats or with tailored pants for work, so I've gotten a ton of price per wear out of them already."
Slippers That Are Just Plain Fancy
"I bought these on sale with a gift card, so that's how I justified such a steep price for slippers," says senior fashion writer Emilia Petrarca. "But seriously, I'd pay full price for them if you told me I'd wear them every single day as I worked from home. I think they would look nice with some loose trousers and a blazer, too, but I'm not about to risk messing up my favorite house shoes in the real world! As I sit at my desk typing this, they make me feel elegant and luxurious, and I needed that this year."
"If you're looking for a good dupe, these velvet Mary Janes by Drogheria Crivellini are also very sweet," adds Petrarca.
Makeup That Can Replace Accessories
"I wear this highlighter as my eyeshadow and blush," says associate fashion editor Devine Blacksher. "The Sangria Sunset color is my favorite because the pink against my brown skin is absolutely stunning. It draws people into my eyes when I'm on Zoom calls or a date, and it's a nice pop when I want to dress down or in neutrals."