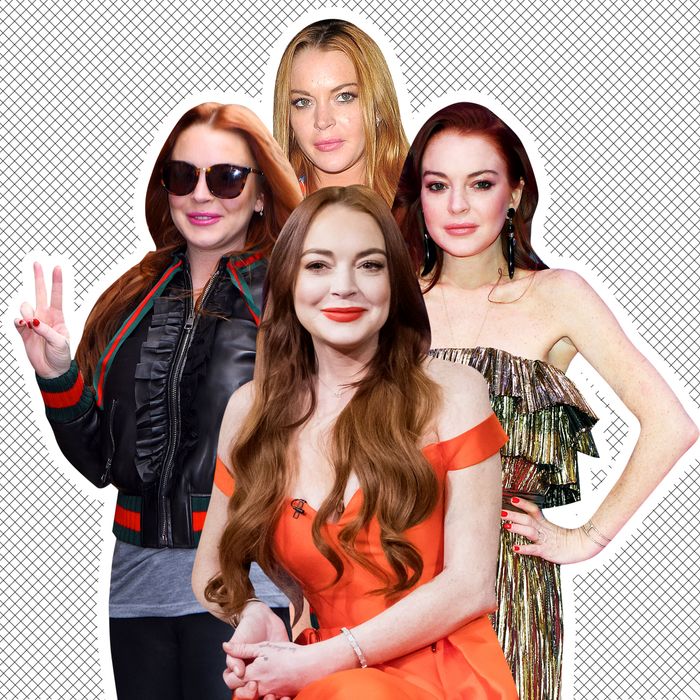 Photo-Illustration: by The Cut; Photos: Getty Images
Over Thanksgiving weekend, Lindsay Lohan announced her engagement to a man named Bader Shammas on Instagram. "My love. My life. My family. My future. @bader.shammas #love," the 35-year-old former child star captioned a set of photos of her with her new fiancé, prompting a wave of goodwill from fans and celebrity friends. (Even longtime frenemy Paris Hilton congratulated her.) The announcement also caught many by surprise: Lohan has been a bit all over the place in recent years, to put it charitably, and this engagement to an unknown businessman with a private Instagram seemed to come out of nowhere. How did LiLo get here?
According to "Page Six," Lohan's betrothed is an assistant vice-president at Credit Suisse in Dubai. He was reportedly born in Kuwait and attended college in Florida before working in the emirate. To figure out how Lohan and Shammas crossed paths and fell in love, we have to go back a few years, to when Lohan first escaped the paparazzi in L.A. by hopping a flight to the United Arab Emirates.
2014: Lohan "moves" to Dubai
It's unclear when, exactly, Lohan began living full-time in Dubai. In a podcast interview with David Spade in 2020, Lohan said she'd been living in the emirate for six years, putting her move-in date sometime in 2014. But there is no evidence that Lohan has ever bought property there, and she often references hotels when she talks about spending time in her adopted home base. In 2015, she was photographed at an event at the VIP Room in Dubai, but there are few other photos of her there from the last six years. This, Lohan has said, is by design — she likes spending time in Dubai in part because of the emirate's strict privacy laws, which prevent people from taking photos of others without their consent.
In a rare interview with Emirates Woman in 2018, Lohan said, "moving here was a fresh start. You hear more about real current events rather than celebrity gossip, which I really appreciate … I moved here for that purpose — I don't have to be publicly seen all the time, or discuss what I'm doing."
2016: A Russian engagement
By 2016, Lohan appeared to be spending more of her time in the U.K. and Greece with a mysterious new boyfriend named Egor Tarabasov. The tabloids identified Tarabasov, then 22, as a Russian heir and "real-estate mogul." The couple reportedly got engaged sometime in the summer of 2016, but the relationship was troubled, and Lohan accused Tarabasov of physical abuse before calling off the engagement. (Disturbingly, paparazzi caught at least two violent incidents on camera, but no one seemed to help Lohan extricate herself from these situations.)
After the breakup, Lohan visited Turkey, where she said she was helping Syrian refugees. She also started talking in a confusing, vaguely European accent and promoting Turkish president Recep Tayyip Erdogan's desire to expand the U.N.'s National Security Council. (Some journalists suggested she was probably getting paid by the Turkish government to frequently repeat Erdogan's catchphrase, "The world is bigger than five.")
And then, in the summer of 2016, Lohan went back to Greece and made a deal to open a nightclub in Athens called — what else — Lohan Nightclub.
2018 - 2019: "This is how you throw a party in Mykonos, bitch"
Two years later, Lohan expanded her amorphous nightlife empire to include a beachfront property in Mykonos, which became the set for her one-season MTV reality show, Lindsay Lohan's Beach Club. The show featured her in a girlboss-type role, ordering around the attractive club "ambassadors," despite the fact that her actual role in the business was vague and undefined. The reality show ultimately did not last, but Lohan did manage to start a new dance craze after footage of her awkwardly maneuvering around a DJ booth at the club went viral.
Shortly after filming the season, Lohan traveled to Moscow, where she posted an extremely bizarre Instagram Live video in which she attempted to "rescue" a Syrian refugee family by accusing them of child trafficking. She later apologized on Instagram. It's not clear if she returned to Greece after the incident.
A source told "Page Six" in June 2019 that the show was canceled because it didn't have "enough drama." The source said the producers "wanted 'breakdowns.' That's not where [Lohan] is at with her life anymore. Their personal business doesn't need to be aired on television; it's already in the papers anyway."
It seems the club did not have much of a reason to exist outside of the show: At the time news of the cancellation broke, locals reported that the club itself had shut down. ("LOHAN BEACH CLUB IS A PILE OF ROCKS," one person wrote on TripAdvisor.) Lohan responded to the reports in (since-deleted) Instagram posts, claiming "the club is moving to other locations in the world." She added: "I prefer my real life to be working with children and being with my family."
Around this time, Lohan also claimed that she was developing properties on the man-made islands off the coast of Dubai, referring to the project as both "Lindsayland" and "Lohan Island Dubai." So far, these plans have yet to materialize.
2020 - present: "My boyfriend Bader"
Just before the pandemic upended everyone's plans for 2020, Lohan made a surprise, remote appearance on Anderson Cooper and Andy Cohen's New Year's Eve special on CNN. She dialed in not from Dubai but Muscat, Oman (no explanation as to why she was there). In the interview, she promised that she was going to be coming back to the U.S. to film "something" in the new year, and also that she was managing the music career of her younger sister, Aliana Lohan. (It's not clear if Aliana has been signed to a label; on her Instagram, there's a recent video of her singing in a church.)
Unfortunately, her return to America was postponed by the pandemic, but in the meantime, she apparently found love with Mr. Shammas. In February 2020, Lohan posted a (since-deleted) Instagram from a music festival in Dubai. In the caption, she referenced "my boyfriend bader" — presumably the same man she is engaged to today. A few months later, she appeared on the aforementioned David Spade podcast and did not mention Shammas, instead revealing that she was riding out the pandemic in Dubai alongside her sister. She described her living situation in the vague terms we've come to expect from the star: "I'm kind of in the Wall Street area of Dubai, it's like downtown."
And now, for the first time in many years, Lohan's career and personal life seem to be on an upswing. In May, Netflix announced they had cast Lohan opposite former Glee star Chord Overstreet in a Christmas rom-com set for a 2022 release. It's not clear if the film has gone into production yet, but Netflix did release a "first-look" photo of Lohan and Overstreet dressed in festive winter gear last month. Overstreet hyped the movie on Instagram, writing that he was "so stoked to be part of this project alongside @lindsaylohan."
The Netflix project would seem to require her to return to the States, but for now, Lohan seems wedded to her life in Dubai. Her latest Instagram posts include a photo of her raising her arms to the sky in the desert, with the caption, "Happy 50th National Day to the UAE!" as well as a new couples shot with Shammas. Where will we find our actress in 2022? Perhaps she will tell us on her new podcast, also scheduled for release next year.