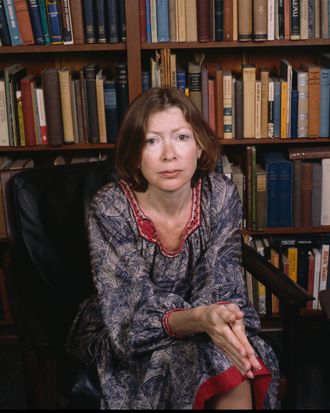 Photo: Janet Fries/Getty Images
The first time I read Joan Didion was in my intro to creative writing class my freshman year of college. Before I picked up her essay "Goodbye to All That," I knew I wanted to be a writer, but I had no idea that the kind of writing she did existed. A master of details, Didion blurred the lines between personal essays and reporting. She was a staple in every single writing class I took. And I know she'll continue to be.
On Thursday, Didion died at her home in Manhattan at the age of 87. Born in Sacramento, California, she drew inspiration from the state for much of her writing. After graduating from Berkeley, she won an essay contest for Vogue and began a career at the magazine. By 1960, she had started writing for national magazines like the Saturday Evening Post and Mademoiselle, with essays and reporting that would go on to be collected in her books The White Album and Slouching Towards Bethlehem. In 1963 she published her first novel, Run, River, about a Sacramento family, and would go on to write four more. The next year she married writer John Gregory Dunne and the two became a quintessential bi-coastal couple, traveling between California and New York. The couple adopted a daughter, Quintana Roo, in 1966. John's 2003 death of a heart attack inspired one of Didion's most well-known works, The Year of Magical Thinking, which won the National Book Award. Not long after, her daughter died from a sudden illness, which Didion wrote about in her 2011 memoir Blue Nights. "When my son was getting chemo for the cancer that would ultimately kill him, a very close friend of mine died by suicide. Shortly afterward I read The Year of Magical Thinking & was thrilled, electrified that someone else had gone through 2 nightmares at once & written about it," the comedian Rob Delaney wrote on Twitter. "Deepest gratitude to Joan Didion for how she helped me during a brutal, dark time."
Here's how writers remembered Didion.