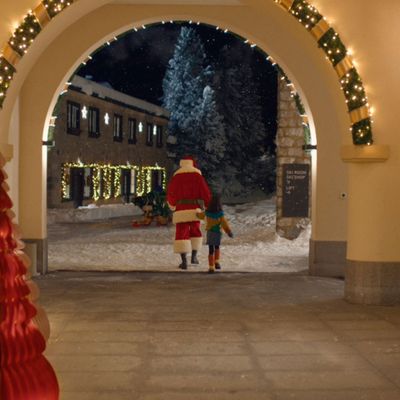 What's the campaign? Zara released a 43-minute short film called O Divine Night.
Who's in it? Alex Wolff, John C. Reilly, Hailey Gates, Samia Benazzouz, Chloe Park, Valerio Santucci, Francesca Figus, Tania Hanyoung Park, and Shi Yang Shi.
Why should I watch it? Fashion brands are investing more and more in films. Why would they have a simple commercial when they can make a short directed by Luca Guadagnino, the man behind the beloved movie Call Me by Your Name and the HBO series We Are Who We Are? Written by Michael Mitnick and featuring a talented cast, the film is as beautiful as any project of Guadagnino's.
Also you can watch John C. Reilly (who plays Santa) and Alex Wolff sing, something we weren't aware they could do. Wolff plays his guitar outside a ski resort in Switzerland — run by an intense manager, Hailey Gates, who crushes a homemade cookie from one of her bellhops within the first ten minutes of the film — on Christmas Eve. In my favorite twist of the movie, a little girl with a British accent runs off to convince Santa to do his job despite his wish for a well-earned break. Eventually, he gives in, steals a Santa costume from a fake Santa, and even sings to her in Italian.
You can watch the film on YouTube.