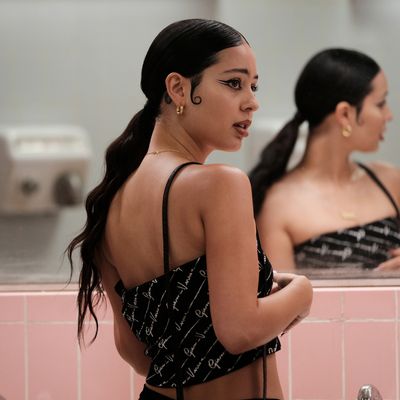 Another Euphoria Sunday has passed, giving us ample opportunity to catch up with Rue & Co.'s latest dramas. We've rounded up all the best looks you can shop.
Maddy Perez
In this episode, Maddy delivers the iconic line "Bitch, you better be joking" while wearing a sold-out Versace tube top and flared leggings and carrying a Coperni mini-bag. Maddy has another iconic moment in a monochromatic Akna Store set, which she wears with with lavender Crocs sandals and matching mini-bag from By Far (below). She later lounges poolside during her babysitting gig in a one-piece from Miaou (below) and vintage Jean Paul Gaultier sunglasses.
Lexi Howard
Lexi's love for cardigans, collars, red lipstick, and loafers has clearly made her a fashion favorite. In a montage of furious typing, the budding playwright pairs a Miu Miu cardigan (below) with a pair of black jeans. Later, in the other bathroom scene, she questions her sister's choice of clothing in a denim skirt, a printed knit shirt from Motoguo, and a Courrèges crossbody bag, both below.
Jules Vaughn
In episode three, Jules shares a moment with Elliot in a now sold-out sheer shirt and harness top from KNWLS (similar below). Naturally, for a more chill day at school, she pairs a now sold-out Maroske Peech top with a sold-out plaid skirt from Lazy Oaf and Bunny bag from Runny Babbit (similar below).
Cassie Howard
Cassie has taken to a vigorous self-care routine in the name of love, waking up at 4 a.m. to scrub, ice, roll, mask, moisturize, and primp for school. When Nate looks right through her despite her efforts to get his attention, she's wearing a wrap sweater from ASTR the Label (below) paired with doe eyes and glossy lips.
Kat Hernandez
At dinner with her boyfriend's parents (always a stressful situation), Kat stumbles over her words and laughs anxiously in this ruffled floral dress from Reformation.