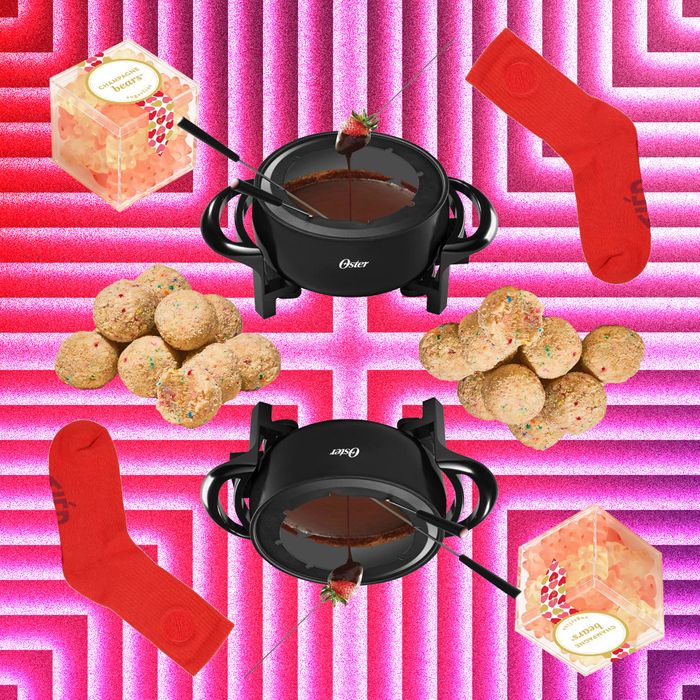 Photo-Illustration: by The Cut; Photos: Retailers
So you've just started dating someone and Valentine's Day is coming up. You don't have to break the bank, nor do you need to torment yourself over what to get him or her. While the relationship is still new and brewing, keep things thoughtful and priced low. Still racking your brain? We researched some gifts under $50 for you.
Spend your next date night learning more about each other with these conversation-starter cards. There are a lot of options to choose from, but Topix has intriguing topics that really break the ice and start deeper conversations.
This plant isn't just heart shaped, it's also a reminder of you they can keep in their space always. Because it's so tiny, it's a less challenging starter plant than something large.
Do you both love to travel? A passport case could be a special gift to foreshadow a future trip, but even better would be a custom case like this one. It can be adorned with their name or a corny hashtag if you're into that already.
You can never go wrong with truffles, especially from Milk Bar. The "one-bite wonders" are decadent and can be accompanied by a special love letter. As someone with an undeniably bad sweet tooth, I have ate a box of these in one sitting because they're that good.
Have they shared their bucket list with you? Doing so is a good way to get to know each other. This one is inexpensive and includes tags to write on.
Keep it classic with Godiva chocolates. I love to gift good assortments to gauge what they really like and don't like.
Or step it up a notch with a fondue pot for a chocolatey treat that will last longer than a day. What makes this pot so noteworthy is that it's nonstick, because who wants to be scrubbing chocolate dishes all night? Definitely not me.
A bath tray is the ultimate gift for the valentine who loves their alone time. It also makes for a great rack for someone who wants to FaceTime while they're in the tub. Or if you're like me and you like to journal, this tray is one of the sturdiest.
These grown-up Champagne bears aren't alcoholic, but they're a great way to say cheers with something sweet.
I wear my Tier hoodies daily, because their thick French terry quality is some of the best sweatsuit material I've ever worn. The brand's socks are no different: cozy with a unique garment dyed red that screams "Happy Valentine's Day!" The embroidery adds a perfect touch.
A mini-fridge for their products would show you listen to what they like. I've had many skin-care fridges, but nothing tops a mirrored one.
As a skin-care lover, I'm a fan of towelettes. These essential-oil toilettes are labeled with "Sweet Dreams Darling" messaging that feels like you're talking directly to your person.
A speaker for anywhere for the partner who loves listening to music without their AirPods sometimes. This one has become a favorite of mine because of how miniature in size yet massive in sound it is.
Most journals are entirely blank or feature corny sayings, but this one allows you to fill in the blanks about your person, from personal awards to telling them what they have the best taste in. It's a unique gift that'll have a lasting meaning.
The mug speaks for itself.
Not one, but four candles for $50. What makes Forvr Mood special is that even the miniature sizes leave a dreamy aroma in your entire living space, whether they're lit or not. Cuffing Season is the perfect candle to light in honor of Valentine's Day.
If you share a love for music, surprise them with a storage crate for records — and to make it extra special, add a record you've discussed before. While there are tons of crates out there, this Crosley one fits up to 75 records, and though it's wooden, it is extremely sturdy, so it'll last through moves and more.
You might have played "We're Not Really Strangers," but have you played the couples edition? Let's just say it gets deep and may reveal layers of your person that you didn't know existed.
More chocolate? Yes. A Dove assorted-chocolate box is a classic — and even a bit nostalgic.
Make the chocolate exciting (if they're a golf lover). These chocolate golf balls look so realistic that rather than eating them, they might want to keep them as a keepsake.