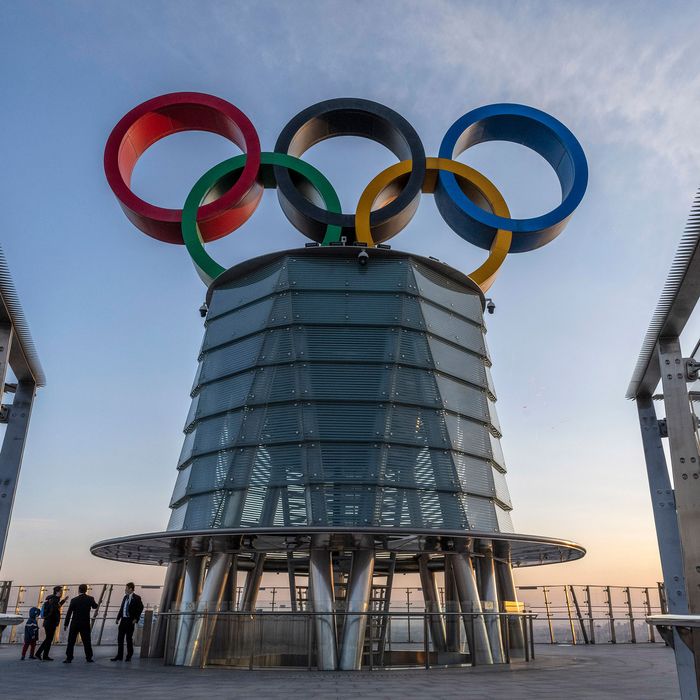 Beijing is still planning to host the 2022 Winter Olympics starting February 4.
Photo: Kevin Frayer/Getty Images
Though COVID cases are surging around the world, Beijing's 2022 Winter Olympics will start on Friday, February 4. Like the 2020 Summer Olympics in Tokyo, some Olympic-committee members have expressed concern about hosting a global event amid a global pandemic. However, officials yet again appear hell-bent on continuing with their regularly scheduled programming. Cue "Bugler's Dream," I guess.
Didn't the Olympics just happen?
Yes, these games will begin less than six months after the previous Olympic Games ended. Tokyo's 2020 Summer Olympics were postponed for a year because of the COVID pandemic. (They were still called the 2020 Olympics despite being hosted in 2021, mostly, it seems, because they'd already lit the torch. I don't get it either.) Of course, the pandemic was still happening when the rescheduled events took place between July and August of last year. In total, 294 of the more than 11,000 athletes tested positive for COVID during the Games.
But … Omicron?
As outlined in its playbook, the International Olympics Committee will require athletes to be fully vaccinated at least 14 days prior to arriving in Beijing. (The rule allows for exemptions based on medical need, but those who receive them will need to quarantine for 21 days once they arrive in Beijing.) Some countries, including the United States, have already mandated vaccinations for its competitors as well as staff members. The IOC is not requiring athletes receive a booster shot, though they "strongly suggest" it.
Like the 2020 Olympics, the 2022 Winter Olympics will continue to have COVID-testing guidelines in place. Regardless of their vaccination status, all athletes will be tested for COVID-19 daily throughout the duration of the Olympic Games. Athletes will be required to mask at all times, except when competing. Those who medal will again be allowed to remove their mask on the podium for a photo.
Isn't there a boycott?
In December, the U.S. announced a diplomatic boycott of Beijing's Winter Olympics, with Australia, Canada, and Britain following suit. Per Jen Psaki, the White House press secretary, the decision was spurred by the host country's "ongoing genocide and crimes against humanity in Xinjiang and other human rights abuses." Over the past several years, the Chinese government has been targeting Uyghurs, as well as other predominantly Muslim ethnic minorities, using tactics including mass detention and forced sterilization. Further calls for an Olympic Games boycott came after the disappearance of Peng Shuai, one of China's top tennis players, who had accused a former senior government official of sexual assault. The IOC has maintained that she is "safe and well," though some are still concerned about Peng's well-being.
Despite the diplomatic boycott, athletes from the U.S. and other participating countries will still compete. However, their government officials will not be attending. Given the IOC's spectator guidelines, the impact may not be quite as dramatic as in previous Games. Speaking of which …
Will the Olympics have spectators?
You can expect another eerie opening ceremony, as spectators will be limited to residents of mainland China. Those who attend the events will need to meet the IOC's COVID safety requirements, though the specific details for spectators are unclear.
Also, which sports does this one have?
It's time to care about luging once again! In case you need a refresher, Winter Games events include skiing, snowboarding, figure skating, hockey, curling, and something called skeleton. These Olympics will feature seven new events: women's monobob in bobsled, mixed team aerials in freestyle skiing, men's big air and women's big air in freestyle skiing, mixed team relay in short-track speedskating, mixed team event in ski jumping, and mixed team snowboard cross in snowboarding. If nothing else, the Winter Olympics have the best-named sports.
How can I watch the Olympics?
As usual, NBC will be airing all things Olympics. The Games will also be available to stream on services such as NBC's Peacock, YouTube TV, and Hulu+ with a live TV subscription. The opening ceremony will take place early in the morning of Friday, February 4, and the closing ceremony will be on Sunday, February 20. You can see the full schedule on the Olympics website.