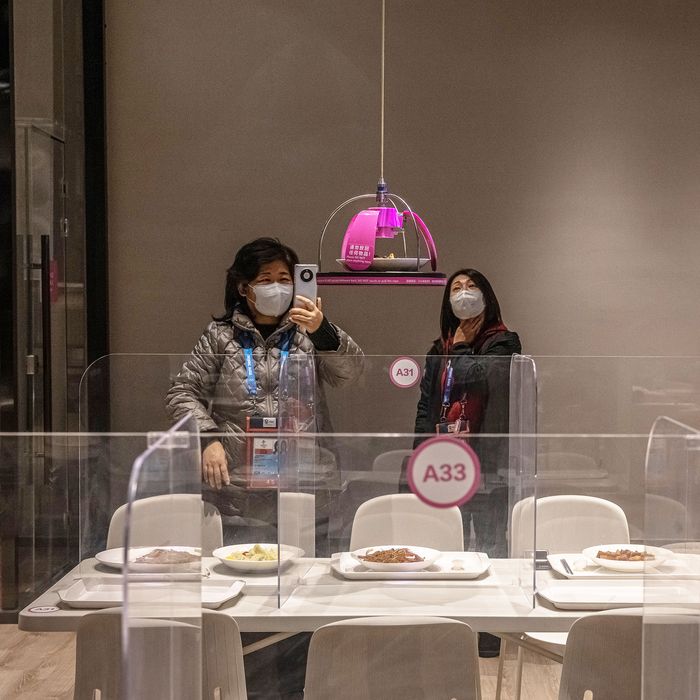 Photo: ROMAN PILIPEY/EPA-EFE/Shutterstock
I don't want to alarm anybody, but robots are taking over the Olympics. In an effort to keep the Beijing Winter Olympics from becoming a COVID-19 super-spreader event, Beijing has introduced a whole host of robots to help the Olympics run smoothly, and it's as cool as it is terrifying.
The 2022 Winter Olympics has already implemented strict COVID protocols, from daily testing to temp checks, and this time they're adding new technology into the mix. Introducing, robot waiters and robot bartenders. Located in the Beijing Winter Olympics Main Media Center, the almost entirely robotic mess hall features an array of automated food-preppers to minimize any face-to-face contact. As seen in a video posted by Reuters, the robots in this mess hall assemble dishes — including burgers and noodles — and even deliver them through mechanical shelves that drop from the ceiling. (Think the little parachute packages in Hunger Games, or a giant claw machine.) The robot kitchen also includes a bartender that looks like it was designed by Tony Stark, a robot barista who can grind coffee beans and make a cup of coffee in four minutes, and a soft-serve robot that looks straight out of WALL-E.
But the robots at the Beijing Olympics aren't limited to the restaurants. According to Sports Illustrated, the Olympic village will feature sanitation robots, whose job it will be to spray the venue with disinfectant (I assume), as well as delivery robots programmed to go from one location to another. There's even expected to be a six-legged skiing robot on display during the games.
Now, I'm not saying these robots are ushering in the end of the world as we know it, but I am not not saying that. If I learned anything from WALL-E (which, remember, is about a trash-compacting robot), it's that service robots can be just as dangerous to humans as cyborgs that want to control the human race. This is how it starts.