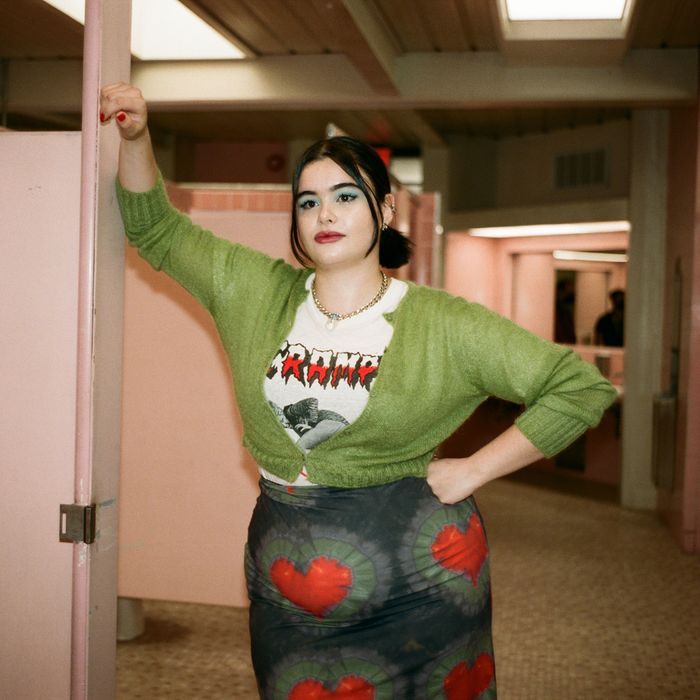 Here are all the best looks you can shop from episode two of Euphoria.
Maddy Perez
Maddy fulfills one of her fashion dreams (and ours, honestly) when, during her babysitting gig, she tries on her boss's vintage Chanel, Valentino, Dior, and Mugler. In the rest of the episode, some other pieces she wears include an Agent Provocateur bikini (now sold out), another bikini by Romé by Falize, and a custom tee by Vanna Youngstein and the show's costume designer, Heidi Bivens.
Kat Hernandez
In this episode, Kat is in crisis. So what does one wear during a meltdown? A fuzzy mohair cardigan by Danielle Guizio, a Cramps tee, and a printed skirt from Om Weekend that you can shop below. She has gotten to a phase in her relationship that we know all too well: the pros-and-cons list, which she writes out in her Réalisation Par tee. And to go on an impromptu bowling date, Kat wears a printed green top from Kim Shui, black flared pants, pink eyeshadow, and a swirling pink-and-yellow mani.
Lexi Howard
Lexi, Cassie's under-the-radar, oft-overshadowed sister, is finally in the spotlight. Consider this the season that launched the Lexi hive and all the subsequent fan accounts. Following the NYE party and her chat with Fez, Lexi ditched the usual store-run attire to impress her new crush. She wore a formfitting cardigan from Calle Del Mar, Rachel Comey pants (now sold out), and block-heel loafers from Nodaleto. She added a red lip.