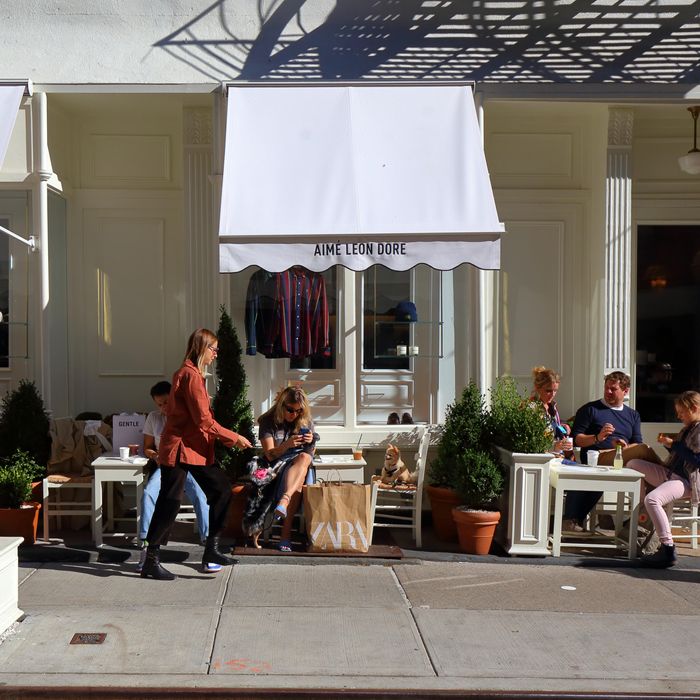 Stop by for a coffee, won't you?
Photo: Robert K. Chin/Alamy Stock Photo
This morning, LVMH Luxury Ventures, an investing arm of the French megaconglomerate that owns Louis Vuitton, Fendi, Marc Jacobs, and Dior, announced an investment in Aimé Leon Dore, the New York–based menswear label that has shot to success in recent years. (Just try to get into its Mulberry Street shop without a wait.)
Teddy Santis, the Queens-born Greek American designer behind the label, is, unlike many of his press-hungrier counterparts, a relative cipher in the menswear landscape. Since founding Aimé Leon Dore (Aimé is from the French word for to love; Leon was his father's childhood nickname; and Dore = Theodore = Teddy) in 2014, following an early boost from Kith's Ronnie Fieg, Santis built his line quickly but quietly with a handful of clear references, some prep-via-hip-hop nods (vintage Polo, Tommy Hilfiger), and a reluctance to overexplain. "I don't really know anything about him," a fellow designer told me. He has given scattered interviews here or there, but the spare "About me" section of the ALD website offers only a link to Nas's Illmatic for "more info."
Still, a cult has blossomed. Santis opened the store on Mulberry Street in 2019, and lines quickly followed, though if you do have to wait out front, you can at least do it with frappé and koulourakia from the Greek-inflected cafe attached. GQ called it the best menswear store of 2021. Fellow designer Todd Snyder, one of the standard-bearers of the last prep revival at J.Crew and now the steward of his own namesake brand, told the magazine the year before, "He built an empire under all of our noses, and he's done it in his own way."
When the customers notice, the powers that be notice, too. This year looks likely to be big for Santis and ALD. It will see the debut of a full new made-in-the-U.S.A. line for New Balance, with whom Santis has been partnering on versions of its sneakers including the 550 ("the sneaker that would go on to define 2021," according to GQ) and, more recently, a 993; details so far are scant, but New Balance says more are on the way. LVMH Luxury Ventures tends to favor growth-opportunity businesses but leaves more freedom for them to work on their own terms; it has also invested in Gabriela Hearst and the footwear retailer Stadium Goods (since acquired by Farfetch). ALD will continue to operate independently in New York, Business of Fashion reports. And quietly, too. Messages to ALD were not returned by press time.