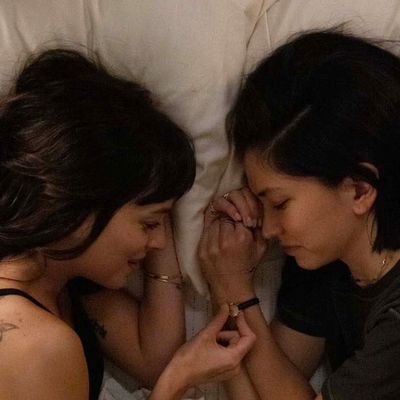 Lucy (Dakota Johnson) and Jane (Sonoya Mizuno) in Tig Notaro's
Am I OK?
Photo: Sundance
When I was in the eighth grade, my parents decided to move from our hometown of Nashville to Cincinnati. They started looking for houses, and I dejectedly shared the news with my best friend, who immediately started sobbing. It was a natural reaction to finding out that the person you spend so much of your time with will soon be far away from you, and during childhood, that sort of reaction is accepted — even expected.
Am I OK?, Tig Notaro's directorial debut, which she co-directed with her wife, Stephanie Allynne, stars Dakota Johnson and Sonoya Mizuno as adult best friends Lucy and Jane. The film, which just premiered at Sundance, also grapples with a best-friend departure, but the scenario goes a little differently. Jane (Mizuno), the "together" one with a successful corporate job and a long-term boyfriend, tells Lucy (Johnson), a single and somewhat directionless receptionist slowly discovering she's gay, that she's moving to London for a promotion, and although Lucy is not immediately thrilled by the news, she pretends she is. It's not until later, when the two are alone in the bathroom, that Lucy sheds a tear.
My family never ended up moving to Cincinnati, but I did eventually leave Nashville for college. Like Jane, leaving town was my choice and one I was excited about. But by that point, I thought I was too old to cry about leaving my tight circle of friends behind. I focused on the new experiences ahead of me and assured my friends and myself not much would change. It wasn't until the group chat slowed to a trickle and I no longer knew every detail of their day-to-day lives that I started to understand the impact of the separation.
To this day, the loss of their nearness is something I grieve. And I'm a little embarrassed to admit that — because while I'm now adult enough to be able to recognize and acknowledge that physical distance has a huge impact on platonic relationships, at 25, I definitely feel too old to shed tears over my friends living far away. The expectation is that grown-ups should be focused on work and romantic relationships, building careers, and "settling down." The friendships will fall into place with little or no effort. But the truth is platonic relationships require just as much investment — from foundational things like listening to each other to little things like a thoughtful gift here or a surprise visit there. Adulthood is difficult and often lonely enough, and without those friendships, it can be even more destabilizing.
Which is why it was so refreshing to see two women, both in their early 30s, totally devastated by the impending loss of each other's presence. It's not uncommon to move to a new city in early adulthood, but in movies and TV, it's a plot point usually played out in the context of a romantic separation — either a breakup or the dreaded long-distance relationship (that eventually leads to a breakup). For friendships, it's normalized to the point that the film industry tends to ignore it entirely.
But long-distance friendship isn't any less devastating even though Lucy and Jane initially attempt to continue as usual. At first, their mutual grief is suppressed, so expressions of it are stilted or entirely misdirected — Jane focuses on trying to "fix" Lucy's life while she still can, and Lucy focuses on her hatred of Kat (Molly Gordon), the co-worker going with Jane to London. When their stuffed-down feelings explode into a huge argument, Lucy's and Jane's heartbreak is so palpable it feels like its own character.
Separation from my friends, while still painful, has given me two gifts: a deeper appreciation for those rare close bonds and the growth that happens upon being forced out of a comfort zone. And those are the parallel journeys we see Lucy and Jane go on over the course of the film. Lucy begins to explore her long-dormant sexuality after finally coming out to Jane, who starts to recognize, after they fight, how deeply she needs Lucy in her life and how much her absence will truly ache.
Other than the absolute caricature of a straight man that is Jane's boyfriend, Danny (Jermaine Fowler), the film's conversations generally feel true to the awkwardness of actual human expression as opposed to the more sanitized, eloquent dialogue typical of a movie script. And yes, I cried. Under Notaro's direction, the film took its time, an approach that allowed the characters to process and grieve in real time, not just in montage (though, of course, there was a montage too), and allowed me to process right along with them. Time — with our friends, with ourselves — is a gift, and Am I OK? honored that.