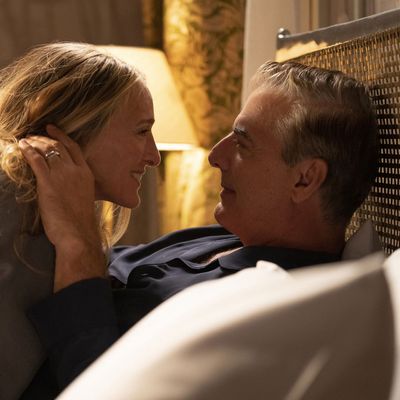 Photo: Craig Blankenhorn/HBO Max
In December, Sex and the City actor Chris Noth was accused of sexual assault by four women, while others came forward with allegations of sexual misconduct. Noth, who denied the accusations, had just appeared in HBO Max's Sex and the City reboot, And Just Like That …, where he briefly reprised his role as Big only to be (spoiler) killed off at the end of the first episode. Peloton, which filmed a commercial with Noth after one of its bikes played a prominent role in his death scene, swiftly pulled its ad once the allegations went public, and Noth was dropped by his agency and removed from his CBS show, The Equalizer.
Cynthia Nixon, Kristin Davis, and Sarah Jessica Parker, the three leads of And Just Like That …, released a statement in support of the women who came forward and wrote that they were "deeply saddened to hear the allegations." Meanwhile, on the show, Noth's character, Big, was dead (and being prominently mourned), but it was unclear whether the actor would appear in any of the remaining episodes. Turns out, the writers may have initially planned to bring him back for a cameo: TVLine reports that Noth did film a scene in Paris, which was cut from the season finale three weeks after the accusations went public.
According to TVLine's sources, the deleted scene, which apparently takes place while Carrie scatters Big's ashes into the Seine, shows Big returning to her while she stands on Paris's Pont des Arts. Per TVLine, the show's creative team reportedly determined his appearance was not integral to the scene, and the source claims the finale was not yet locked in when the allegations first came out. HBO Max declined to comment to TVLine and has not yet addressed the allegations publicly.
The And Just Like That … season finale is scheduled to air on HBO Max February 3.