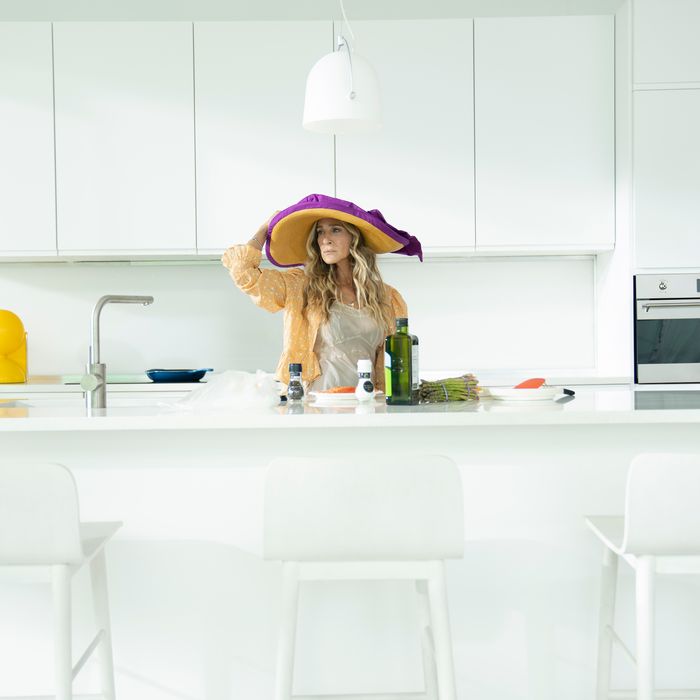 Photo: Craig Blankenhorn/HBO
"You can't be the white lady who just writes a check," Miranda tells Carrie at brunch in this week's episode of And Just Like That … when Carrie tries to donate her way out of volunteering to paint a women's shelter. The implication here isn't that Carrie is selfish (I mean, yes, but it's not the only implication). It's also that Carrie is rich. Very rich. "That Versace gown from 2004's Sex and the City finale"–level rich.
As we saw last week, not only does newly widowed Carrie still have the dress, but she puts it on to eat Jiffy Pop in her old apartment surrounded by her archive of designer clothes. The first time we saw Carrie wearing it, she was at another crossroads. In Paris, she realized that the opulent and sophisticated life she had fantasized about with Russian artist Aleksandr Petrovsky was just that: a fantasy. Instead, she was whisked back to New York by Mr. Big.
To me, that $60,000 dress represented the failure of Aleksandr's wealth to match up to the "can't live without each other" love Carrie was searching for. Reminder: Carrie wasn't exactly rich then — her finances were a mess. After moving to New York in search of "love and labels," Carrie developed a codependent relationship with credit cards. But in AJLT, her days of financial precarity are definitely behind her.
In the original TV series, there were teeny glimmers of financial reality, like in season four of SATC, when Carrie's addiction to Manolo Blahnik heels and expensive Manhattan lunches finally caught up with her. In the aftermath of her breakup with Aidan, Carrie was told that she must buy her beloved apartment or move out. When she was turned down for a loan and realized how little she could afford elsewhere, Carrie lashed out at Charlotte — who had just received a large divorce settlement — for not offering to bail her out.
Carrie demanding money because she spent all of hers on fancy shoes was a new level of ridiculousness, even for someone whose finances were already a running joke. (Eventually the pair reconciled when Charlotte agreed to loan her the $30,000 she needed for the down payment.) There are endless articles and forums that try to work out exactly how she afforded her lifestyle. She frequently ends up in lists of the most unrealistic portrayals of journalism in pop culture, too. Still, in the TV show, money didn't feel limitless — even hotshot lawyer Miranda moved out to Brooklyn, which was considered social suicide back then, so her family could have more space.
But when Sex and the City returned for the first movie in 2008, money was suddenly no object: Multimillion-dollar apartments and spending "50 fucking thousand" dollars on jewelry was now the norm. This choice was puzzling, particularly in the aftermath of the 2008 financial crash. At the time, even the Real Housewives of New York City, the "real" NYC elite, were feeling the pinch. (We all remember when a crimson-faced Alex McCord screamed at Jill Zarin, "While you are in high school, I am in Brooklyn trying to survive in this economy!")
For a franchise that's been discoursed as heavily as SATC, it's odd that the huge increase in wealth isn't more widely discussed.
In a 2018 interview, Cynthia Nixon said she was "devastated" by a scene from the flashy 2008 film. At the London premiere, when Big opened the door of the newly renovated closet he built for Carrie, the audience erupted in applause. "The show was so much about female empowerment," Nixon said. "To have this be a climax of the film, that your very wealthy husband built you a nice closet for your clothes, I thought, Wow, that's not really what you love about the show, is it? Cause that's not what we were making it for."
To me, this was clearly the point where its purpose became distorted. (Let's not even get into the disaster that was Sex and the City 2, where the quest for even more luxury took the women to Abu Dhabi. The film is so bad — and racist — that most fans made peace with never seeing them again).
Now that the girls (minus Samantha) are back for AJLT, it's Miranda's finances that don't quite add up. She was the highly strung "breadwinner" in her family, remember? But she seems to be getting on just fine after quitting her high-flying job in corporate law to go back to university. Carrie and Charlotte are even more loaded — especially the former Mrs. Preston after Big's life-insurance check cleared. On the topic of Big, a major plot twist in AJLT was the revelation that he had left $1 million to his ex-wife Natasha. This was a blow for Carrie on an emotional level, but it was clear she didn't need the cash. And neither did Natasha, apparently, because she turned it down purely on principle — imagine! In episode six, Carrie bought a multimillion-dollar (and much-memed) green-screen penthouse that she hates only to resell it three days later, all because she felt bad saying no to her new realtor friend Seema.
These ridiculous plotlines are a consequence of the eye-watering wealth we saw in the two movies. At that time, worshiping money wasn't out of step with the wider cultural landscape. The Real Housewives franchise had just expanded to Beverly Hills — by far its richest location yet — and Keeping Up With the Kardashians had just become a cultural phenomenon. In scripted TV, Gossip Girl, 90210, and Entourage reigned supreme.
SATC following the crowd at this moment was an early indication that its days of posing as a disruptor were over. It also confused the franchise's selling point: The TV show blended aspiration with a shallow-but-engaging style of cultural commentary. The films, however, shifted to a much more vapid form of materialist escapism, right at a point when there were so many other places to access that type of content. And now, in the absence of a Schitt's Creek–style story line where Carrie loses all her money, it feels like her spending can only go up.
The wealth we see on AJLT feels like a constraint, in part because political discourse surrounding extreme wealth has shifted yet again. When she ran for governor of New York in 2018, Nixon herself attempted to reframe elites and the inequality they represent as the problem. It's a point of view that is much more mainstream now, which has inevitably filtered into TV, too. There are still escapist reality shows like Selling Sunset, of course, but the Real Housewives franchise has now evolved into a hotbed of fraud charges and alleged Ponzi schemes. Scripted shows like Succession, Industry, Big Little Lies, and Billions explore the darker side of wealth and reflect an awareness that the one percent are scamming us all.
This might sound like a heavy allegation to associate with a fictional writer and her friends. After all, Carrie is hardly Elon Musk: She writes rhetorical questions for a living. And it's debatable how effective even the best TV is at skewering the wealthy. HBO's The White Lotus, for instance, was heralded as the "best satire" of privilege on TV by some, while others have questioned what its "culture-war storytelling" really added to the conversation. AJLT's newfound social conscience might feel a little jarring on a backdrop of private-school fundraisers and Gucci-clad tennis matches. But maybe that's because it's an accurate reflection of how its rich liberal characters would behave now: respectful of pronouns but too insulated by economic status to want any bigger change.
Watching Carrie swan around her brownstone apartment gloating about only having worn a $60,000 Versace dress twice, I'm not sure I care about whether she "checks her privilege" — that ship has clearly sailed. But in true Bradshaw-style, I couldn't help but wonder … wouldn't it be better if they hadn't made her so goddamned rich in the first place?