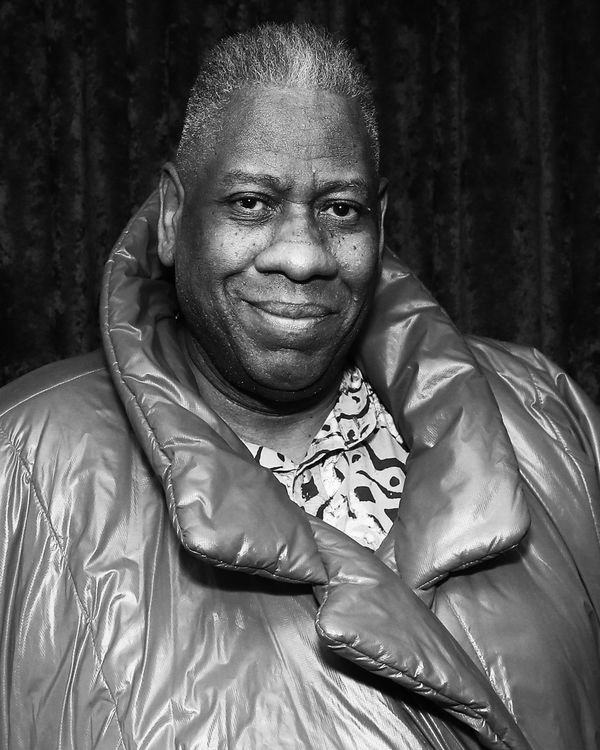 Photo: Cindy Ord/2017 Getty Images
On Tuesday night, it was confirmed that former American Vogue creative director and editor-at-large André Leon Talley died in White Plains, New York, where he lived. He was 73. The cause of his death was reportedly a heart attack.
The news came largely as a shock to the fashion industry. "Good bye darling André," wrote designer Diane von Furstenberg, a longtime friend of the designer, on her personal Instagram. "No one saw the world in a more glamorous way than you did. No one was grander and more soulful than you were. The world will be less joyful."
Talley was raised by his grandmother in Durham, North Carolina, during the Jim Crow era. He credited her with instilling in him an understanding of luxury at a young age, and he grew up reading Vogue magazines at the local library.
After receiving a scholarship from Brown University and graduating with a degree in French literature, Talley went on to apprentice for former Vogue editor-in-chief Diana Vreeland at the Met's Costume Institute in 1974. Impressed, it was she who recommended him for a job at Andy Warhol's Factory and Interview magazine, where he began his career in journalism. Talley would then go on to work for Women's Wear Daily as its Paris bureau chief, W magazine, and the New York Times. Along the way, he befriended the likes of Karl Lagerfeld, Yves Saint Laurent, John Galliano, Loulou de la Falaise, Betty Catroux, and Lee Radziwill, among others.
In 1983, Talley landed at Vogue, climbing the ladder to become creative director in 1988 — a position he held for seven years, making him one of the most powerful Black editors working in fashion at the time, and the first Black man to fill the role. He was often photographed sitting next to editor-in-chief Anna Wintour front row at shows, and considered her one of his closest friends. In 1999, after a brief departure, he returned to the magazine as editor-at-large until he left for good in 2013.
In a notoriously cold industry, Talley's unwavering enthusiasm and support for others stood out. In addition to possessing a magnificent sense of personal style — even on the tennis court — he also had an encyclopedic knowledge of fashion, which poured out of him with elegant flourish, both on the page and in person. "You must connect things in history. You must!" he told the Cut last year. "You can't just sit down and take things at face value, in the way that people jump on things on the internet." One of his more famous lines comes from the 2009 Vogue documentary, The September Issue, which helped elevate him to celebrity status. "It's a famine of beauty, honey!" he shrieks while wearing a mink shawl and sunglasses. "My eyes are starving for beauty."
Later in his career, Talley would take his keen eye and sharp commentary to America's Next Top Model, serving as a judge from 2010 to 2011. He also advised First Lady Michelle Obama as her stylist, introducing her to young American designers like Jason Wu, whose dress she wore to the inauguration.
Despite his deep love of the industry, Talley was also outspoken about its flaws, including the racism he faced throughout his career. He detailed everything — the good and the bad; the beautiful and the ugly — in a documentary about his life, The Gospel According to André in 2017, and publish two memoirs. The most recent, The Chiffon Trenches was released in 2020, and spoke of his tumultuous, however loyal, relationship to Anna Wintour.
Last year, in an interview with the Cut, Talley said he was enjoying watching Bridgerton from home while wearing UGGs and his signature Norma Kamali sleeping-bag coat. He was as chatty as ever, and eager to discuss the latest Vogue cover, and what was happening on the news. His enthusiasm was palpable and uplifting — a feast for starving eyes and ears.