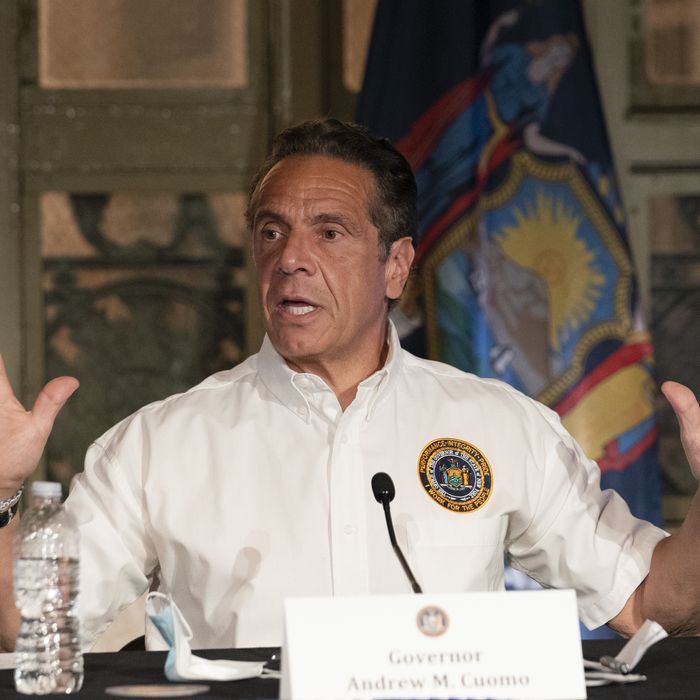 Andrew Cuomo
Photo: Mark Lennihan/AP Photo/Bloomberg via Getty Images
Former New York governor Andrew Cuomo will not face a criminal trial over allegations that he groped a staffer in the Executive Mansion. Albany County district attorney David Soares announced his decision on Tuesday, one week after other New York prosecutors declined to pursue charges against the ex-governor over sexual-misconduct complaints from two different women. In a statement, Soares explained that, while his office "found the complainant in this case cooperative and credible, after review of all the available evidence we have concluded that we cannot meet our burden at trial."
The Albany County Sheriff's Office accused Cuomo of forcible touching in October after an investigation by the state attorney general's office found that the governor had "sexually harassed several women." One of those women, Brittany Commisso, says Cuomo reached inside her shirt and cupped her breast in late 2020, and she filed a criminal complaint against him shortly after the AG's report was published in August. Now, Soares says that although Cuomo's (alleged) actions left him "deeply troubled," they did not amount to a crime. It's a familiar explanation, almost exactly the same one Westchester County district attorney Miriam E. Rocah gave last week, announcing that her office would not charge Cuomo for allegations from two women: an unnamed state trooper and Susan Iannucci, a public-school office manager from White Plains. Both accused Cuomo of forcibly kissing them on the cheek.
"In both instances, my office has determined that, although the allegations and witnesses were credible, and the conduct concerning, we cannot pursue criminal charges due to the statutory requirements of the criminal laws of New York," Rocah said in a statement on December 28. Iannucci's lawyer, Gloria Allred, responded to the statement, saying that they were "gratified" that the district attorney "found her allegation and Susan to be credible." As noted by the New York Times, the DA's decision leaves the door open for the women to sue Cuomo personally.
That decision came less than a week after a district attorney in Nassau County also declined to press charges against Cuomo regarding an allegation from a state trooper — that same state trooper is one of the women involved in the Westchester County allegations. Per the New York Times, the Nassau County DA Joyce Smith issued a statement similar to Rocah's, calling the allegation "credible" and noting that Cuomo's alleged behavior was "deeply troubling, but not criminal."
Despite resigning as governor of New York in disgrace after multiple allegations of sexual harassment and misconduct came to light, Cuomo has denied all instances of sexual harassment. His attorney, Rita Glavin, called the Albany charge "politics" rather than policing. Meanwhile, Commisso's attorney, Brian Premo, told the New York Times, "I can confirm only that in this case my client had no control over the filing or prosecution of criminal charges. The only thing she has any power over is her resolution to continue to speak the truth, and seek justice in an appropriate civil action, which she will do in due course."
Also this week, the Cuomo administration seemingly dodged charges for its alleged cover-up of coronavirus deaths in nursing homes during the early stages of the pandemic. Still, the former governor's legal woes aren't over yet. The Oswego County district attorney's office and the Manhattan district attorney's office are investigating other allegations outlined in the AG's report, while the Justice Department has reportedly been investigating his alleged workplace harassment as well.
This article has been updated.