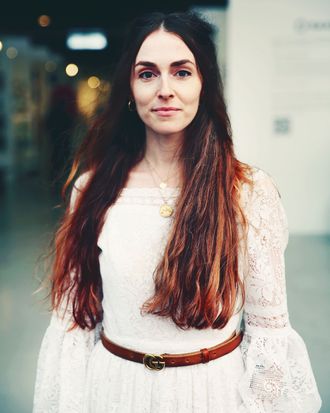 Photo: Rachel Murray/Getty Images for The Other Art Fair
This year was chaotic for most, but I'd argue Anna Marie Tendler took the cake on that one. After her very public split with John Mulaney in May, we didn't hear from her for a bit, though we subsequently learned about his getting together with Olivia Munn, officially filing for divorce, and expecting a baby. Last week, Mulaney and Munn closed out the year by introducing their son on Instagram. And Tendler took to the same app to share a long and poetic farewell to 2021.
"Over the past two years it seems that change has been synonymous with loss and collectively this loss has been unfathomable. It is tempting to construct a poetic list of all we've watched slip through our hands, but what's the point? We already know it and we grieve it daily," she wrote. "My own brain is well acquainted with the elusiveness of hope that materializes in sporadic and ephemeral waves. I suppose, in part, this is what it means to live with depression and anxiety. That said, melancholia is oft amplified by circumstance and the circumstances of my year have been harsh and punishing." She went on to share ways she has learned to cope, including throwing "plates just to watch them break" and "laughing at tik tok videos."
After unfollowing Mulaney and deleting her Instragam account, Tendler began posting her self-portraits and artwork earlier this year, gaining a new audience and creating a narrative for herself that I'd argue didn't exist so much while she was with Mulaney. After all, almost everything we knew about her came from his stories of her. A few months later, Tendler made a TikTok account that became popular with videos teaching us quirky life hacks, such as how to put a comforter in a duvet cover. Since then, she has kept the comfy content coming and blessed us with some very needed videos of her French bulldog, Petunia.
Summing it up perfectly, Tendler said, "So long 2021. For better or worse I will carry a piece of you with me forever."