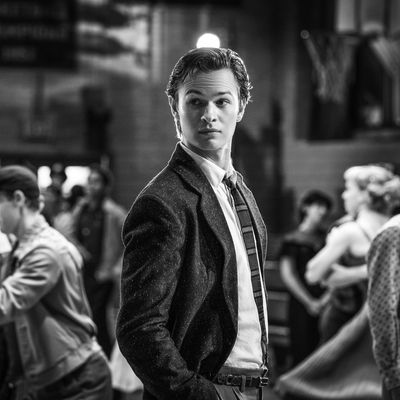 Ansel Elgort as Tony in
West Side Story.
Photo: Niko Tavernise/20th Century Studios
I don't know how you feel about musicals, but Steven Spielberg's West Side Story reboot came out in December, starring newcomer Rachel Zegler as Maria and Ansel Elgort as Tony. I don't know how you feel about that, either. One of Hollywood's more divisive names, Elgort has reportedly been keeping a low profile since last summer, when a fan accused him of sexually assaulting her. He denied any wrongdoing, but the allegation surfaced reports of similar behavior — engaging in or inviting sexual activity with minors via DMs — that seemingly drove a previously Instagram-active Elgort off-line. But now he is back, dancing around the big screen as a romantic lead. So maybe you are wondering, what ever happened there?
Below, an overview.
Who is Ansel Elgort?
A 27-year-old actor known primarily for his roles in The Fault in Our Stars, Baby Driver (he played the driver, Baby), and Divergent. He is the son of fashion photographer Arthur Elgort and the theater producer, stage director, and choreographer Grethe Barrett Holby. His bottomless confidence rubs some people the wrong way. He will say things like, "I'm super-easy to hate" — because "it's hard to be liked and successful," okay? — and then he will post 17 shirtless selfies taken at slightly different angles, leading some to label him entitled and self-congratulatory and also a little fratty. In 2017, for example, The Telegraph called him a "Venn diagram of Things Currently Disliked in Culture," though I'm sure his fans feel differently. Anyway, his DJ name (the man loves EDM; he talks about it constantly) is Ansolo, which will be important later.
What did Elgort (allegedly) do?
In June 2020, a Twitter user accused Elgort of sexually assaulting her in 2014, when she was 17 and he was 20. She subsequently removed the post and left the platform but not before sharing screenshots of DMs she and Elgort allegedly exchanged along with a picture of the two together. She said the actor asked her to send nudes and if she would have a threesome with him and one of her (underage) friends. When she and Elgort had sex, she wrote in her tweet, "It was my first time and I was sobbing in pain and I didn't want to do it." She said Elgort knew she was a virgin at the time, adding, "He made me think this is how sex was supposed to be … Years later I have PTSD, I have panic attacks I go to therapy. "
In response to the woman's post, Elgort posted his own statement to Instagram. (It has since been removed along with most of the previously bustling account's content, the 17 shirtless pics included.) "Her description of events is simply not what happened," he wrote. "I have never and would never assault anyone." Elgort went on to acknowledge that he had a "brief, legal and entirely consensual relationship" with the Twitter user, who — even at 17 — met New York's legal standard for consent. He did apologize for his "attitude" during the breakup, which, according to Elgort, was actually him "ghosting" the girl. "As I look back at my attitude, I am disgusted and deeply ashamed of the way I acted," he said.
However, the initial allegation caught the attention of a few girls and women who said they'd experienced similar behavior from Elgort, as our colleagues at Vulture have thoroughly reported. One tweeted that he had given her his personal Snapchat — itsansolo — to DM him when she was 15. Then another user said he told her (again via Snapchat DM) he'd never hooked up with a fan before in part because he was in a long-term relationship. (The girlfriend: Violetta Komyshan, whom he started dating when they were students at La Guardia High School.) That user said they went on two dates when she was 16, which Elgort knew to be the age of consent in Georgia, apparently where the alleged dates took place. Another person said Elgort sent her dick pics in 2014, when she was 14 and in eighth grade. All of this surfaced an older tweet from a user who asked Elgort (in French) if he remembered sending her the following when she was 15 and he was 21: "I want you to come to my hotel room when I'm in London next … I want to kiss you, you're so pretty. But you can't tell a soul otherwise I could be in sooooo much trouble." That message came via DM, according to her screenshots. She posted another in which he appeared to ask her, "You wanna send me something sexy?"
Elgort scrubbed his account sometime after posting about the first allegation. As of December 2021, he is back to posting.
Speaking of: What did any of this mean for West Side Story?
Not much, seeing as filming had wrapped by the end of September 2019. West Side Story was originally supposed to come out in 2020, but the pandemic pushed that date to December 2021. Spielberg hasn't addressed the allegations, and Elgort appears to be doing press, telling E! News, "The songs are great, even though I couldn't sing them perfectly right away. But that's good — anything that's a challenge is good, right? It's worth it."
A month after the movie's release, a few of Elgort's West Side Story co-stars were asked about the allegations in a Hollywood Reporter interview. Their responses were somewhat evasive: Ariana DeBose said that "only the people who were involved in that situation know what actually went down," while Rita Moreno considered it "absolutely horrendous and wrong for anyone to take sides in that matter." Zegler, who plays Maria, responded even more inscrutably:
We made a movie two and a half years ago, and a lot has gone on in the world since then. A lot has changed very publicly and privately as well. There's been a lot of awakening. You just hope that the people involved are okay, that they are asked in a respectful manner, and that they are given the opportunity to answer for themselves.
While we are here: What are people saying about West Side Story?
Generally speaking? It seems like a lot of reviewers had a nice time watching it: The New York Times called it "a dazzling display of filmmaking craft that also feels raw, unsettled and alive." The Atlantic deemed it an "undeniable triumph," and NPR, "undeniably resonant." According to Variety, it's "a gritty, rousing upgrade." Vulture's Bilge Ebiri was less starry-eyed: "Do you like West Side Story? Then you'll love West Side Story."
I dislike musical theater, which answers that question for me, but I will note that the 1961 West Side Story movie has some famously offensive pitfalls. For example: the use of brown face on actors cast as members of the Puerto Rican gang, the Sharks. In the intervening decades, the film has faced criticism for its heavy reliance on stereotypes, some of which Spielberg tried to correct. The producers traveled to the University of Puerto Rico, meeting with students and staff in an effort to ensure a more authentic cultural portrayal. Latinx actors were cast this time around, though Maria isn't played by a Puerto Rican actor. (Zegler's parents are Polish and Colombian.) The Cut's Andrea González-Ramírez wrote that Spielberg's updates feel more like "cosmetic changes," and she left the theater "aching for narratives" that don't reinforce white American authority and Puerto Rican stereotypes.
What is Elgort saying about West Side Story?
"Stellar cast, legendary production team, all star crew, and world class orchestra." "I hope you love it as much as we do!" "Magical!" etc., etc. Nothing else on the assault allegations, though.