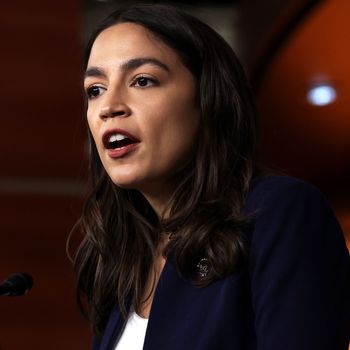 Photo: Alex Wong/Getty Images
There are all kinds of awful things that can happen on vacation: sunburn, losing your passport, someone leaking your group texts from Cancún. And now, a new vacation peril has emerged: the possibility that a former Trump adviser will make fun of your boyfriend's feet. This unfortunate incident happened to U.S. representative Alexandria Ocasio-Cortez while she was vacationing in Miami Beach with her boyfriend, Riley Roberts, who made the (apparently) ill-fated choice to wear Birkenstocks while having a drink with his congresswoman girlfriend.
In response to this seemingly inoffensive event, Steve Cortes, formerly a Trump campaign adviser and commentator for right-wing cable network Newsmax, posted a tweet (of course) criticizing AOC, this time for not wearing a mask outside while eating, and really sticking it to her boyfriend and his taste in shoes. "If Leftists like AOC actually thought mandates and masking worked, they wouldn't be frolicking in free FL," he wrote. Then came the "zinger": "Her guy is showing his gross pale male feet in public (not at a pool/beach) with hideous sandals. 0 FOR 2…"
Hmmm. Putting aside the fact that the photo is too blurry to make out whether Roberts's feet really are gross or not, I can't help but feel defensive of this very kind-looking web developer, who looks like the true epitome of Birkenstocks' target audience. I'm not sure what Cortes would rather Roberts wear on his (preferably tan?) feet. If they really are gross, covering them up wouldn't really remedy the issue, would it? Moisturizing might, but that's something a real man would never do.
AOC responded to the tweet by pointing out her right-wing critics' obsession with her romantic life. "If Republicans are mad they can't date me they can just say that instead of projecting their sexual frustrations onto my boyfriend's feet," she wrote in a thread. "It's starting to get old ignoring the very obvious, strange, and deranged sexual frustrations that underpin the Republican fixation on me, women, & LGBT+ people in general."
The foot drama is the latest development in what's becoming a pretty fraught trip to Florida, where AOC was also recently filmed without a mask at an outdoor (again, key word: outdoor) drag bar. Conservatives have spent the past few days ripping into her for reaping the benefits of the state's lax masking policies (do any states have an outdoor mask mandate? I digress) despite endorsing vaccine and mask mandates throughout the country. Governor Ron DeSantis's campaign team welcomed her with a message hoping she was "enjoying a taste of freedom here in the Sunshine State."
For what it's worth, all the maskless images of AOC and Roberts seem to have been taken outdoors, in accordance with wide scientific evidence that the spread of COVID-19 outdoors is low. Even during a massive Omicron surge, the CDC's latest advice is still to wear masks in indoor public spaces, though some more cautious people have chosen to mask up outside as well.
Regardless, I don't blame Roberts for wanting to let his toes breathe a little, even if they are very pale. I'm glad he has the confidence to do so. Maybe Cortes should give it a try?