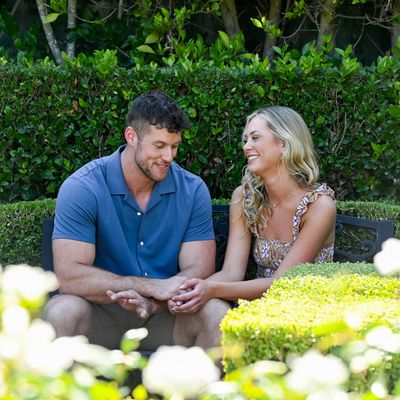 On last night's episode of The Bachelor, we were introduced to three women who, through sheer force of personality and perhaps some extra-powerful hair extensions, have taken over the current narrative of the season. First, there's Cassidy, 26, a blonde "executive assistant" who claims to be a Hilary Duff superfan. Then there's Shanae, 29, a blonde "recruiter" who laments that the other women are not seeing her true personality. And finally there's Elizabeth, 32, a blonde "real estate adviser" who bravely stands up for women with ADHD while trying to understand why Shanae is mad at her. The drama between these gals was confusing, even if you set aside the fact that they are all functionally identical. What is going on?
Cassidy: Villain No. 1
Cassidy has the distinction of getting the first "villain edit" of the season. She starts to shine on the week's first group date, the premise of which is more convoluted than usual: Current ABC/Disney employee Hilary Duff hosts the women (and Bachelor Clayton) at a rented Beverly Hills mansion where … a troupe of child actors? Has gathered to pretend to have a birthday party? Yes. As the contestants get to work decorating a cake and working on their clown routines (literally), Cassidy eschews the admittedly lame setup to steal Clayton away. They end up making out by the pool — twice — which, of course, annoys the other women.
Cassidy also makes time to talk to Duff, telling her that (1) she is a huge fan, and (2) she plans to win the season by pushing past the other women. "I understand what Cassidy's doing; you know she has her eye on the prize," says Duff gracefully to the camera after their chat. "I don't think it's going to make her any friends here, but I'm not sure she cares."
In her own in-the-moment interview, Cassidy proclaims, in the third person, "I think Cassidy might be a front-runner." In the end, she gets the group-date rose.
Shanae: Villain No. 2
Bachelor-mansion footage reveals that Cassidy and Shanae are friends. Cassidy encourages Shanae to go after Clayton on her group date, just like she did. And so Shanae goes into the week's second group date with more confidence but somehow even less finesse than Cassidy. What would Hilary Duff think?
This date, hosted by comedian Ziwe, was also convoluted and loosely themed around the idea of "red flags." During a game of Never Have I Ever, Shanae gets jealous that Elizabeth (that's identical blonde No. 3) is sitting next to Clayton (yep, he's still around) and decides to steal the show by debuting her alter ego "Shanae-nae." Hmmm. This involves awkward dancing and claiming that no one sees her true (fun?) personality. Later, during the mandatory obstacle-course portion of the date, Shanae decides the most important thing is to win, so she shoves Elizabeth into a pool of honey on the course. She is unsuccessful, but she is for sure getting the second villain edit of the season — congratulations.
Things really kick into high gear at the post-date cocktail party, where Shanae tells Clayton that Elizabeth is two-faced. Why? When pressed, Shanae reveals Elizabeth's original sin: She didn't make eye contact with her when she was telling a story back at the mansion. Oh, brother. Elizabeth patiently explains that she didn't mean anything by it; she has ADHD and as a result has trouble concentrating on multiple people talking at one time. This seems to anger Shanae even more, and the fight carries over to the rose ceremony, where the three identical blondes convene for the first time.
Elizabeth: A Fighter for Truth
At the beginning of the rose ceremony cocktail party, Shanae once again confronts Elizabeth over … well … it is simply not clear. (Clayton is also lurking around, wearing an all-time horrible tie.) "It's weird vibes, and Elizabeth is being Elizabeth," Shanae tells the camera. During the confrontation, Shanae asks Elizabeth if they are not "on the same page" because Elizabeth has ADHD. "I think this is really inappropriate, Shanae," says Elizabeth rightly. "I didn't tell anyone you have ADHD," says Shanae, lying. "I have ADHD!" she continues. "Everyone, I mean, fucking little kids have ADHD." She proceeds to say "ADHD" roughly one million times.
At this point, it is difficult to tell what literally anyone is talking about. Cassidy tells Shanae she can't defend her, and she goes off to make out with Clayton again. But little does she know that another contestant, Sierra, is plotting to take her down once and for all. Sierra tells the camera that Cassidy told her earlier in the day that she has a friend with benefits back home, and that she was FaceTiming him before getting in the limo to meet Clayton for the first time. (For once, producers have footage of this moment, so we know it's true.) Sierra tells Clayton what she knows, and Clayton asks host Jesse Palmer (he's also still here) if it's possible to take back a rose. Oh, shit.
This plotline is "to be continued" in the next episode. At least now we know the difference between Cassidy, Shanae, and Elizabeth. Or do we?