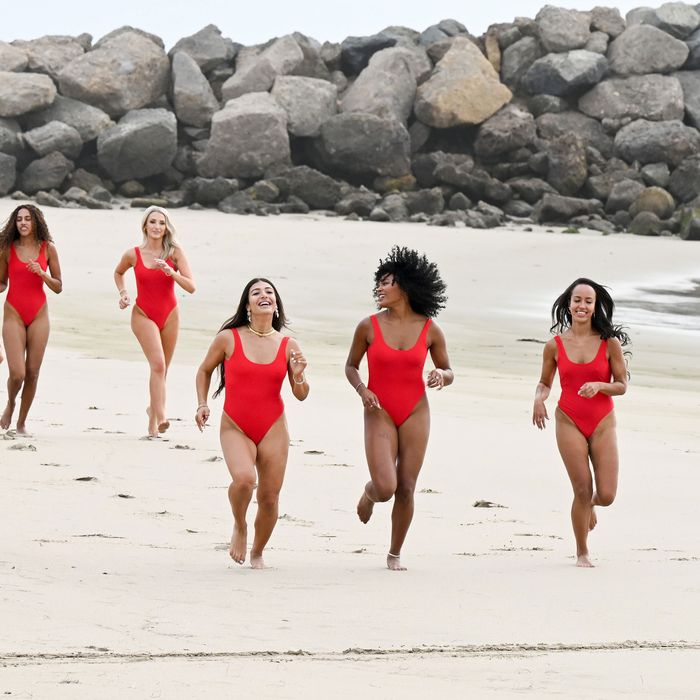 On last night's episode of The Bachelor, the drama revolved around, what else, garlic-butter shrimp. Specifically, which blonde contestant cooked it better, and which blonde contestant ate too much of it. By showing us this insane conflict, the producers offered a rare peek into the day-to-day politics of life in the Bachelor mansion, cementing my belief that it's not a place where I would personally thrive.
But before shrimp-gate begins, Bachelor Clayton first has to dispense with Cassidy, one of the main screaming blonde villains identified in the previous episode. Though she had gotten a rose on the group date featuring Hilary Duff, her frenemy Sierra reveals to Clayton at the rose ceremony that she actually has a secret "friend with benefits" back home, and that she was FaceTiming him before she got in the limo to meet Clayton on the first night of filming. The horror. Clayton confronts Cassidy about this revelation, and unfortunately, she lies, badly. He — oh shit — takes her rose back, and she goes home, probably to FaceTime her FWB. This dismissal throws her one friend in the mansion, Shanae, even further off balance, creating the perfect conditions for Shanae to become the one true villain of the season.
As the first wave of contestants sets off on their group date (a deeply upsetting "vulnerability workshop" led, for some reason, by former Bachelorette Kaitlyn Bristowe), Shanae stays behind at the mansion for a day of fun in the sun with the other ladies. Producers rarely show unscripted moments like these between the women at the mansion, but this week, we got a feast, as fellow blonde contestant Elizabeth — Shanae's self-identified nemesis — cooks garlic-butter shrimp for the gals hanging out by the pool. Shanae made it clear in last week's episode that she does not care for Elizabeth, but it seems the aroma of freshly cooked shrimp is too difficult for her to ignore. When Elizabeth calls out to her friends that the shrimp is ready, Shanae races to the kitchen and promptly piles half of it on her plate.
"Of course I run in there, 'cause I'm fuckin' hungry," Shanae tells the camera. "That's the only thing [Elizabeth's] done nice in two weeks, shared shrimp with me." She then admits to taking most of it: "There's maybe like, honestly, 15 shrimp in there. I took like, eight shrimp."
Elizabeth quickly realizes what happened, and delivers her assessment to the camera: "Obviously, there are two things Shanae can't keep out of her mouth: my name, and shrimp." Pretty, pretty, pretty good.
If you can believe it, the conflict doesn't end there. After finishing her hearty portion of Elizabeth's shrimp, Shanae decides to cook her own version of the dish for the rest of the ladies. Sadly, they don't appear interested in this offering, which enrages Shanae and sets her on a path of destruction. When it comes time for the next group date with Clayton, she decides to once again tell Clayton that Elizabeth is bullying her.
After a Baywatch-themed day on the beach, Shanae confronts Clayton — who is wearing the worst faux leather jacket I have ever seen in my life — at the cocktail-party portion of the date. Flipping her blonde hair around, she claims that Elizabeth is turning the other women in the mansion against her (without mentioning the shrimp). This puts the other ladies in quite a bind: They are so mad at Shanae for accusing them of being part of a bullying scheme, but they don't know how to express that without sounding like, uh, bullies. "Shanae's delusional," Sierra tells the camera. "No one's bullying you, we just don't like you. That's different!"
Of course, the episode ends before Clayton can make any real determination about what happened with these women and the shrimp. But in the teaser for next week's episode, Shanae appears several times, leading us to believe that Clayton, and more importantly, the producers, are not ready to send her home yet. It looks like she's going to get too aggressive with the other women at a football-themed group date (classic) and make out with Clayton on top of a bar (also classic). And she also cooks more shrimp, this time for Clayton. Incredible. I hope nobody gets food poisoning.