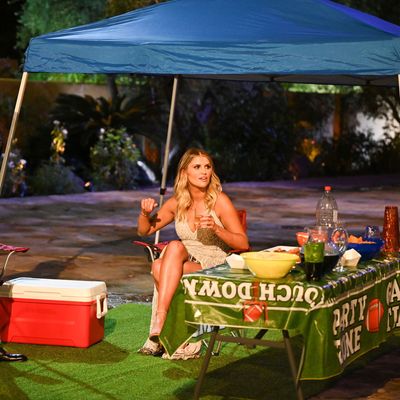 The 26th-season premiere of The Bachelor brought several new elements to the franchise. First, the Bachelor himself is basically an unknown, having only appeared on the previous season of The Bachelorette for "eight minutes" (his words). His name is Clayton Echard, and he is a smiley, 28-year-old NFL hopeful turned sales rep from the suburbs of St. Louis, Missouri. And he is joined by a new host: Jesse Palmer, a former Bachelor (circa 2004) and one-time NFL player who looks and sounds like the aged-up version of Clayton. But the most exciting new people are the contestants, one of whom decided rather immediately in last night's episode that she didn't care for the Bachelor at all.
This season's 31 hopefuls include several nurses, one doctor wearing doctor-themed lingerie, a 33-year-old social-media director who identified herself as a "cougar," a 24-year-old who instantly revealed on-camera that she was a virgin, and one brave woman who called off her engagement before traveling to the Bachelor mansion on the day she was supposed to get married. (Producers encouraged her to say hi to Clayton before the traditional limousine entrances, at which point she cried and decided to go home to her family.)
The star of the night, however, was Claire, a 28-year-old "spray tanner" from Virginia Beach who broke what is perhaps the cardinal rule of this program: Always pretend you are in love with the Bachelor.
In a legendary first-night arc, the likes of which we have never seen before on the show, Claire met Clayton and decided, No thanks. She then proceeded to loudly (and somewhat slurredly) declare to anyone who would listen how much she did not like the guy they were all there to fall in love with, prompting horrified stares and hushed whispers from her fellow contestants.
When Claire first appeared onscreen, she exited one of the limos, introduced herself to Clayton, and revealed that she planned to "wing it" instead of relying on a "cringey" gimmick to make herself memorable. And that is, indeed, what she did. Later in the episode, she used her one-on-one time with Clayton to attempt to bond over their shared interest in football (the producers set up a "tailgate" for the two of them, which included a game of Cornhole and a table with some wings on it). This wholesome activity did not last long, due to another contestant appearing to "steal" Clayton away. Claire protested at first, but then allowed Clayton to walk off so she could eat the wings by herself.
After that, the gloves were off. When the other women asked how her one-on-one time had gone, Claire was direct. "Not the vibe," she said. "WHAAAT?" the others responded, apparently unaware that this was something anyone was allowed to say. Claire continued to explain that Clayton was "100 percent too nice" for her. "I have a very specific palate," she said.
"It was a catastrophe," she said of the two minutes she spent with the guy. "I beat his ass in Cornhole. And the girl walked up and was like, 'Hey, can I steal you?' and I was like, 'Go.' He sucks."
Behold some other things Claire said, on-camera, about the Bachelor as the night wore on:
"I would eat him and spit him out."

"I can't be with, like, fucking America's Sweetheart."

"I'm too, like, fiery. I don't need someone that's like, 'Hi, I love America and I'm a sweetheart.'"

And then, finally: "I hate him."
Everything else happening in the episode ceased to matter after this point. In past seasons, we have watched women waver over their commitment to Bachelors, but never before have we seen someone decide, almost instantly, that the Bachelor is simply not for her. In contrast to the rest of the women, who spent the majority of the episode cooing over Clayton's stated desire to get married and start a family, Claire's outward disgust was thrilling.
Of course, she had to go home. Clayton escorted Claire out of the mansion before giving his "first impression rose" to Teddi, the aforementioned 24-year-old virgin. I only wish the producers had shown whatever Claire said to the cameras on her way out, as I'm sure it would have been extra-rude and extra-satisfying. I hope the other women learn this season that life is too short to pretend you like someone just because they are tall and on TV.