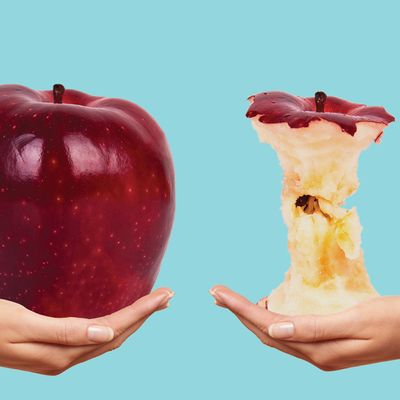 Photo-Illustration: Photo-Illustration: The Cut; Photos: Getty Images
I've spent most of my life obsessing over my body. The summer I turned 15, I lost a lot of weight. As part of my plan to keep it off, I subscribed to Men's Health, hoping it held the secret to staying in shape. One section in particular stood out, "Weight-Loss Transformations," which featured readers' experiences of getting into shape with help from the magazine's workout programs, complete with "before" and "after" photos. There stood the zhlubby dude from six months earlier next to the absolute hunk he had worked to become. I was entranced. I longed to be one of those men, and part of me always lamented the arrival of every new issue, knowing I wasn't featured within. Despite how obsessively I worked out, I never considered myself hot enough to grace the magazine's pages; the "before" and "after" photos were markers of what I would never become.
That year, 2004, may have been a low point for diet culture. Fox reality show The Swan, which pitted women against one another to compete for transformative plastic surgery, made its debut that year, as did The Biggest Loser, which shamed fat people into losing dangerous amounts of weight every week. But it was also the year during which experts began questioning the poorly researched concept of "the obesity epidemic," an idea that had become gospel among public-health officials. A lot has changed since then. The ensuing years have seen the rise of the body-positivity movement and a popular backlash against diet culture. I no longer subscribe to Men's Health, and I no longer identify as a man — I came out as trans in 2019. I'm also in recovery for an eating disorder I developed while trying to look like the men in the pictures. And despite all the progress we've seemingly made in the past 18 years, "before" and "after" photos maintain their strong grip over our idea of what personal change looks like. Three weeks into resolution season, the "before" and "after" photos aren't filling up my social-media feeds just yet. But I'm bracing myself.
"They promote this idea that one type of body is superior to another," explains Alexis Conason, a psychologist and author of The Diet-Free Revolution, "and that the 'before' body is bad or not good enough, and the 'after' body is what we should all aspire to." "Before" and "after" photos imply that "after" is the end, but in reality, this is rarely the case. Weight is hard to take off — and harder to keep off; about 80 percent of people who lose weight regain it within a year. The binary implied in the images also reduces people to their weight and physical appearance, even though health is determined by far more than weight alone.
The examples that used to show up in commercials for diets were egregious: a woman flapping enormous pants with two hands, a man smiling ab-fully in front of the mirror, a former professional athlete shaking their head in disbelief while recalling the weight they put on after retiring. Often hovering over each person's shoulder was a picture of themselves many pounds heavier, strategically chosen to show them at their worst. "Before" and "after" photos may not make the same appearance they used to in advertising, but they've moved to social media, where it can be even harder to avoid them; you're liable to stumble upon these photos in the same place you get your gossip and news.
Conason recommends being deliberate about the accounts you follow, reporting those that encourage disordered eating. But maintaining control over your feed is immensely difficult. On Facebook, where the algorithm encourages interaction, if you comment on a video documenting weight loss — or even hover over one for too long — chances are Facebook will spam you with similar videos every time you log on. On Instagram, the hashtag #BeforeAndAfter has nearly 24 million posts, a number likely even higher by the time you're reading this.
Some diet companies have started to shift their practices. Though it's been criticized for being little more than a calorie-counting app, the super-popular diet Noom doesn't promote dramatic weight loss but instead focuses on helping "users meet their personal health and wellness goals." And while the success stories on Jenny Craig's website still feature "after" photos, the company doesn't include its clients' "before" photos. On the other hand, Weight Watchers continues to include "transformation" stories on its website. Beachbody, a self-described multilevel-marketing company that uses social media to sell its fitness classes, saw its membership numbers skyrocket during the pandemic; it has since become known for its "before" and "after" photos littering Instagram.
Celebrity weight-loss and weight-gain narratives remain evergreen fixations — just ask Adele or Rebel Wilson or Oprah — and are becoming prominent in the sports world, in which basketball commentators have routinely mocked Zion Williamson and James Harden for putting on weight. Will Smith recently released a YouTube series called Best Shape of My Life, in which he attempts to lose 20 pounds in 20 weeks. After the first weigh-in, he berates himself for failing to lose weight; he appears miserable and takes out his anger on the people around him. This is hardly a feel-good, motivational story. Fittingly, Smith is now featured on the Men's Health "Weight-Loss Transformations" page.
For every success story, there are hundreds, if not thousands, of regular people who end up demoralized — or, worse, with an eating disorder — after doing all the requisite work and failing to obtain the results they were promised. "Before" and "after" photos that show results without fairly representing the work — or how unlikely the work works for every person — risk promoting a simplified understanding of transformation that might drive people toward self-hatred.
As someone who, over the course of my life, has both lost weight and transitioned from male to nonbinary, I understand how transformation photos can be empowering, and even vital, for building self-worth. Before I transitioned, I watched countless transition timelines on YouTube to prepare myself to come out. But in the wellness industry, these photos have too often been used to sell products that are not universally effective. The narratives these photos promote — that health is grounded in weight loss, that losing weight makes you happy — are false, and their continued use, by diet companies and wellness influencers, is not worth the harm they may cause.
There are responsible uses for "before" and "after" photos, Casey Johnston, author of the workout newsletter She's a Beast, tells me. Her advice: Take the photos, but keep them to yourself or share them with close friends and workout partners. That's what I'll be doing over the coming weeks because confession: I recently joined a gym. I want what half the country wants: to get in shape this New Year. But as I reestablish a workout routine, I'll refrain from shaming my former self — a person just as worthy of love. I just created an album on my phone to chart my progress. I'm too nervous to post anything online, but when the urge to share hits, I'll send photos to my partner or friends, the people who love me no matter how I look. Deciding to change is one of the most profound things a person can do. But this time, I plan to do it on my terms, not those dictated by toxic diet culture.
In the U.S., the National Eating Disorders Helpline is 1-800-931-2237.