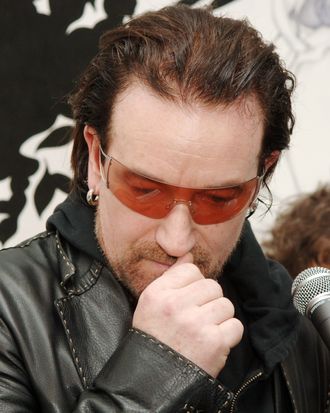 Bono thinking about how much he dislikes U2.
Photo: Stephen Lovekin/WireImage
The only certainties in life are death, taxes, and being embarrassed about everything you've ever done. The latter is inescapable regardless of whether you are me, a little blogger tippy-tapping on a keyboard, or Bono, who is … Bono.
On a recent episode of Awards Chatter, a podcast from The Hollywood Reporter, Bono talked about the utter humiliation of being in U2. (His implication, not mine!) "I've been in the car when one of our songs has come on the radio, and I've been the color of, as we say in Dublin, scarlet," he said. (Scarlet is famously Irish for red.) "I'm just so embarrassed," he added. Hmmm, feeling embarrassment at one's own nature? Maybe I … am Bono?
Though he didn't say which U2 song is the worst — it's probably this one — he did say "Miss Sarajevo" is the song he "can listen to the most." And the song he's proudest of? "Vertigo," which begins with the iconic line, "Uno, dos, tres, catorce." (Spanish for "One, two, three, fourteen.") If it helps, Bono had said "there may have been some drinking involved" while writing the song. Attempting to be bilingual while tipsy? I am Bono! "Genuine," he continued on the podcast, "most of the other ones make me cringe a little bit."
But Bono didn't stop there. He shared his feelings about his band being called U2. "I don't like that name," he said. "I still don't really like the name." Bono! Why didn't you say something sooner?! Perhaps a rebrand is in order? There are so many possibilities for better names: Bono's Boys, Bono and the Guys, Bono's Boyz, the Band That Also Includes the Edge, Catorce.
Bono mentioned that he thinks U2 "pushes out the boat on embarrassment quite a lot" but added, "Maybe that's the place to be as an artist — you know, right at the edge of your level of embarrassment." I will take this as a reference to the time U2 snuck their album onto all of our phones. In regards to that incident, Bono previously delivered what is now my favorite celebrity apology: "Oops! I'm sorry about that."