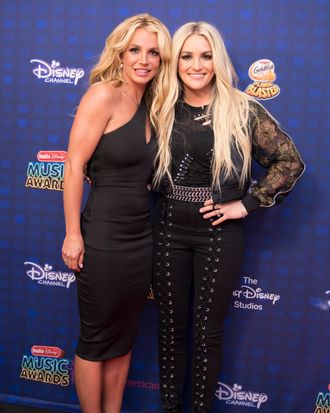 Photo: Image Group LA/Disney Channel via Getty Images/Disney General Entertainment Con
In the immortal words of Britney Spears, "Hush, just stop." The pop star responded to her sister Jamie Lynn Spears's Good Morning America interview on Thursday, January 13, in a lengthy Twitter post that started as a public request for some Aleve and ended up being a sharp dismissal of everything Jamie Lynn has said about her.
Britney's younger sister gave a wide-ranging interview with ABC News, part of which aired on Good Morning America on Wednesday, January 12, to promote her new memoir, Things I Should Have Said. In the interview, Jamie Lynn spoke about her teenage pregnancy, her career, and, of course, her sister, something Britney does not seem to have appreciated.
"So I got really sick last night," Britney began, recounting how she had a 104-degree fever but didn't have any pain relievers. After describing how her security team refused to leave her to get her some Aleve, she changed directions. "Looked at my phone and I see that my sister did her interview to promote her book … I watched it with a 104 fever [sick emoji] lol and it was actually kind of nice having a fever so high cause I had to surrender to not caring." Um, it did not get better for Jamie Lynn from there.
"She was never around me much 15 years ago at that time," Britney wrote in part, seemingly referencing when she was put under a conservatorship in the first place. "So why are they even talking about that unless she wants to sell a book at my expense?" As Britney wrote in her statement, she's currently sick with a very high fever, but even with a 104-degree temperature, you can't deny she's making a lot of sense. I mean, Jamie Lynn originally titled her memoir I Must Confess, a reference to Spears's iconic single "…Baby One More Time," so it's not like she's trying to escape her Britney connection.
Spears also touched on Jamie Lynn's 2017 Radio Disney tribute performance, where she performed some of Britney's greatest hits, which she had previously called out on Instagram as something that "hurt me deeply." When Jamie Lynn was asked about Britney's dislike of the performance on GMA, she said, "I don't think she's personally upset with me about that. Truthfully, I don't know why that bothers her." Yeah, that didn't go over well with Britney. "I know it may sound like a silly thing to most people," Britney explained on Twitter. "But I wrote a lot of my songs and my sister was the baby. She never had to work for anything. Everything was always given to her."
According to Britney, at the time of the performance, she asked Jamie Lynn "why she did that when she knew I was waiting to change my show and her only words were, 'Well, it wasn't my idea' … Hope your book does well, Jamie Lynn!"
If Jamie Lynn was hoping for a reconciliation, she might want to rethink her expectations. "My family loves to pull me down and hurt me always so I am disgusted with them," Britney wrote. She concluded her statement with a piece of advice. "Don't trust people or anyone … make your cats and dogs your family and take care of your own damn self!" Though she did add in a later tweet that her fiancé, Sam Asghari, ended up getting medicine for her fever. Everyone needs a little human help sometimes.