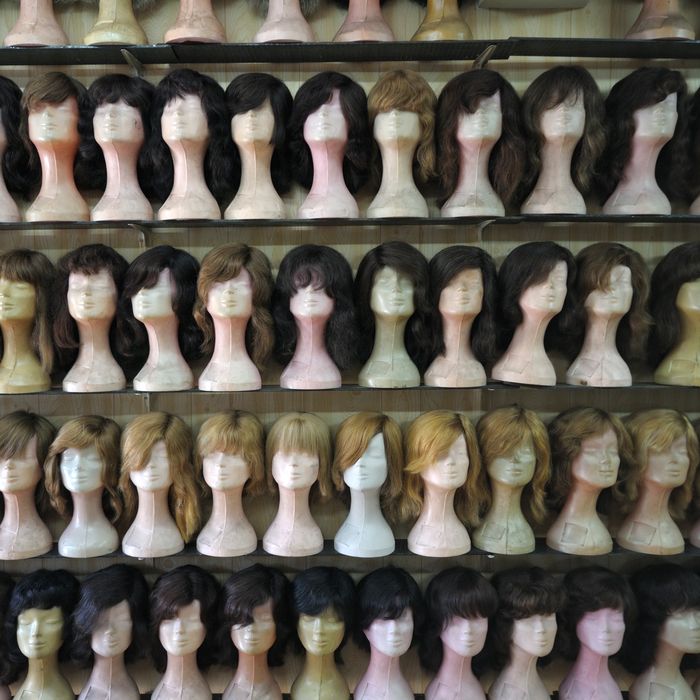 Photo: tunart/Getty Images/iStockphoto
Where does all the hair go? You know, when your dead ends are swept out of sight at the salon, or when you've traded in your old wig, weave, or hair extensions for a new one? The answer isn't pretty: It goes to a landfill.
The beauty industry has been reckoning with its outsize negative impact on the planet for a while now — maybe you've heard that only 9 percent of plastic waste ever created has been recycled, and that 120 billion units of packaging are created every year by the beauty industry? But hair, because it's an organic material and so, in theory, ought to break down naturally, has slipped past many sustainability enthusiasts. And if you've ever seen an episode of any CSI series, you already know that hair doesn't biodegrade that quickly — it takes a couple years.
The way hair is usually disposed of in salons is part of the problem, says Amy Goei, director of education at Green Circle Salons. "Typically speaking, salons just sweep hair up and put it in the trash, and then it goes straight to landfill in a trash bag," Goei explains. "Because all the hair is stuffed into a bag with the top closed, it's not exposed to light and oxygen and everything it needs to break down, and so not only does it not really biodegrade, it actually releases methane." Green Circle Salons, founded in 2009 in Toronto by Shane Price, is a sustainability partner for salons, specializing in recycling and safe disposal of beauty waste. The company collects clippings of natural and synthetic hair, as well as excess hair dye, foils, color tubes, aerosol bottles, and other plastics, to ensure safe recycling. "We collect over 154,000 pounds of hair and a total of over 1 million pounds of beauty waste from our 4,100 partner salons every year," says Goei.
Green Circle Salon's latest initiative is a partnership with Virginia Tech to create an entirely new material. "We've been able to take cuttings from natural and synthetic hair, grind them incredibly finely, and combine them with post-industrial plastics to create a new, stronger biocomposite material," says Goei. "It's a total closed loop, because we're now making the hair-recycling bins that we give to salons out of this biocomposite plastic."
Another organization, Matter of Trust, uses natural hair donations sent to them from individuals and salons to create "hair mats" which can be used to mop up oil spills and line storm drains. "During the BP oil spill in 2010, we received three quarters of a million pounds of hair in just four days," says Lisa Craig Gautier, Matter of Trust's president. "The storm-drain mats can be very beneficial in local communities, because 50 percent of the oil that ends up in our water supplies is not necessarily from huge oil spills but just from hydrocarbons mixing with rain on the street or from a garage. If you can catch that oil before it goes into drains and affects the rivers and the oceans, that's a huge step."
Wig, weave, and extensions wearers can prolong the life of their hairpieces before it's the end of the road, too. "Eighty-two percent of wig and hair-extension wearers we surveyed throw away one to three wigs or hairpieces a year," explains Yomi Onashile, founder of London-based wig-care service the Wig Bar. While wigs and weaves have been staples in the Black and Orthodox Jewish communities for many years, celebrities have created even more, and more widespread, demand, according to Jihan Thompson, CEO of Swivel, an app that connects Black women with local hairstylists. "Honestly, celebrities have been wearing weaves for a long time, but now they're so much more open about it — when they post their selfies, they tag their wig stylist right along with the rest of the glam squad," says Thompson.
But while some celebrities might go through them faster than a double-tap on Instagram, wigs and weaves can actually have a longer lifespan that you might expect. "Generally, they last up to 12 to 18 months, but if you take really good care of them, they can last even longer," said Onashile. That kind of TLC might involve sending them away for a touch-up, or investing in an at-home care kit, or simply handling them gently. "If you're rough with wigs, especially with the lace, they tear and become misshapen," says Manhattan-based wig technician Whitney Green. "Some of my clients are still wearing wigs I made them four years ago because they're gentle with them, so all I've needed to do is replace the closure a few times." Onashile's most popular services at the Wig Bar include a simple wash and style, lace repair, and ventilation, which means knotting individual hairs back onto a full lace wig where they might have fallen or snapped off; the salon also sells at-home wig care kits, as does HeatFreeHair for extensions.
If you've never, ever thought about what happens to your old hair, be it hair from your head or from a lace front, don't beat yourself up. The reality of hair disposal is almost too mind-boggling to comprehend, but maybe now you can get a little more mileage out of your new extensions with some diligent care or ask your hairstylist if they've ever thought about recycling salon offcuts. Every little strand helps.