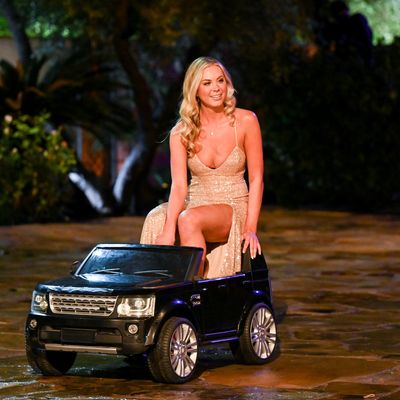 Bachelor Clayton Echard may be — to paraphrase all of Bachelor Nation — boring, but his season might have just accomplished something no previous season has done before: make me root for a villain. By the looks of Monday night's episode, early villain Cassidy Timbrooks is on her way out of the mansion, but she's not leaving quietly.
At the end of the season's second episode, Clayton asked new host Jesse Palmer if anyone had ever taken back a rose, supposedly talking about Cassidy, who had gotten the group rose earlier in the week. Why? Well, Cassidy has been rubbing girls in the house the wrong way ever since night one, and she hasn't been shy about it. But her playing it fast and loose may have cost her a spot after she told Sierra that she had a friends-with-benefits situation going on at home — something Sierra promptly told Clayton about at the cocktail party. Now, we don't know if he'll actually be taking back her rose, but Cassidy might have already spoiled her exit on Instagram.
According to Bachelor blogger RealitySteve, Cassidy posted an Instagram Story that confirmed her elimination. It's unclear when exactly the Story was originally published, though it was likely sometime within the first few weeks, as it features footage from the season premiere. In the video, Cassidy calls out Clayton for wanting to give Salley Carson a rose despite the fact that she had been engaged a week before filming. "Meanwhile, I fucked someone a few months ago, and I got sent home," Cassidy said on Instagram, via RealitySteve. "I get what we're made of here. I get the stuff that's happening, and go fuck yourself, Clayton Echard."
I'm not defending Cassidy's behavior on The Bachelor. The way she ditched a group-date activity — and Hilary Duff — to make out with Clayton by the pool was super-shady (smart, but shady), and the casual way she bragged on-camera about her friend with benefits who was waiting for her back home was very, very dumb. I'm absolutely convinced she was not there for the right reason. But even if you absolutely hate Cassidy, you have to agree she has a point: Clayton was willing to give a rose to a woman who had just broken off her engagement, but a woman who has a casual relationship is immediately eliminated? That's not right, and he deserves to be called out for it.
I'm Team Cassidy on this one, Bach Nation. May she continue to spill all the tea.