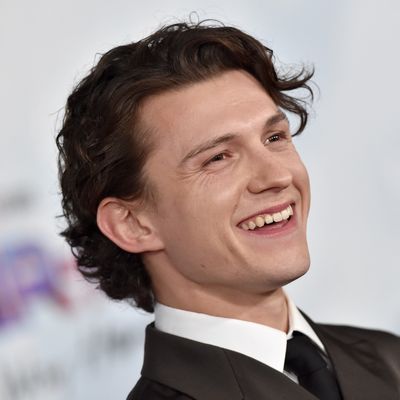 Imagine this man with holographic eye shadow.
Photo: Axelle/Bauer-Griffin/FilmMagic
It has come to my attention that Tom Holland wants to be on Euphoria. Like, really super bad.
In a recent interview, Holland said he visited Zendaya on the HBO drama's set "30 times this season." And it appears one of those times may have been captured for all to see. Fans think they spotted him in the background of a picture photographer Siyon Foster included in a Euphoria behind-the-scenes photo dump. He is supposedly the blurry masked figure standing behind Zendaya in the fourth picture:
Is it him? Is it a figment of our collective hopes and dreams? Hard to say, but it wouldn't be unlikely given how desperately the boy wants to be on the show. "I have been petitioning [for a Euphoria cameo] for a long time," Holland previously said. "And it has not happened yet, and I'm very disappointed." No! I hate to see my sweet British lad disappointed!!
If the Euphoria producers need any ideas, here are some possible roles Tom Holland could play:
- The only student who goes to class at Euphoria High School.
- Background dancer in one of Rue's hallucinations.
- British foreign-exchange student. Cheerio, luv!
- Friend who just wants everyone to get along and have a good time.
- Spider-Man.
The idea of Tom Holland interacting with truly any character on the show is a spinoff series in itself. Imagine an episode of Euphoria: Tom and Fezco Hang Out. HBO, Euphoria casting directors, et al., give the people what they want: our spry British boy in glittery eye shadow.