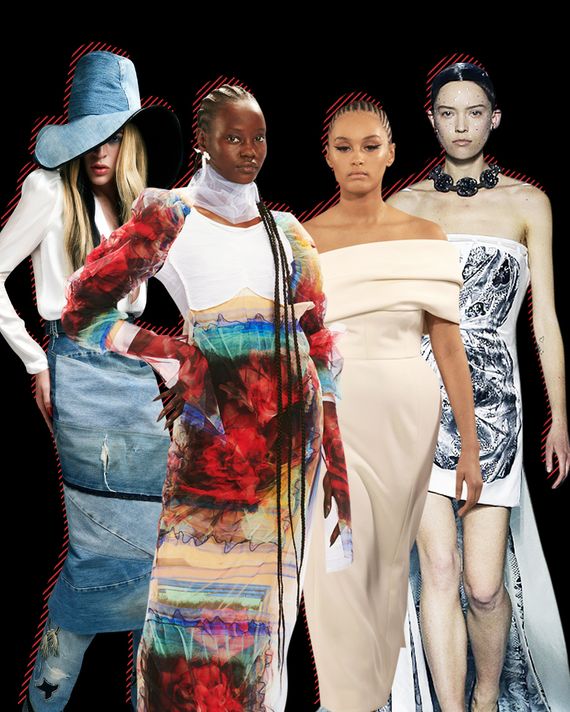 Left to right: Ronald van der Kemp, Jean Paul Gaultier, Valentino, Fendi.
Photo-Illustration: by The Cut; Photos: Courtesy of Ronald van der Kemp, Jean Paul Gaultier, Valentino, Fendi
The Dutch designer Ronald van der Kemp called his latest haute couture collection "Can You Feel It?" and the clothing descriptions were almost as fun as the designs. Look 8, for instance, is a "silk moire bustier mini dress with 'whipped cream' hand draping and hand draped roses. Arm sculpture, handcuff and rings from upcycled pewter." Or there's No. 11: "Sculptural jacket in alligator optic made from discarded vintage jeans."
Remarkably, I did think of whipped cream when I saw the image of the dress. It was in the uneven whorls of silk as much as in the tone. The arm piece was apparently made of melted-down pewter plate then molded into a garland. As for the jacket, it consisted of small, frayed squares of denim for a scaly effect with built-up shoulders and narrow, extra-long sleeves that evoked Jurassic wings. Or a Vegas-bound rock star.
"Can You Feel It?" is such an apt title for van der Kemp's work, which lingers between fantasy and realism and promotes circular fashion without forcing the concept. Many of the pieces were made from leftover or repurposed materials, like a stunning glen-plaid "bar jacket" with a fringe effect that originated in an earlier collection. (I'm guessing "bar" references Christian Dior's famous sculptural jacket, or maybe it's for a great bar in Amsterdam.) A flowing dress in what appeared to be a swirling print was actually hand-painted, and a mono-leg "disco bird" jersey jumpsuit in shades of blue and black expressed perfectly the feeling of flight. The body of the jumpsuit was covered with feathery bits of blue jersey, while the leg and right shoulder were a Carmen Miranda cascade of black hand-pleated ruffles.
Van der Kemp calls his collections "wardrobes." This is Wardrobe 15. And that sense of a holistic view of a client's sartorial life came across, but I think the term also means a nice range of personalities and costume genres — for example, "disco bird" and that chic bar jacket. But there was also a killer evening dress in silver lamé with pagoda shoulders. Again, it lingered between two worlds. Was it Hollywood glamour or just a wee bit camp?
Glenn Martens, best known for his brand Y/Project, brought his distinctive construction techniques to Jean Paul Gaultier, where he produced a one-off collection for the house. (Gaultier is now retired.) So this wasn't an occasion to propose a new direction. Martens found a comfortable groove in the couturier's vast repertoire and largely stuck to it, sending out far more diva gowns and quirky knits than tailoring (a Gaultier strength). Among the standout looks were delicately pleated chiffon dresses, including one in hot pink and white, and an extravagantly gathered gown in emerald-green silk. You could see references to Belle Époque Paris, in the necklines and modified bustles, and to the Victorians, in a lingerie-pink bustier worn with a very long faded-denim skirt. That was pure Gaultier but with Martens's fresh punch.
In principle, it makes sense to show different body types and different ages on a runway, and nowadays more designers than ever do — in both ready to wear and couture. And that was the thinking behind Pierpaolo Piccioli's Valentino show called "Anatomy of Couture." Instead of using one house model on whom to fit the entire collection, as he (and other designers) typically do, Piccioli said he used a number of models. To an extent, their bodies informed the varied silhouettes. He included several modeling legends in the cast such as Violetta Sanchez, Marie Sophie Wilson, and Kristen McMenamy, who wore a black bustier mini with a carved-out neckline to open the show.
However well-intentioned, I'm not sure it was ultimately clear what he was driving at. A hallmark of couture is that a garment is made to an individual's measurements, and if a style strikes a client as being too extreme or not the ideal proportion for her figure, adjustments are made. In a couture fitting with a private client, the look seen on the runway can be completely transformed based on her body, her whims. There's an enormous amount of leeway in the fitting process for a private client — that's the beauty of couture if you can afford it. But does the average person know that? Probably not. And they want to see their body type represented on a runway. So I can understand why Piccioli would want to actually show different body types. And I applaud that. But at the same time, you need to see remarkable design. I felt I was looking at disparate pieces — a bustier with sexy stockings, a plain white top with a silver spangled skirt, a grand opera coat, a perfectly nice if matronly cocktail dress, a shift with '60s-era cutout boots, a hot-pink feathery number — in search of a cohesive collection. I didn't feel, in short, that Piccioli's guiding hand was present, as it has generally been for the past few years.
Like other designers this season, Kim Jones of Fendi stuck to a neutral palette of black and white with a bit of red and inky blue and a rather hard, sharp silhouette. He used subtly reflective materials like black velvet and smooth, glossy sections of beading against layered matte chiffon. And he referenced ancient Rome's favorite garment, the toga, with dark and simple evening dresses, often with a strip or an underpiece of black beading.
The result was an exceedingly confident collection that focused on craft and luxury without gimmicks. "I just wanted things to be cleaner," Jones said. "It looks modern." A short white cape, made from shaved mink, displayed an almost abstract hand-painting drawing of a classical statue. There were other traces of fur in the collection, but it was usually broken into strips and recombined, and a lot of it was repurposed from old coats. Somehow, despite the Roman references, Jones managed to give the clothes a slight sci-fi feel. Maybe it was the reflective touches or the short draped styles with trains. Or maybe the ancients were just ahead of their time.