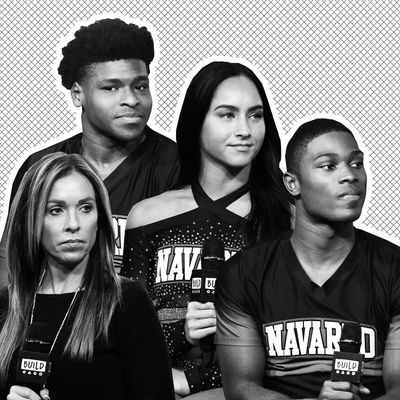 Photo-Illustration: The Cut; Photos: Getty Images
If season one of Cheer was a high school home-game victory — sometimes emotionally charged but ultimately satisfying — then season two is the morning after the big championship loss, the dark cloud of season one's beacon of positivity and joy, Jerry Harris, hanging over it.
If you haven't seen the first season of Cheer, it's difficult to overstate just how much of a feel-good hero Harris became, both in the series and in real life. Despite difficult circumstances — his single mother struggled to stay afloat financially and died when he was a teen — he was unequivocally the cheeriest cheerleader on Cheer. Harris neatly represented one of America's favorite tropes: the poor but talented anomaly who makes it out of a bad situation through hard work and a positive attitude. The American Dream, etc., etc. It's an irresistible story.
I remember being struck, too, by how deeply loved Harris was. First by his mother, who was barely making rent but made sure that she always had enough to pay the steep fees for her son's beloved cheer gym, and then by his cheerleading community, which fundraised to keep him in the sport after his mother died. He was the person who brightened everyone else's day, who helped keep his teammates going through difficult routines with his famed "mat-talk" skills.
Then in September 2020, Harris was arrested on the charge of production of child pornography. He was subsequently sued by twin brothers Sam and Charlie, survivors of his alleged abuse who were brave enough to go public with their story, and that December the FBI brought seven additional charges related to child pornography and sexual abuse of minors against him.
Harris was accused of targeting four minors in Florida, Illinois, and Texas between 2017, when he was 18 years old, and 2020. Through attorneys and spokespeople, he has denied all allegations, but in the September 2020 criminal complaint from Chicago federal court, Harris allegedly admitted to having solicited and received child pornography from "at least between 10 to 15 other individuals he knew were minors," as well as sex with a 15-year-old minor at a cheer event in 2019 and other alleged misconduct. Currently he's incarcerated in Illinois, awaiting trial. His bail was denied.
Season two of Cheer spans from the start of 2020 to June of last year. After a prologue previewing the highs and lows of the months to come, it opens with Navarro's sudden rise to fame following the release of season one in early January — just under a year after, according to Charlie and Sam's account, Harris allegedly pressured Charlie, who was 13 at the time, into sex in a bathroom at a cheer competition. We see the standout cast members — Lexi, La'Darius, Gabi, Morgan, Monica, and yes, Jerry, greeting their hordes of adoring and often very young fans.
There are Ellen appearances, morning-show interviews, Instagram ads, photo shoots, agents. We watch them all ride the high of their Netflix success, amid some grumbling from the non-famous cheerleaders. We're also introduced to the team at Trinity Valley Community College, their rival school. And then we watch it all fall apart when the COVID-19 pandemic hits just a few weeks before their big competition in Daytona. And Harris is there, through it all, with his usual words of encouragement. There's no indication that, late one night that February, he was allegedly texting 14-year-old Charlie an apology for "what I've done in the past" after blocking him on Snapchat.
Following the pandemic episode, Cheer finally directly addresses what we, the audience, already know. It's clearly a shock and a production scramble. The producers even reuse some footage from the previous season in which Harris says, in a rare solemn tone, "I would probably be somewhere on a street right now. I would probably be in and out of jail. I would probably be upset at the world, and I would be hurting others because I would be hurt myself. I would not be where I am today without cheer."
In confessionals, his teammates and coach talk mostly about their shock and bewilderment, their regret for not realizing, not helping to stop it. "We had a team meeting that night, and I … it really felt like a funeral," coach Monica Aldama says before breaking down in tears. "I'm just scrolling through Twitter. And I see Jerry. This ain't true. This ain't — this can't be true," says La'Darius, recounting his initial discovery and reaction. "I started crying. And I called Gabi, and she is bawling."
There's a brief moment in season one that, for me, foreshadows the painful truth more clearly than any other. In the first episode of the series, Harris is shown in a dorm room, hanging out with teammates James, TT, and La'Darius, watching cheer videos on his phone. "Jerry listens to cheer 24/7," says James in a voice-over. "He can show you each routine, every section … it's crazy how much Jerry loves cheerleading." Then TT says to Harris: "I don't know how you sit there and watch, like, younger teams do competitions."
They all joke about Harris's obsession with knowing all the routines, all the details, the coaches, the parents, and he pulls up a younger team's score sheets from a recent competition. Rewatching it, I thought of an elementary school employee from whom my classmates and I received daily hugs — a man we all loved who made us smile. A man who, a few years later, was arrested for sexually abusing one of those classmates. Everyone was shocked. He was hiding in plain sight with a jolly, cheerful persona that easily disguised behavior that might have otherwise raised alarm bells. Very few actual pedophiles are skulking around the edge of a playground, waiting to be discovered.
After grieving the Harris everyone loved and thought they knew, the show turns to the survivors of his abuse, interviewing first Sarah Klein, the attorney and advocate who is representing them; then Charlie and Sam themselves; and then their mother, Kristen. The interviews with the boys are the most heartbreaking to watch. After their mom describes what a safe haven cheerleading was for them, they recount being harassed, groomed, and, in Charlie's case, eventually sexually assaulted. "It made me lose even more faith in having a safe community in cheer," says Sam.
It was good to see the Cheer producers focus mostly on the survivors' story. They even touched on the wider culture of abuse in cheer, interviewing the USA Today reporters who broke the story. And they included Klein's condemnation of Coach Monica's public response to the news, a much-criticized Instagram post in which she wrote about her devastation about the news, the importance of protecting children, her prayers for the victims and families, and a request for privacy.
Near the episode's end, we hear from La'Darius again, whose voice has more ferocity than anyone else's when he talks about what Harris did. "I would have snatched him up, if I ever would have known about any of this stuff," he says. "I feel like it would have been worse than him going to jail. I don't care how famous you are, I don't care how much money you got, I don't care how much people love you. That don't give you the right to do stuff like this. Especially when one of your best friends you know went through something like that."
As he revealed in season one, La'Darius — Harris's best friend and roommate — is himself a survivor of childhood sexual abuse. More than anyone else at Navarro, La'Darius understands the impact Harris's abuse has had on his victims' lives. The anger and the hurt he feels is palpable.
Which is what makes the following episode so perplexing; Netflix's description of it says that La'Darius "turns on Monica and the team in dramatic fashion." In the episode's Navarro portions, the camera focuses on Monica's spiral into depression — in the fall of 2020 she's on Dancing With the Stars, away from her team, causing distance from her cheerleaders and some drama among them, in particular with the new assistant coach, Kailee Peppers, who is taking over for Monica in her absence. When the news about Harris breaks, the tension escalates.
La'Darius, whose mother, it should be noted, was suddenly taken away by police when he was a child, starts feeling deserted and unseen by his coach. He sees Monica, he says at multiple points throughout the series, as a mother figure. So on top of finding out that his best friend has allegedly abused young boys, he's also feeling discarded by the primary source of stability and nurturing in his life. After a conflict with Kailee, he decides to leave Navarro ahead of Monica's return.
We hear from La'Darius in the beginning of the episode, but we mostly see the events unfold through the eyes of Monica and the other cheerleaders, who all seem more annoyed than sympathetic toward him. Upon Monica's return to Navarro, she gets COVID-19 and is shown in bed, doom-scrolling, heartbroken by Harris's transgressions and La'Darius's departure, with emphasis placed on how difficult it was for Monica to receive so much negative press coverage. And that's valid! It's her experience. But then, that's it. At this point, we've only reached the middle of the season, and for the next three episodes, the focus goes … right back to cheerleading.
There's no further processing of the traumatic events that have just transpired. No negative attitudes allowed! Time to be positive and get ready for Daytona! If I was still reeling from merely watching those two episodes, I can't imagine how the cheerleaders were all feeling — but there's very little space given for them to address it or deal with their feelings, at least in the footage we're shown.
It kind of makes sense — the Cheer directors never set out to make a documentary about abuse and trauma and the myriad ways they can affect people. I could almost hear the sigh of relief they all breathed as they concluded episode six — finally we can get back to why we came to Navarro in the first place. They wanted to have it both ways perhaps — to confront the bad stuff head-on so they could push through it and focus on the positive. It was something of a cheerleader's mentality.
As for La'Darius, he's essentially dropped from the story line for most of the second half of the season. As I watched, I constantly found myself wondering what was going on with him and whether he was okay, and really, whether any of them were okay. It's one thing if he'd decided to stop filming and distance himself from production — that, of course, is understandable and explains some of this — but that everyone else seemed to just stop talking about it is less comprehensible. So when La'Darius and Monica tearfully repair their relationship in the final episode of the season, and he tells her that what happened wasn't really about her, what was supposed to feel like a moment of closure, all tied up in a bow, just feels hollow and unsatisfying. Whatever pain and trauma his former best friend resurfaced remains unspoken, but it's there — hiding in plain sight but never directly addressed.
And for me, that's ultimately the problem with the show. Cheerleading is a sport that buys heavily into the ethos of toxic positivity, pushing down any negative feelings rather than allowing space to process and move through them. And that's sort of what the Cheer directors are saying to us: It happened, it was bad, now let's focus on this competition! Why are you still worried about all that? Of course, I'm not sure there's any way they could have continued and ended the season that would have been truly satisfying. But I wish the creators had accepted and even embraced that they were making a different show this season instead of trying to make it everything at once. As we learned from the Daytona competition outcome, if you keep going and going with a smile on your face and your feelings pushed down, eventually you will falter.