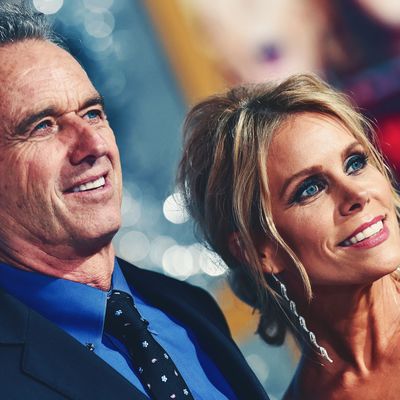 Robert F. Kennedy Jr. and Cheryl Hines.
Photo: Axelle/Bauer-Griffin/FilmMagic
Another day, another onslaught of news that sounds like a cursed Mad Libs. This morning, actress Cheryl Hines, best known for her role on Curb Your Enthusiasm, issued a statement regarding recent comments that her husband, Robert F. Kennedy Jr., made about the Holocaust. "My husband's reference to Anne Frank at [an anti-vaccine] mandate rally in D.C. was reprehensible and insensitive," Hines tweeted. "The atrocities that millions endured during the Holocaust should never be compared to anyone or anything. His opinions are not a reflection of my own." How, you may ask, did we even get to this point? Well, fasten your seat belts as we journey into this anti-vaxx hellhole.
On Sunday, infamous anti-vaxxer RFK Jr., who is best known for … being a Kennedy, spoke at a "Defeat the Mandates" rally in Washington, D.C. The event attracted thousands of people who are opposed to vaccine mandates and included speakers like Robert Malone, a physician who has gained a following by spreading misinformation about COVID-19. (Meanwhile, the Omicron variant is still surging across the country, and D.C. is currently averaging nearly 700 new cases of COVID every day.) Other notable details from the event, per the Washington Post, include a handful of men wearing Proud Boys merch, a speaker blasting Kelly Clarkson's "Stronger (What Doesn't Kill You)," and very few masks.
"Even in Hitler's Germany, you could cross the Alps into Switzerland. You could hide in an attic like Anne Frank did," Kennedy said during his speech, implying that people who are anti-vaxx are comparable to Jews who lived in Nazi Germany. "Today, the mechanisms are being put in place that will make it so none of us can run, and none of us can hide." He went on to mention the dangers of "Bill Gates and his 65,00 satellites" and promulgated debunked myths about 5G and cryptocurrency. What does that have to do with anything? Who knows? You can watch the minute-long clip and try to decipher it yourself.
As video of Kennedy delivering his speech made the rounds on Twitter, Hines was tagged in the replies, with many asking whether she agreed with her husband's comments. At first, she responded directly to a couple of tweets, saying, "My husband's opinions are not a reflection of my own. While we love each other, we differ on many current issues." At one point, she seemed to imply that World War II and the Holocaust were not related. (They are.) Eventually, she posted a separate tweet clearly stating that her husband's statements were "reprehensible" and she does not agree with them.
This is not the first time RFK Jr. has inappropriately referenced the Holocaust in the context of vaccines. In 2015, he issued an apology after inaccurately and inappropriately comparing the number of children harmed by vaccines to the Holocaust. He made the initial comments while espousing the long-debunked myth that vaccines cause autism, though he has yet to backtrack on that assertion.
This is also not the first time Kennedy's family has distanced itself from him and his beliefs. In 2019, two of Kennedy's siblings and one of his nieces wrote an essay condemning the "heartbreaking" misinformation he has spread about vaccines, adding that his comments have "deadly" consequences. While his family has made it clear that they are pro-vaccine, Hines has not specified her own stance. (Her recent statement seems to reference only her husband's comments about the Holocaust.) It doesn't appear that Kennedy ever responded to the essay, nor has he responded to his wife's recent statement.