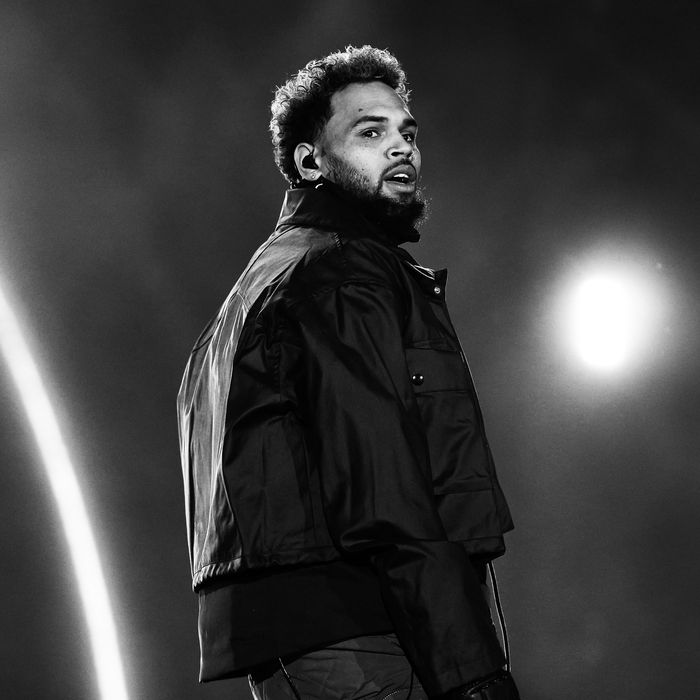 Photo: John Salangsang for Power/Shutterstock
Chris Brown is facing a $20 million lawsuit for allegedly raping and drugging a woman during a 2020 party on a yacht docked near Diddy's Miami home.
According to court documents obtained by TMZ, Brown asked the woman to attend the party, grabbing the phone of a friend who was already there, and whom she was FaceTiming, telling her to come. When the woman arrived, she says Brown approached her and offered her a drink. The two started talking and, after Brown offered her a second drink, she says she experienced "a sudden, unexplained change in consciousness." She remembers feeling "disoriented, physically unstable, and started to fall in and out of sleep," at which point Brown allegedly led her into a bedroom.
She says Brown began undressing her, and that she told him to stop. She claims he didn't and proceeded to rape her. The woman says after he ejaculated inside of her, Brown "jumped up" and said he was "done." Once Brown left, the woman says a friend helped her get dressed and leave the party. The next day, Brown allegedly texted the woman, saying he'd been "faded" and urging her to take a Plan B to terminate any possible pregnancy. She says she took an emergency contraception and later sought medical care. It's unclear whether she reported the rape at this time.
Brown appeared to respond to the lawsuit in an Instagram story, writing, "I HOPE YALL SEE THIS PATTERN OF 🧢 whenever im releasing music or projects, 'THEY' try to pull some real bullshit." The woman's lawyers, who are representing Dylan Gonzalez in her recent sexual assault case against Trey Songz, have also filed a lawsuit against Diddy for the 2020 incident. They told the Cut, "We are advocating for all victims," urging anyone with any information to contact them. The Cut has also reached out to Brown's representation for comment.
This recent lawsuit adds yet another allegation to Brown's seemingly ever-growing list of various degrees of assault. Since his 2009 felony charges for physically assaulting Rihanna, Brown has been arrested for battery, had a standoff with LAPD in 2016, received a permanent restraining order in 2017 from former partner Karrueche Tran, and was accused of rape in 2019. At the time, Brown denied the allegations, calling them "FALSE AND A WHOLE LOT OF CAP" in a since-deleted Instagram post. He later announced plans to sue his accuser for slander, but the case was ultimately rejected due to insufficient evidence.
A previous version of this post incorrectly stated the yacht was owned by Diddy. He does not own the yacht.