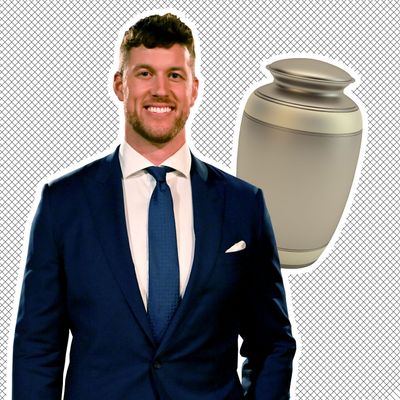 Bachelor Clayton Echard pictured alongside a collection of one contestant's ex-boyfriends.
Photo-Illustration: The Cut; Photos: Getty Images, ABC
Season 26 of The Bachelor premieres tonight, asking the question almost every season of The Bachelor has already asked us: Can this tall, white man with nice teeth find love? If the show's sneak peeks are any indication, the answer appears to be … yeah, probably.
This season's titular Bachelor is Clayton Echard, who finished in the top ten of Michelle Young's season of The Bachelorette. Like many Bachelors and Bachelorette contestants before him, Clayton is apparently a "sales representative" and former football player, which is to say there are no defining characteristics about this man. If you told me his name was Braxton and his profession was "fancy houses" or that he's a six-foot-three sentient Bowflex who goes by Michael, my opinions of him would remain the same. Regardless, he has 31 single women vying for his roses. So let's meet a few of them, shall we?
There's Sierra J., who, per the latest teaser, introduces herself as follows: "Don't freak out, but I'm your wife. I just got back from the future, okay? And you end up choosing me anyway, so you want to just get out of here?" Clayton appears to stay put. There's a doctor named Kira who shows up in a Yandy-esque nurse costume and lingerie. And most importantly, there's Jill, an architectural historian who arrives with an urn and says, "These are the ashes of my ex-boyfriends." Hell yeah, Jill.
An urn showing up on this show was, of course, inevitable. To date, The Bachelor–Bachelorette franchise has had a skin salesmen, a guy with a folder of notes about the lead, and even a contestant arriving in a hearse. By my calculations, we are two seasons away from someone showing up in a skin suit fashioned to look like the bachelor's mom.