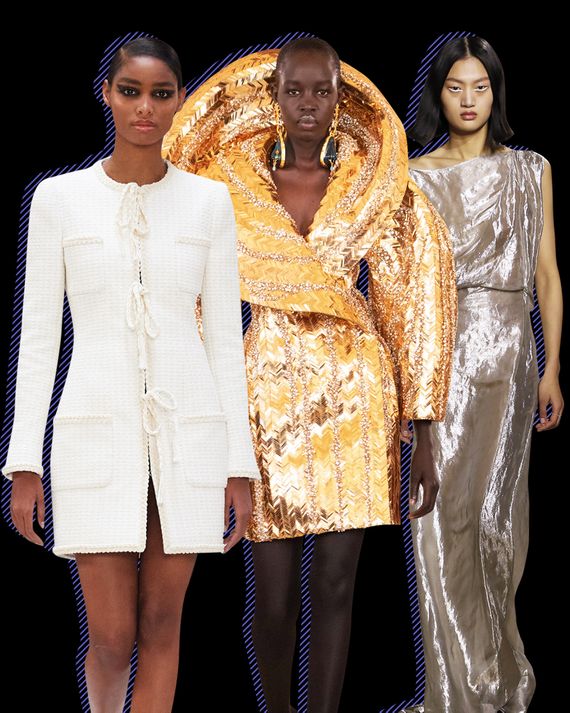 Photo-Illustration: by The Cut; Photos: Courtesy of Chanel, Schiaparelli, Dior
Daniel Roseberry's latest Schiaparelli collection is hardly subdued. In the show the other day, at the Petit Palais in Paris, one dress featured thin bands of brass orbiting around the model's shoulders. A feathered black headpiece looked not so much like a hat as a direct asteroid hit. And the ever-elegant Mariacarla Boscono wore a slim black dress with a spray of brass strips coming out of the neckline and bobbing around her.
But the collection — for spring haute couture — is reflective, in both senses. What comes across is a designer who with his team has questioned the relevance of high fashion during an excruciating period, a time of loss. He became aware in the process, he said, that many of the standard gestures in couture — color, big volumes — feel empty. (Certainly when you think of the cartoonish parade at the Met Gala, you might want to retreat.) Roseberry was also self-critical: How many more gold Surrealist ears and nipples does one want to see stuck on clothes? The House of Schiaparelli, founded in 1927 by Elsa Schiaparelli, had a banner year in 2021 — dressing Cardi B, Adele, and opening boutiques at Bergdorf's and Dover Street Market in London.
But, as Roseberry said in an interview, "Elsa was always quite sharp — that hard chic, the sharpness to the tailoring and bustiers. And I really loved embracing that."
What was truly extraordinary about the collection was the sense of rigor combined with a sense of jest. First, there was no color — just the visual sharpness of black, white, and gold. Second, most of the fabrics were silk velvet, wool crepe, and organdy. For a plain white column, capped by a wide black yoke, the velvet shimmered. Roseberry noted that the clothes were either at the knee (in the case of slim shorts or coat dresses) or at the ankle. The shoes — a sublime, block-heeled variation on the famous "Belle du Jour" style, now with a gold ornament — were low.
"There's an ease to the collection," he told me. "I want people at the show to lose themselves for 11 minutes and not be distracted by people wobbling on white carpet."
In fact, there were many ways to get lost in this magical collection — in the unusual blend of the religious (those priestly yokes!) and the futuristic, the incredible couture polish and craft, and, above all, the wonderful, life-affirming sense of the weird, which is vital to fashion. Look at the gold baroque arm sculpture (or armor?) for a simple black skirt and a sheer, flesh-tone top, the smooth fit of a very low-cut black dress animated only by the woman's body. Roseberry clearly knows something of the long history of fashion, the interplay between men's and women's dress (he previously worked at Thom Browne), but he expertly uses just what he needs.
So far, it has been a dazzling haute-couture season, and I'm sorry I'm at home with Murray the Lab (though I love him). Against the backdrop of an immense tapestry, stitched by the Chanakya school in India, Maria Grazia Chiuri put on a superb show for Dior. The opening look, an all-over embroidered bodysuit, set up her premise — that embroidery is more than adornment, it can also be the foundation for handmade clothes. Chiuri and the Dior ateliers so skillfully integrated all forms of needlework into the understated designs that it's difficult to see the magic. But that also seems to be the point.
What I especially like about this collection is that its power rests on silhouette, and the silhouettes are pure Dior — a straight-line, double-breasted coat in creamy white wool (or cashmere), a shapely cream jacket with a long, slim skirt, and a simple, floor-length white dress with full sleeves, not quite a caftan but loose-fitting. That dress was craft itself. Like Roseberry, Chiuri kept her palette neutral — black, white, gray, the palest shimmer of silver and gold.
Given the number of equestrian venues in Paris, it's a little surprising that a horse hasn't (to my knowledge) come trotting down a runway, leading the rest of the models.
Well, it finally happened — today, at Chanel. Charlotte Casiraghi, the elder daughter of Princess Caroline of Hanover, opened the show, at the Grand Palais, by walking, then cantering her dark-chestnut horse around a raised catwalk. Casiraghi was dressed in riding boots, pants, and a Chanel tweed jacket — proof of something aristocrats have known for ages: If the garment fits well, you can take a fence in it.
Virginie Viard's collection, presented on a set that symbolically combined futuristic elements and natural materials, showed a lot of restraint. She focused on classic Chanel jackets, paired with somewhat wide-leg trousers and modestly trimmed with embroidery. Mini coat dresses looked sharp and perfect, and a series of tweed suits with front-split short skirts over a white lace or an embroidered under dress nicely recalled designs by Karl Lagerfeld. They looked luxurious without killing it.
Also worth noting in this excellent, well-measured collection was Viard's fresh palette of pale pink, orange, and blue blended with cream and light gray, and the airy finale of white organdy and charmeuse dresses, their silver beaded tops given a smudge of color.