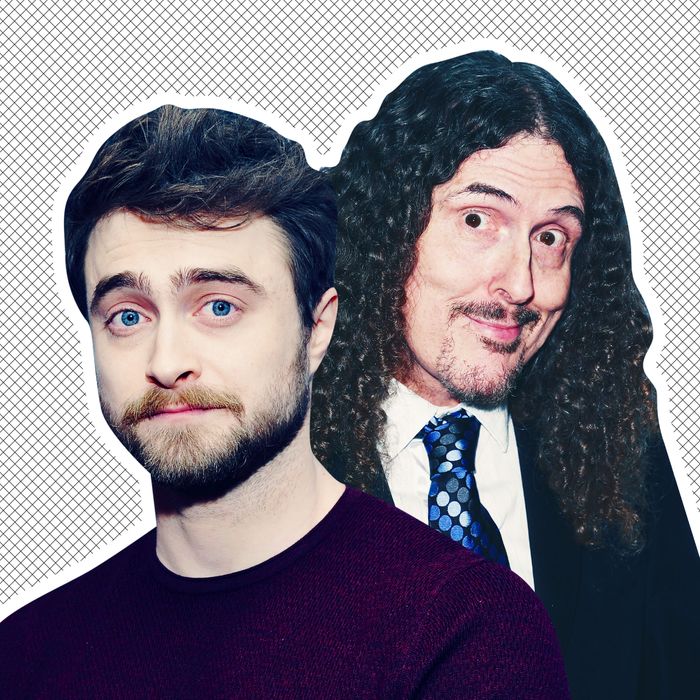 One of these men is Daniel Radcliffe. The other is Weird Al Yankovic. I will let you figure out who's who.
Photo-Illustration: by The Cut; Photo: Getty Images
Daniel Radcliffe has proven himself to be a versatile actor. He's played a wizard, a naked horse boy, even a farting corpse. Now, he will embark on the role I am certain he was born to play: Weird Al Yankovic.
Today, Deadline announced Radcliffe will play the five-time Grammy winner — put some respect on Weird Al's name — in the upcoming biopic Weird: The Al Yankovic Story. "When Weird Al first sat me down against my will and told me his life story, I didn't believe any of it," said Eric Appel, a comedy writer and director who co-wrote the movie with Yankovic, "but I knew that we had to make a movie about it." Fortunately, Appel already has experience writing about Weird Al, having created this Funny or Die mockumentary in 2010 starring Aaron Paul as the titular Weird Al. With all due respect, he has nothing on our sweet Daniel.
"When my last movie UHF came out in 1989, I made a solemn vow to my fans that I would release a major motion picture every 33 years, like clockwork. I'm very happy to say we're on schedule," said Yankovic. "And I am absolutely thrilled that Daniel Radcliffe will be portraying me in the film. I have no doubt whatsoever that this is the role future generations will remember him for." Lest you doubt the relevance of Weird Al, he is one of only four artists to have had Top 40 hits in each of the last four decades. The other three are U2, Madonna, and Michael Jackson.
And lest you doubt the musical abilities of my deranged gun boy, here is Daniel Radcliffe rapping "Alphabet Aerobics" by Blackalicious on The Tonight Show back in 2014:
Great technique, Daniel! I look forward to your renditions of such classic hits as "White and Nerdy," "Amish Paradise," and "Polka Face." Then, I beg of you, drop the full album. It's what we all deserve.