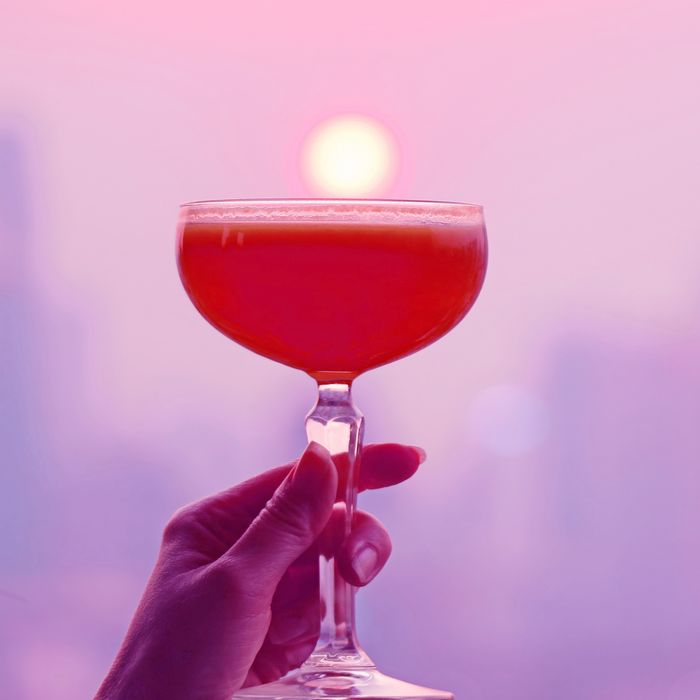 Photo: lovelypeace/Getty Images/iStockphoto
The first time I noticed people not drinking was at an Irish pub at a normal happy hour before the pandemic. I was on my second glass of Pinot Noir opposite a friend with whom I used to drink excessively. He used to tease me for being a lightweight. Then, as I ordered my third glass of wine, he diligently chewed the straw of his seltzer with lime, committed to cutting back. I felt admonished — it had taken me so long to get into the glamor of drinking culture. When did it become fashionable to stop?
I didn't know it then, but younger generations had already started to shift their relationship to alcohol. A 2018 study indicated that millennials and Gen Z drank less than their boomer and Gen-X counterparts did at similar ages, citing negative social perceptions as reasons to cut back. And more and more young people, particularly young women, have trickled into a growing "sober curious" movement in which those who don't necessarily identify as alcoholics or want to commit to lifelong sobriety can experiment with consuming less alcohol. The trend has spawned Facebook groups, online sobriety schools, meetups, and communities designed to foster social interactions among women that weren't contingent upon having a glass of happy-hour wine in hand. A whole new genre of self-help literature was born, including Ruby Warrington's Sober Curious, which gave the movement its name, and Holly Whitaker's Quit Like a Woman, inspired by Whitaker's online alcohol-treatment program. Then came the nonalcoholic cocktails.
There are chichi and functional varieties, from mood-enhancing adaptogenic drinks to bubbly floral spritzes and spirits meant to taste like liquor. Glossier alum Melanie Masarin founded her spirit-free aperitif company Ghia in the thick of the pandemic, drawing inspiration from her family's aperitivo traditions (Ghia's since been included in Gwyneth Paltrow's holiday Goop guide and called "seriously chic" by Vogue). Brands like Kin Euphorics, which launched in 2018 and later made Bella Hadid a co-founder, promise to revamp the "modern ritual" of drinking. Sales of nonalcoholic beverages rose 300 percent between 2016 and 2020, and just since last September, Katy Perry has launched her own line, as did Blake Lively, whose sparkling low-calorie mixers can be sipped on their own or mixed with alcohol. Real Housewife of New York City Luann de Lesseps even has her own dealcoholized rosé brand, Fosé Rosé. Having a line of nonalcoholic spirits has become almost de rigueur for celebs of a certain stripe.
These drinks sometimes feel marketed like a way to assert power, as a kind of girlbossery. The branding is aspirational: Abstaining from alcohol means creating a life so good you don't want to escape it. Many of the companies rely on visual identities of high-end luxury: web pages that glimmer and drip with warm pinks and reds, Instagram squares of pregnant women with glittering bellies and dealcoholized wines, vintage fashion, and videos that evoke Mediterranean travel. There's a sense of fantasy to drinking — it allows you to step outside of yourself for a while — but there's an even more heightened fantasy to nonalcoholic marketing; it invites you in by making you aspire to its glamor and exclusivity. "We just wanted to make Starla stigma-free and cool," founders Dawn Maire and Jamie Coulter told me of their dealcoholized wine company. "If Gucci had a wine," Coulter added, "you'd find Starla."
The boom in the nonalcoholic market has also dovetailed with skyrocketing rates of alcohol dependency in the U.S., especially among women. But it's unclear how much these drinks might help people who are trying to get sober. Some I spoke with found them helpful in their recovery process. "I never want a buzz again, but it's still fun to mix a drink and not have it ruin your life," a recovering alcoholic told me. A bartender who's trying to get sober said that substitutes like nonalcoholic beers were essential those first transitional months into sobriety, but now, he'll only occasionally reach for one for the taste. Others I spoke with say that drinking alcohol substitutes are the worst thing recovering alcoholics can do to themselves. "You get the sizzle and pop but no high," one told me. Drinking something that tasted like alcohol just pushed him to go out and find the real thing.
Collin Reiff, clinical assistant professor and addiction specialist in the Department of Psychiatry at NYU Langone Health, told me he's wary of nonalcoholic cocktails as well. Once you're dependent on alcohol, he says, "there's no going back" to moderation. Substitutes — especially ones geared to taste and resemble alcohol — can be dangerous, allowing you to "flirt with the idea of drinking" and possibly triggering you to drink again.
None of the nonalcoholic beverage brands whose founders I spoke with specifically market themselves to alcoholics, but they also don't include any specific warnings on their websites.
"We completely understand that just the thought of a drink can be triggering for some," Masarin told me in an email. "What we're trying to do with Ghia is normalize not drinking while still providing people with the ability to be comfortable in a social situation, since most social settings still do revolve around alcohol." Morten Sorensen, founder of ISH spirits, told me he wouldn't recommend his company's products to recovering addicts; they're intended for what Sorensen calls the "mindful drinker" and "conscious consumer," categories that feel oddly vague in scope. None of the founders of nonalcoholic beverage brands I spoke with claimed to have an alcohol addiction before starting their companies, and they seem to have people like themselves in mind as consumers: those who may not absolutely need to stop drinking.
But could these drinks help me? I've never had a totally successful dry January plan, so I set out to try a number of options on the market. I tried liquor substitutes, cocktail substitutes, aperitivos, and concoctions built from lavender, ginger, juniper, GABA, and more. The drinks sometimes left me craving real alcohol. On other nights, I got tired of all the cravings and dupes and receded to seltzer.
Photo: Courtesy of Kin
What it is: Founded by Jen Batchelor, who has a background in hospitality and wellness, and "kindred spirit" Bella Hadid, Kin Euphorics aims to turn drinking into an "act of conscious connection." The branding is filled with warm, inviting colors and vaguely spiritual language, a cross between appropriated Ayurvedic speak and new-age neuroscience. I tried their two mainstays: Kin Spritz and Kin Lightwave. Both contain "mood-boosting" ingredients like GABA, a chemical that occurs naturally in the brain and in certain foods and is supposed to reduce anxiety. Kin Spritz is marketed as a natural energy drink, a caffeinated blend of bitters, gingers, citrus, and herbs. Lightwave, which you can take as a nightcap, is meant for peace and calm. It's a floral, slightly soapy mixture of lavender, vanilla, passionflower, and smoked sea salts. "Think naked forest bathing at midnight," the website says.
How it feels: The Spritz was like an aggressively but not unpleasantly bitter, fruity beer with slightly vegetal notes. I drank it in the morning in lieu of coffee and felt like I was a college student again, drinking 5-hour Energy. Halfway through the second can, my armpits began to sweat. I took this as a good omen.
What it is: Ghia is modeled after aperitivos, the bitter, botanical, and usually dry alcoholic drink — think Campari, vermouth, Aperol, sparkling dry wine — consumed slowly before a meal to stimulate the appetite. Ghia's main ingredients are extracts of nervines, herbal tonics derived from things like chamomile and valerian that supposedly support the nervous system and calm anxiety. Other ingredients include yuzu extract for acidity, riesling grape juice, elderflower extract, ginger, roots, and honey. It comes in a straight aperitif form — a concentrated crimson liquid you can pour onto seltzer or into a nonalcoholic cocktail of choice — and in "le spritz" form, individual cans that come in two flavors: Ghia soda and ginger soda.
How it feels: Of the products, the aperitif was the most fun. I liked uncapping the hard liquor–looking bottle and pouring streams of it in my seltzer. Ginger dominated the flavor profile, making for a drink that was plenty bitter, a little spicy, and tasted like something at the wellness juice bar of an unaffordable luxury gym. Ghia drinkers recommend pairing it with ginger beer and lime wedges or with club soda and orange slices.
What it is: The former president of Poo Pourri and the co-founder of a popular Dallas fashion brand teamed up last year to launch Starla, a line of alcohol-removed wines. These start off fermented, but before they're bottled, they're dealcoholized — either through filtration or a spinning process. Starla wines come in three varieties: a red blend with lavender and fig, a Sauvignon Blanc with a "sultry white peach blossom parfum" infusion, and a sparkling rosé with "sweet gardenia" undertones. In addition to being alcohol-free, Starla advertises itself as low-carb, low-sugar, and low-calorie.
How it feels: Of all the substitutes, I struggled with these. I'm a big wine drinker, so it was hard for me to appreciate the strangeness and sharpness of alcohol-free wine. I could only fixate on the lack of alcohol. For me, the sparkling rosé — a fizzy gardenia tonic with berry undertones — was the best of the lot, probably because it could pass as something entirely other than wine.
What it is: Founded in 2018, ISH is a Copenhagen-based company that designs nonalcoholic liquor and cocktail substitutes for "mindful drinking." The idea is to replicate familiar flavors of alcohol, and the company uses a wide range of botanicals and other natural ingredients to make them. I tried the GinISh substitute, as well as two canned nonalcoholic cocktails: an Aperol-like SpritzISH and a lime DaquiriISH. The SpritzISH contains a blend of cinnamon, gentian root, quinine, citrus, and a hint of chili. The DaquiriISH combines RumISH with lime and raw sugar.
How it tastes: All three of these drinks tasted alarmingly like their alcoholic counterparts. My favorite was the SpritzISH, which I poured into a wine glass with a slice of orange for the full effect. It was spot-on, plenty bitter and herbaceous, and the hint of chili mimicked the slight burn of alcohol. The dupe was so close that by the time I got to the bottom of the glass it felt strange to not have a buzz, and I poured myself a glass of alcoholic wine afterward to get one.
What it is: Harmony is an earthy, lo-fi nonalcoholic brand that uses plant-based ingredients to make spirits and aperitifs that promise to calm and settle you. They're meant for slow sipping, and unlike ISH, they aren't meant to taste like alcohol. The drinks come in two variations: Harmony Alpine Digestif, made to taste like pine, mint, and bitters, and Harmony Smoked Aperitif, which blends notes of citrus, smoke, and spice.
How it tastes: The mint, bitterness, and pine of the Alpine Digestif all came through, but the combined effect felt strongly medicinal. That said, the bitterness made for extremely slow sipping, and it was certainly more pleasant than drinking certain liquors neat. I sat very still and tried to meditate, reflecting on another tried-and-failed dry January. Then I texted a friend, wondering if she had any edibles on hand.