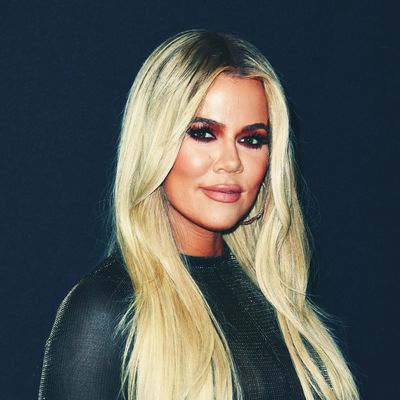 Photo: Jon Kopaloff/FilmMagic
There's a lot about the life of a Kardashian that I will never understand. The hours-long glam sessions to go get gas or groceries, the obsession with white furniture in homes with small children, the elaborate cookie and candy displays that no one appears to eat, and now I can add Khloé Kardashian's Khloé-shaped pillow to the list.
On Sunday, January 9, Khloé debuted her newest family member, a small gray kitty, in a series of photos on Instagram. Although she didn't identify the cat as hers, the photos of her daughter, True Thompson, snuggling the sweet kitty seemed pretty self-explanatory, making Khloé the third Kardashian sister to adopt a cat over the holidays. (Kylie Jenner and Kim Kardashian both posted about new kittens on Instagram around Christmas.) But as cute as True and the cat are in the photo, the background is what really caught my eye. Behind True, you can see a bench covered in stuffed animals. There's a giant poodle, a flower stuffy, and … a giant pillow printed with Khloé Kardashian's photo on it. I have questions.
It's hard to tell exactly how big this pillow is, but given that it towers over the giant poodle beside it, I'd say it's got to be at least a couple of feet. That's a lot of Khloé-shaped pillow. Why is it in what I assume is True's playroom? Why not? The main question is, Where did it come from?
Based on pillow Khloé's blonde bob and blue jumpsuit, this looks like the pillow Tristan Thompson posted on his social media way back in June 2020. At the time, he shared a photo of a Khloé pillow on his Instagram Stories, writing "lawd gawd" with heart-eye emoji. Based on Thompson's photo, the pillow seems to feature a picture Khloé had posted on her Instagram in February 2020. The pic shows off one of her many confessional looks from Keeping Up With the Kardashians season 18.
Khloé doesn't really seem like the type to order a pillow of herself (at least I hope not), and Tristan posted the photo right after Khloé's birthday, which suggests to me that she received it as a gift. So while I have serious questions about your gift-giving skills, whoever gave this to her should rest assured that she has not attempted to resell it on the Kardashian Kloset, nor did she give it away. Here it is, in this very bright room, hanging out with True and a cat.