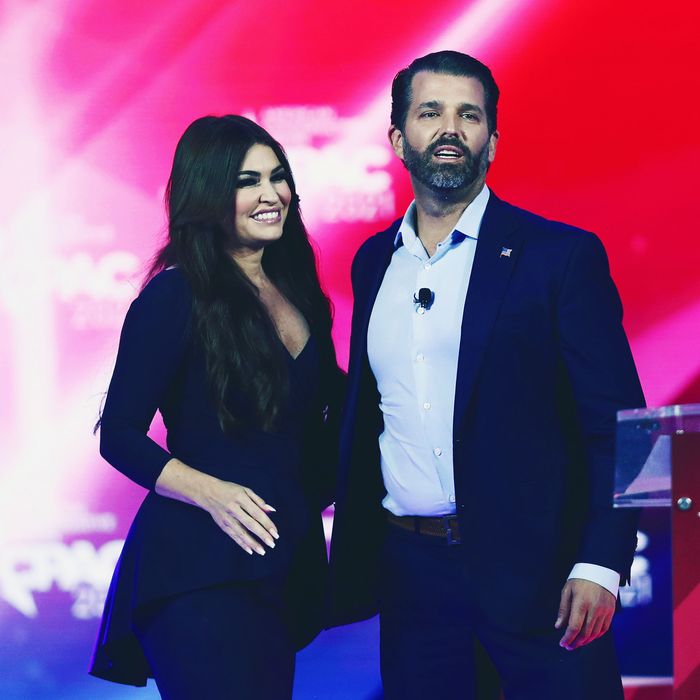 Photo: Joe Raedle/Getty Images
It's as good a time as any to check in with Donald Trump Jr., the eldest son of former president Donald Trump. What do you think Don Jr. is up to? For one thing, he was subpoenaed on Monday as part of New York State's investigation into his father's business practice. What else? Aside from texting his dad and filming a video inside what may or may not be a gun-lined bunker, it turns out Don Jr. has also spent the past year enjoying life as an engaged man.
According to "Page Six," the former president's oldest son has been engaged to his long-time girlfriend, former Fox News correspondent Kimberly Guilfoyle, for almost a year. The Daily Mail reports that Junior proposed on New Year's Eve 2020, and that the couple has kept it hidden from the public since. Maybe he didn't want to outshine his sister Tiffany's iconic decision to get engaged the day before her father left the White House.
Don Jr.'s engagement went public thanks to Guilfoyle, who broadcast it not through her impressive vocal athleticism but via an Instagram post in which the diamond ring was featured prominently on her engagement finger. According to one source, the ring is "almost" 8 carats, which is a very Trumpian way of describing a 7-carat ring. While it's not clear if a wedding date has been set, there is no telling what horrors await us during this union. A rehearsal dinner at Four Seasons Total Landscaping? Haunted teddy bears at all the guests' tables? Will Guilfoyle make a toast that raises Satan himself from the depths of hell? Maybe marrying one of his father's top fund-raisers will finally get Don Jr. a kiss from daddy.