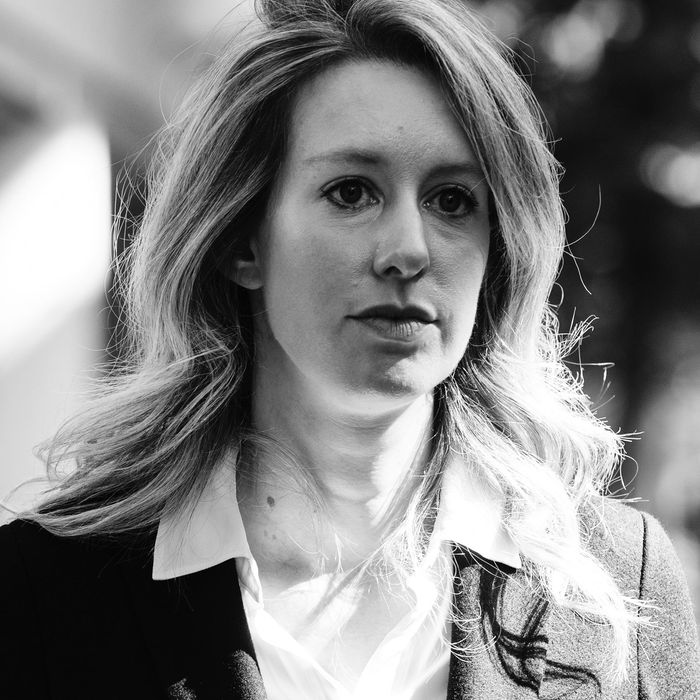 Elizabeth Holmes
Photo: Michael Short/Bloomberg via Getty Images
Elizabeth Holmes, self-styled "best businessperson of the year" and owner of one of the world's largest black-turtleneck collections, is now facing prison time for defrauding investors. On Monday, a jury in San Jose, California, returned its verdict: guilty on four counts on fraud.
Holmes is the once-rising star of Theranos, a company that claimed to have revolutionized blood analysis. Valued at $9 billion in 2015, Theranos claimed its machine could complete a suite of tests with just one drop of blood when really they didn't do much of anything at all — as documented by multiple podcasts, documentaries, books, and soon, both a feature film and a Hulu series. That its device fell short of Holmes's ambitious pitch led the company to lean on third-party machinery to keep up the ruse. That's according to prosecutors, who argued Holmes knew she was peddling a false promise to investors and customers and, in 2018, charged her with 11 counts of criminal wire fraud because of it. Holmes's defense team, meanwhile, painted her as a young and naïve tech dreamer — she dropped out of Stanford to launch Theranos in 2003 — who bit off more than she could chew. Her trial started in September after repeated coronavirus-related delays.
Throughout the months of court proceedings, jurors heard from the prosecution's almost 30 witnesses; they also heard from Holmes herself. The disgraced founder testified for more than a week, insisting she did not intentionally mislead anyone. She also accused Ramesh Balwani, her ex and former business partner, of emotional, physical, and sexual abuse, saying he exercised tight control over her personal life and professional decisions. Holmes was 18 when she first met Balwani, then 37, and eventually, he became her company's president. His influence, she said, totally undercut her confidence on the job. When she found out the technology didn't work in 2016, she said, she moved out of their shared apartment.
While the abuse narrative put the mostly male prosecution team in what NPR calls an "awkward position," it also marked a departure from her defense up until that point: Her own account had made her sound like an especially involved, omniscient CEO rather than an inexperienced newcomer. Balwani, for his part, denied Holmes's allegations through an attorney and is set to stand trial on the same charges early this year.
Each of the four fraud charges — three counts of wire fraud and one count of conspiracy to commit wire fraud — carries a maximum sentence of 20 years in prison. As for the other seven charges, the jury found her not guilty of four counts of fraud relating to patients who had used Theranos's devices; it was unable to reach a verdict on the remaining three counts of deceiving investors. The judge overseeing her trial is expected to declare a mistrial for the hung charges, and her sentencing date will likely be set next week.