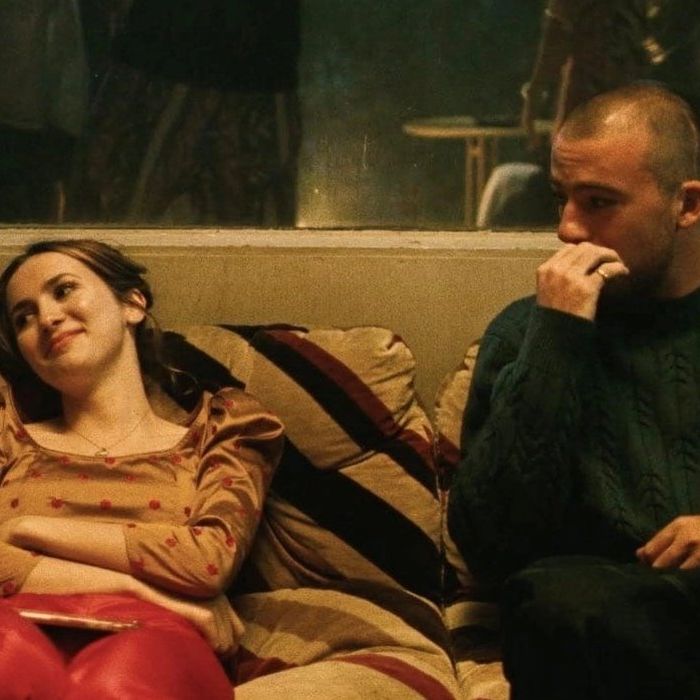 Last week's season premiere of Euphoria introduced an unexpected, though happily embraced, romance. Of course, some people, myself included, have been a fan of Fez (Angus Cloud) for a while, and who doesn't love Lexi (Maude Apatow)? For a show featuring a lot of big personalities, these two might be the most relatable, even if one of them is a drug dealer who finds himself occasionally carrying a gun or two. So when they found themselves seated next to each other at the New Year's Eve party, the two most different characters somehow ended up in a deep conversation about God and friendship. It felt innocent and honest, and I blushed hard watching it. They weren't just getting along, but were flirting! But after a successful conversation and securing Lexi's number, Fez beat the shit out of Nate, which we loved, but left Lexi looking worried. Did I get my hopes up for nothing?
After this week's episode and all the drama that unfolded, it's still hard to tell. Rue's voice-over finally allows us a peek inside Lexi's head: "How could Fezco be so kind to her and so violent towards Nate?" she says. "He actually cared about what she had to say, and then ten minutes later, almost beat Nate Jacobs to death. And even if Nate deserved it, it was a horrible thing to do." Lexi's thoughts turn existential. She thinks about "how she's always been so passive, how she never had the courage to say anything." We see flashbacks of her dad sneaking out of their house and watching Rue do drugs. She decides she's going to take control of her life, and that means biking off gloriously to go see Fez. Yes!
Like everyone else, I want Lexi to have something for herself this season. She's constantly living in the shadow of her older sister Cassie (Sydney Sweeney) and often on the sidelines of her best friend, Rue (Zendaya). And I'll be damned, I think she might just end up with the hottest man on the show! Have I ever shipped a couple so hard? Like everything in Euphoria, it won't be easy, but this might just foreshadow what's in store for Lexi this season if she decides to stop sitting on the sidelines.
As Lexi hops off her bike at Fez's store, he smiles, they're all cute, and I'm blushing again, until she sees Faye — the girlfriend of another dealer — and her face drops. She's only there because Fez is letting her crash at his place while she avoids the cops. I wish I could tell this to Lexi. I want to yell, He likes you. He doesn't like her! Instead, Lexi looks between Fez and Faye. "Are you two …?" she asks. "Yeah, no, she's just staying with me for a bit," Fez says. It's a bad answer. Lexi looks away and says she's just there for a drink as my heart drops. Then Nate's dad shows up with a gun and makes a ruined moment even worse. Only in Euphoria.
All I can pray for now is that Fez stays alive and I can finish this headline next week with "K-I-S-S-I-N-G."