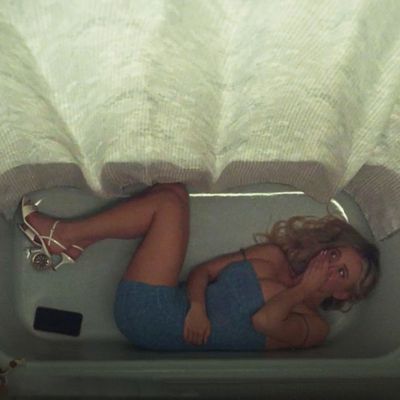 After a way too long three-year hiatus, Euphoria has returned. Known for its glittery aesthetic and inaccurate portrayal of high school, the show welcomed us back into the arms of our favorite East Highland teens in the best way it knows how — chaos.
After season one ended with drug dealer Fez (Angus Cloud) getting raided by cops and Rue (Zendaya) suffering a possibly fatal overdose, it's nice to see the two together at the beginning of the episode. That is, until it becomes clear they're on their way to a deal with someone even more terrifying than Fez's old boss. But it's not until we get to the raging teenage house party that things really start to unravel.
Upon arriving at the party, Lexi (Maude Apatow) spends most of her time running around asking if anyone's seen her sister, Cassie (Sydney Sweeney). When the rest of the friend group — Maddy (Alexa Demie), Jules (Hunter Schafer), and Kat (Barbie Ferreira) — shows up, we finally get our answer. As Maddy makes a beeline for the bathroom, declaring that if she doesn't pee she'll get a UTI, we get a look at just where Cassie has been.
Turns out Cassie — after getting into a fight with Lexi and ditching her on the way to the party — found herself sitting outside a gas station when none other than Nate (Jacob Elordi) shows up. He buys some beer and offers Cassie a ride. At this point, the rest of the world and I are screaming "no" at the TV. It seems like we're the only ones that recognize Nate for the (admittedly hot) villain he is. I expected Cassie to register it, since he did choke her best friend Maddy back when they were dating, but maybe it'll be fine. Maybe it's just a ride? He opens beer bottles with his mouth (ew) and starts driving way too fast, scaring Cassie until he hits the brakes and she spills beer all over herself, laughing. Next thing you know, Maddy is banging on the bathroom door where Cassie and Nate are having sex. Wait … having sex? When Cassie realizes who's outside, she breaks out in sobs, not moving or putting her clothes on, as Maddy continues to pound on the door for what feels like forever. The longer this scene went on, the more anxious I got. Aren't parties supposed to be fun?
Finally, Nate leaves the bathroom as Maddy heads in, and the camera pans over to Cassie hiding in the bathtub, clutching her hand over her mouth. It feels like a horror movie. As Lexi keeps looking for her sister at the party, Cassie's ex, McKay, shows up, looking to talk to her. Of course, now everyone is looking for her. Outside the bathroom, Nate keeps peering at the door while talking to McKay and sees that a guy went in with Maddy to smoke a joint and hit on her. Meanwhile, Cassie is still lying in the tub, hiding behind the curtain. How long has it been? It feels like forever and even though it's a show, I started to sweat and wonder how the hell Cassie's going to get out of this. Of course, Cassie's phone starts ringing, sending me into a panic. The two look over to the tub, and the guy moves from the sink toward it. "Hey, look, some girl passed out in here," he says as he pulls back the curtain. "Who cares? Wanna dance?" Maddy answers, hopping off the sink and heading straight out the door, not even looking down at the tub as she leaves.
I have no idea how Cassie got through that; I barely did, and I was only watching. And for an episode that starts with a drug deal and ends with Nate getting beat up by Fez (thank God), it says a lot that the most anxiety-inducing part involved Cassie hiding in a tub. Season two is officially here — buckle up!