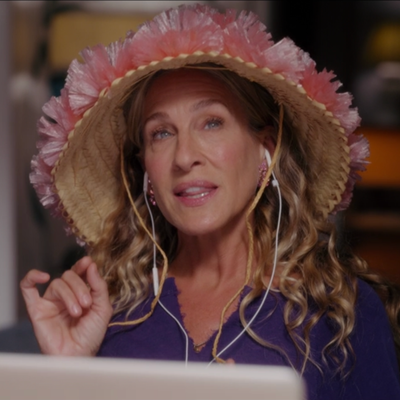 How do you measure a season of rebooted TV? Ratings? Episodes? Trending Twitter topics? In the case of And Just Like That …, I feel we must measure this first season by another metric altogether: hats.
How many hats have graced the once-again curly locks of Carrie Bradshaw in the past two months? Too many. We knew that something was afoot when a prophetic feathered cap made its first appearance on set. If only that hat had been enough! But no, it was a mere harbinger of the avalanche of hats to come.
In the world of And Just Like That …, there is a hat for every meal and every mood. Oversize hats. Tiny hats. Hats that are really just little discs perched precariously atop Carrie's head. Personally, I can't imagine looking at an outfit and thinking, Hmm, I absolutely must put something on my head. Which is maybe what makes them perfect for Carrie, a woman whose only flat shoe is a pair of Toms she bought in 2007 to "feel like a good person." Carrie is a total stranger to practicality. Her hats, much like her Manolos, tilt their little heads at you and say, "Functional? I don't know her."
And it's true, Carrie has always been a hat girl. A cursory search reveals at least three newsboy cap ensembles from the original Sex and the City, one of which involves hot shorts (bold). Though this season, they've become comically outlandish, as if she's desperately trying to replicate the confidence she once had. Shouldn't her friends be vaguely concerned that Carrie is shuffling around her own home in the largest sun hat known to man?
In honor of all this excessive hatting, I feel it is my duty to keep a running list of all the zany, perplexing, and frankly depraved hats that have adorned Carrie's head this season.
The Peter Pan Hat
The hat that started it all. What more can be said of this iconic homage to the boy who refused to grow up?
The Vinyl Hat
For her husband's funeral, Carrie dons a jaunty little disc — perhaps a nod to Big's love of jazz records?
The Lunch Hat
Just a casual little chapeau for lunch with friends.
The Asymmetrical Hat
Carrie first bonds with her new friend Seema while touring an apartment with a motorcycle inside. In honor of the occasion, she is wearing an asymmetrical straw hat with some sort of psychedelic scarf situation underneath. Hmm!
The Sculptural Hat
Here we have a black felt hat with an abstract sculpture slapped on the front. Is it a flower? Is it a snake? You decide! This hat is sort of meta, too, because while wearing it, Carrie digs up yet another hat, which she will wear in a later scene.
The Sun Hat
This hat is the first thing Carrie brings to her new luxury condo, which she hates. It is both an ode to absurdism and also a defiant statement against the copious amount of natural light this condo gets.
The Diaphragm Hat
Wow. Just … wow. This is peak hat. This hat single-handedly saved Carrie's podcasting career by emboldening her to tell a story about Samantha pulling out her diaphragm on air. Thank God for this hat!
The Fedora
Carrie wears this (relatively) understated fedora to go sari shopping with her new friend Seema. With her trench, it makes her look a little bit like a hard-boiled noir detective, which is pretty imaginative outfit inspo, if you ask me.