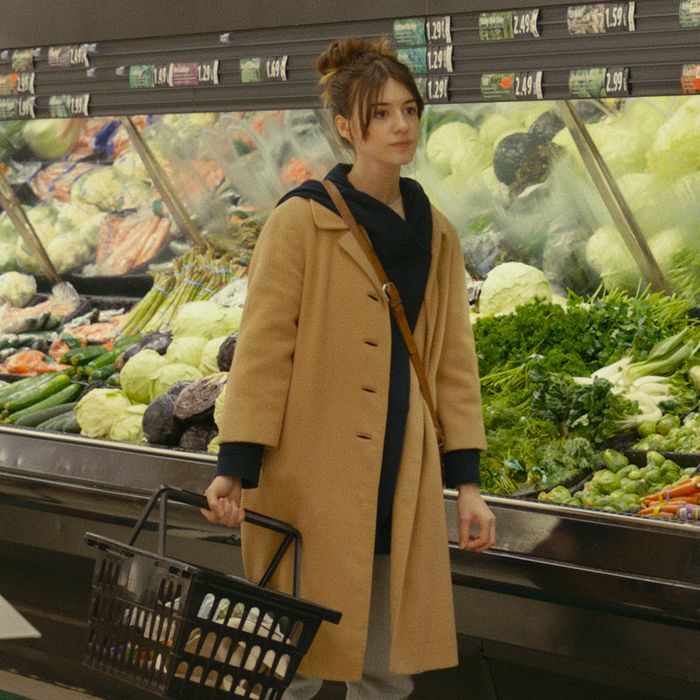 When I went out to eat with friends after I saw Fresh, I had to pass on the appetizer special. "I can't stomach meat right now," I said. "But it's Impossible meat …" my roommate replied. "I can't stomach anything that even looks meaty." Director Mimi Cave did this to me, and even though it's been a few days since I watched her horror debut, Fresh, I still haven't gotten my appetite back quite yet.
Fresh, which premiered at Sundance this week and is aptly described as a horror-comedy, is kind of like Promising Young Woman meets Get Out meets American Psycho. It follows Noa (Daisy Edgar-Jones) as she navigates the world of modern dating. Exasperated with the apps and awful first dates, the audience expects her luck might just turn around when she has an encounter with a cute man named Steve (Sebastian Stan) at a grocery store. "Have you ever had cotton-candy grapes?" he asks her. Cue the exchanging of numbers, lots of kissing, and what seems to be the beginning of a normal relationship until he suggests a weekend getaway after just a few days of knowing each other.
It's when Noa loses service on the way to their vacation, and the couple decides to stop at his house for the night, that my stomach began to drop. There were little red flags from the beginning, like Steve's lack of social media and his, shall we say, suspicious eating habits, but as the camera shifts to Noa's increasingly blurry point of view as she sips the drink Steve made for her, the long-delayed opening-credits finally roll, and I start to realize that this is, in fact, going to be upsetting.
For someone who doesn't like gore for gore's sake, Fresh feels purposeful when displaying it's violent elements, with fewer instances of blood than expected, and more moments of psychological horror. Given that, the most disturbing parts of the film are the ones that are implied: encounters with the shady men Steve deals in his illegal business with, and their suspiciously uniform taste in women. And, as one can expect, Noa herself is now imprisoned, tied up in a messy, complicated relationship with Steve, which allows Edgar-Jones to show off an impressive range of acting that we didn't get to see as much of in Normal People. As she tries to survive, Stan masterfully toes the line between despicable captor and thoughtful love interest.
Regardless of the horror, Fresh, on the whole, feels like the director is trolling us with a bad-dating story that hits the nail on the head, even if most of the elements are, dare I say, deliciously unrelatable. It is funny and it is gross and it made me quite anxious, but I would watch it again. No snacks though.
Fresh will be available on Hulu March 4.