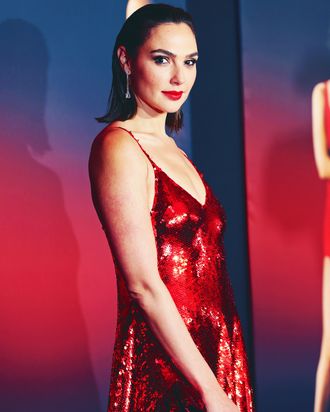 Photo: Amy Sussman/Getty Images
The New Year is traditionally a time for failed resolutions and, sometimes, a minute of reflection. Celebrities reflect, too! In a recent interview with InStyle, actress Gal Gadot finally addressed the infamous "Imagine" video that she posted to Instagram in 2020.
As you may recall, in March 2020, days after the WHO declared COVID-19 a national pandemic, Gadot tried to lift everyone's spirits with a little Instagram video. In it, she talked about how the last six (!!) days of quarantine made her feel "philosophical." Then, she started singing John Lennon's "Imagine," joined by more than 20 celebrities recording themselves from their mansions, backyards, and cars.
At the time, when, again, you may recall, businesses were shuttering, stay-at-home orders were trickling out, and emergency hospitals were being set up, this performance — posted with the caption "we are all in this together — was not exactly well-received. And it seems that Gadot got the message. Speaking to InStyle's Laura Brown, Gadot admitted that she now sees that the video was "in poor taste." She explained her rationale for making it, claiming she'd seen how the pandemic had progressed in Europe and Israel before the worst of it struck the U.S. (Gadot, who was born in Israel, splits her time between Tel Aviv and Los Angeles.) "I was seeing where everything was headed," Gadot said. "But [the video] was premature. It wasn't the right timing, and it wasn't the right thing."
She added, "All pure intentions, but sometimes you don't hit the bull's-eye, right?" A humbling reflection, indeed. Looking back, though, I'd argue that the video technically did fulfill Gadot's original intention, which was to unify us all (in hating it). Hindsight's 2020?