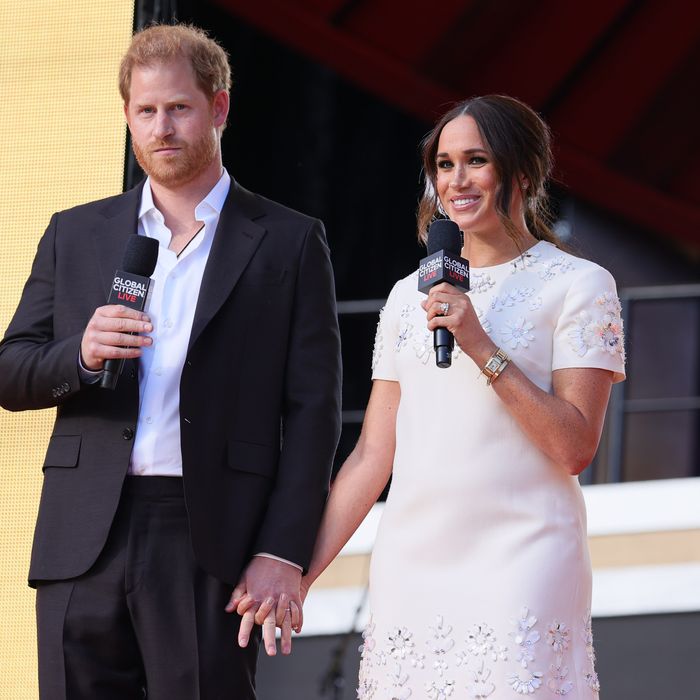 Photo: Theo Wargo/Getty Images for Global Citizen
The Spotify Exodus of 2022 is gaining steam, with Joni Mitchell and Nils Lofgren (of Bruce Springsteen's E Street Band) following Neil Young in removing their music from the platform to protest its continued support of podcast hosts who spread COVID-19 misinformation, namely Joe Rogan. And now Meghan Markle and Prince Harry have joined the cause — sort of.
On Sunday, January 30, Meghan and Harry released an official statement from their Archewell Foundation, which signed an exclusive podcast deal with Spotify in December of 2020. Though they didn't pledge to part ways with the streamer, a spokesperson for Archewell addressed the growing concern about COVID misinformation on Spotify, saying that Meghan and Harry had raised concerns directly to the company. "Last April, our co-founders began expressing concerns to our partners at Spotify about the all-too-real consequences of COVID-19 misinformation on its platform," read the statement in part. "We have continued to express our concerns to Spotify to ensure changes to its platform are made to help address this public-health crisis." The statement concluded, noting that Archewell will continue to do business with Spotify as they hoped the streamer would "meet the moment."
It's not exactly a call to #DeleteSpotify, but it's not nothing. Meanwhile, the movement is growing online, with a lot of focus on The Joe Rogan Experience, Spotify's most popular podcast. On his show, Rogan has touted the supposed benefits of ivermectin as a COVID cure (something that has been thoroughly debunked). He's also expressed his opinion that young, healthy people shouldn't get vaccinated against COVID-19 — again, going against the consensus of the medical community.
In Young's initial request that his music be removed from the site, he reportedly wrote, "They can have Rogan or Young. Not both." Rogan was also explicitly named in an open letter to Spotify signed by 270 members of the medical and scientific community, asking the platform to take a stronger stance against COVID misinformation. But it's not just Rogan who is spreading COVID misinformation on Spotify. In a statement to the Washington Post, Spotify claimed that it had "removed over 20,000 podcast episodes related to COVID-19 since the start of the pandemic."
It's unclear if any of these public statements will actually impact Spotify's anti-COVID-misinformation policy. As it currently stands, according to the Verge, Spotify prohibits flat-out COVID denial, "encouraging the deliberate contracting of" COVID, "suggesting that consuming bleach can cure various illnesses and diseases," telling listeners that masks are harmful to their health, and "promoting or suggesting that the vaccines are designed to cause death."
Given the popularity of Joe Rogan, it seems unlikely that a handful of musical artists taking away their music will make a dent in the company's bottom line. Maybe it's time for a different strategy, like the one proposed by James Blunt, who threatened to release more music on Spotify if Rogan was not removed.
I'm honestly not sure if this means he's pro- or anti-Rogan, but if Harry and Meghan aren't enough, the threat of another "You're Beautiful" infecting the minds of everyone on Earth should convince Spotify to do the right thing and keep COVID misinformation to a minimum.