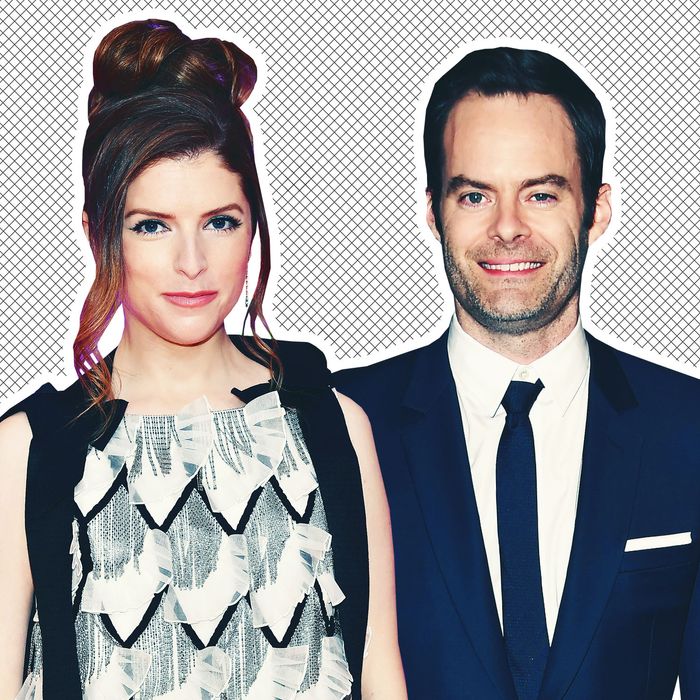 Photo-Illustration: The Cut; Photos: Getty Images
If 2021 was a series of unexpected couplings, 2022 is … pretty much the same. In the latest development from the plot-twist couple department, People reports that a cappella sensation Anna Kendrick and painfully sexy comedian Bill Hader have been secretly dating for a year. Surprise!
Per People's source, Kendrick and Hader met years ago. They've crossed paths publicly at least twice, first when Kendrick hosted SNL and then when they co-starred in an extremely Netflix Christmas movie where they played Santa Claus's kids. Apparently, though, playing Christmas siblings was not the catalyst for them to start dating. If People's timeline is to be believed, they didn't get together until sometime in early 2021. Huh!
Hader broke up with his last unexpected girlfriend, Rachel Bilson (of O.C. fame), in July of 2020. Meanwhile, Anna Kendrick broke up with her cinematographer boyfriend Ben Richardson at some point after 2019, when they were last seen holding hands. Neither Kendrick nor Hader has confirmed the relationship (I guess they didn't want to do a photoshoot at Carbone?), so we can't quite call them officially unexpected yet. In the meantime, I can only hope this means Hader's character on Barry will be moving on from improv to a cappella. A girl can dream.