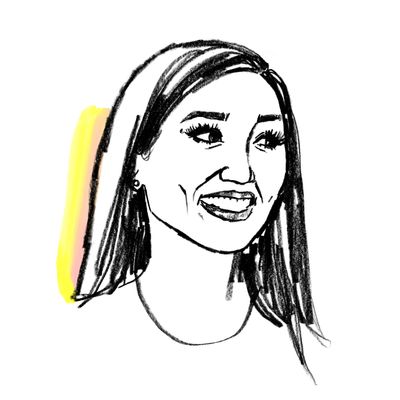 Illustration: Lauren Tamaki
The second season of the Hulu comedy series Dollface will be released on February 11. That means Brenda Song will soon return to our screens as chronic overthinker and PR representative Madison Maxwell. This season, Song says, art will imitate life: We'll see the girls (real-life friends Song, Kat Dennings, Shay Mitchell, and Esther Povitsky) reenter the world after the worst of the pandemic. For Song, it was a return to set not only post-lockdown, but postpartum too, having given birth to her son 12 weeks before filming began. "I was trying to do it all," she told the Cut. "That was really difficult." 
Originally from Sacramento, Song has been acting since she was a child. She landed her first television gig at age 11, and at 16 booked the breakout role of London Tipton on Disney Channel's The Suite Life of Zack and Cody. Song was a trailblazer for young Asian American actresses on the networks, navigating the industry at a time when opportunities for Asian Americans onscreen were few and far in between. Over the years, she's steadily made the transition from child actor to adult actor, appearing in projects like Superstore (2015), Changeland (where she met her fiancé, Macaulay Culkin) and the Netflix thriller Secret Obsession (2019). Song, whose mother is a four-time breast cancer survivor, is also an ambassador for Stand Up to Cancer. She currently lives in Los Angeles with Culkin, their son Dakota Song Culkin, and her mother, who's been helping out since the birth. "I feel incredibly lucky," Song says of balancing her acting career with the demands of first-time motherhood. "It makes it easier when you love what you do and you know your child is in good hands." Here's how she gets it done. 
On a typical morning: 
My routine looked very different nine months ago. Now it revolves around my son. I wake up, get him out of his crib, change him, get our breakfast ready, and drink my matcha. As a new parent, I don't sleep at all. I'm someone who likes to wake up and go-go-go. Now, it's when I put my son down for his first nap that I get my work done. I take that time to do emails and plan my day. I try to do everything in his nap-time window. If I have time, I'll work out — I have a little gym in my garage and do a lot of circuit training. To be the best mom, I have to be the best me. And exercise helps me not worry or overthink. So I try to find a little time. Sometimes I'll read and knit. I don't do phones in the morning.
What she's reading right now:
The Silent Patient by Alex Michaelides. I love thrillers. Patricia Highsmith is one of my favorite authors of all time. I'm a completionist. Even if I dislike the book, I have to finish it.
On something grounding she does every day: 
My boyfriend and I always get into bed and chat about our days and the next day. When I was working he'd wake up with me to chat. Now we do it at night, after our son goes down. It calms me. It sounds small, but I cherish it. It's nice to wind down with someone you love.
On a typical day of work and its challenges: 
On Dollface we had early starts. I'd be up around 4 or 4:30 a.m., go over my notes and scenes, and sneak in to give my son a kiss. On set you spend an hour in hair and makeup, and then there's not a whole lot of downtime from there. I'm not working in a coal mine or a hard labor job. What's difficult is the mental drain. You're not just working from "action" to "cut," but from the moment you step onto set until you're in your car headed home. Your energy drives the pace of the show, but keeping it going all day is exhausting.
The biggest challenge is being away from family. I know everyone feels that way. There were so many long days where I'd get home and my son would already be asleep. I put a lot of pressure on myself to keep pumping and breastfeeding him while I was working. I pumped throughout production. Me and Kat would sit there and go over lines. She was the best, hiding me and holding up my sweater while I pumped.
On the moment she felt she'd "made it" professionally: 
I'm still waiting for that moment!
On maintaining perspective: 
My mom is a four-time breast cancer survivor. A lot of my perspective changed seeing her fight for her life, literally every day. Everyone is so scared to grow old, and that's all my mother wants. She says, "I just want to grow old." So now I treat every single day as a gift. I want to enjoy the small moments, whether it's finishing a scene or a workout.
On her go-to treats for hectic days: 
I love sweets, especially pastries and chocolate. A half-croissant sparks joy. At work, I always have dark chocolate in my purse as a little pick-me-up.
On dealing with professional setbacks: 
I'm a 33-year-old Asian American actress in Hollywood, so I had to learn rejection at a young age. I'd go into auditions where no one looked like me. I'd be reading for the role of someone's daughter knowing I wouldn't get it, because I don't have blonde hair and blue eyes like them. The industry's changed a lot, but when I was growing up, I'd be lucky to get an audition for Girl No. 2 or Best Friend. That was my norm, and it's a terrible mind-set for someone so young. I've had to work past that and embrace who I am.
On the best career advice she's received: 
One of my good friends was also a child actor, and he made a successful adult career. As I was figuring out my place in the industry after The Suite Life, he told me something that resonated: Careers aren't defined by what you say yes to. They're defined by what you say no to. That's been a mantra of mine, being firm and strong in my nos. In acting, it's hard to say no. You feel like opportunities won't come around again. But you have to prioritize yourself.
On how her ambitions have evolved and what she still wants to accomplish: 
I want my career to be a staircase: moving up, finding jobs I love and working with people that I admire, and making a product I'm proud of. I think that's all you can ask for. I'm not going to sit here and say, "I want to win an Oscar one day." For me, that's not necessarily a goal. That's a by-product of working on a project you're really proud of. When I was younger it was more, I want to star in this movie, I want to work with this person. Now I just want new adventures, constant challenge, and growth.
On managing life as a new mom: 
My boyfriend and I are very hands-on. We don't have a nanny, but my mom has been here with us since my son was born. He's 9 months old now. When I was working, my mom would bring him to set so I could breastfeed and see him during the day. People tell you a lot about labor and pregnancy, but not about the fourth trimester. To my girlfriends that are pregnant I say, make sure you have help. Because your instinct is to want to do it all and you physically can't.
On splitting household duties: 
I think when you and your partner have kids, especially the first few months, you don't have the patience to be polite with each other. Being communicative when you need help is so important. Instead of having set duties, we just feel each other out. I'll be putting my son down and my partner is like, "Let me feed the animals and get dinner ready."
On going back to work after giving birth: 
I had no idea what I was doing. I went back to work so early. It was harder than I thought. I pride myself on always being first on set. So to be like, "Hey, I need 20 minutes to pump," was difficult. The hours away from my son took a toll on me. Learning my own boundaries while trying to take care of my son and my family — that was hard. But I had a great support system and knew my son was taken care of; I just had FOMO. Missing those hours with my newborn son, it pains me, but at the end of the day, Mama's got to put food on the table. You've got to make those sacrifices. Hopefully he'll understand.