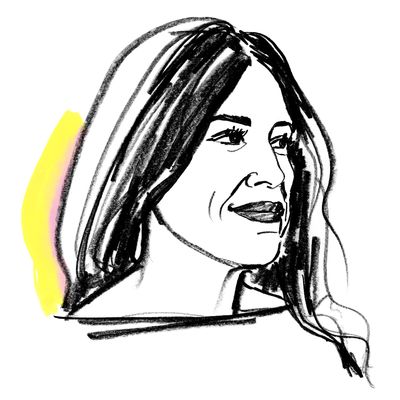 Illustration: Lauren Tamaki
As chairwoman of the Garcia Companies, Dany Garcia is the visionary behind more than a dozen successful enterprises and brands. That success is actually reflective of goals she's had since she was around 13 years old: "I had this really strong understanding that if I could create wealth, that I could change my family's life," she told the Cut. "As I got older and began to understand business, I realized I can also change the lives of everyone I work with." She got her start in finance at Merrill Lynch before moving into a private wealth-management firm. Then she left for Hollywood, managing ex-husband Dwayne "The Rock" Johnson's career. Although it sounds like a miscellany, all she's done has fed Garcia's greatest passion: building businesses. Now, her portfolio includes Acorns, Cava, ZOA Energy, Seven Bucks Productions (the production company behind Red Notice and the Jumanji reboots), Teremana Tequila, and her ready-to-wear fashion brand, GSTQ. Her 2021 acquisition of the XFL also made her the first female owner of a major professional sports league in the United States. And did we mention she's also a bodybuilder? She lives between Los Angeles and Orlando with her husband and four dogs. Here's how she gets it done.
On her morning routine:
I get up and check my Oura ring to see what my heart-rate variability is, how I slept, and what the physical state of my body is. The next thing I do is weigh myself, because usually I'm in a position where I'm either gaining muscle or getting leaner, so I need that feedback. I have four dogs so I let the herd out and then make a cup of coffee. I take about 20 to 30 minutes in the morning to just enjoy my coffee, have lap time with my amazing Frenchie, Franklin Washington, and center myself. My breakfast is usually bone broth, protein shake, oatmeal, or berries. I'll wait about 60 minutes before having a Zoa energy drink and then hit the gym. I train for about an hour and a half before my day starts.
On a typical work day:
It depends on the city, if it's Los Angeles or Orlando. On the West Coast, I wake up around 5:30 in the morning, and I tend to have more meetings with my agents or studio partners. On the East Coast, I wake up around 6:30. Mondays, Wednesdays, and Fridays are for Zoom calls, while Tuesdays and Thursdays are "blocked days" where I don't have any scheduled calls. Instead, I spend time looking over the portfolio of companies that I have, at consumer sentiment or a new philosophy that we can apply as we're bringing a film in and how it could tie into another one of my companies. I spend a lot of time researching and reading, whether it's technical or philosophical books. A lot of my inspiration comes not from reading business journals, but creativity, to set the tone of the companies I own or invest in. Evenings are dinner with my husband. I eat four times a day, at very specific times, and I usually have my last meal by 6 p.m. so that I have a big fasting window before I eat again. And spending time with the dogs anchors the nights. If I'm in a lean-down phase, there'll be another cardio session. Then I'm in bed by 9 or 9:30 p.m.
On having a regimented schedule:
There are so many moving parts to my life it has to be very structured and disciplined. As you start to get active and as your stress builds, you may not remember to eat or sleep. Since I have muscles to protect and grow, scheduling eating and resting is vital. The training is one thing, but if you don't do that then it goes away. So it's all really become a really good anchor in my life to maintain balance and health.
On prioritizing:
I prioritize according to the maturity of the companies, which all have their different life cycles. I even look at the talent that I work with as enterprises. Some are very new like GSTQ and XFL. Others are very mature like the Dwayne Johnson enterprise and Seven Bucks Productions. Depending on where they are in their growth cycle, they'll need certain touch points. I have a schedule that sets up formal monthly check-ins with my companies and enterprises so that everyone is on track and they understand their missions, challenges, and what we're doing. The intermediate is looking at the flow and looking at what's coming up. If my production company has film releases like Jungle Cruise, for example, then that takes a lot of priority. It's very now. You have to enjoy the flavor of something different every day, which I do enjoy.
On her favorite — and least favorite — parts of the job:
I absolutely love doing the researching and philosophizing to create the soul and ethos of all the organizations I'm involved with and seeing what their journey is in the future. It's extremely gratifying. Then on the flip side, I love the interactions when things actually get released, and I get to see all the feedback and hear what the consumer thinks.
Nine times out of ten, I'm breaking barriers, either financially or talent-wise. The negotiations when I'm breaking those barriers are always an incredibly heavy lift because I have to bring individuals along to understand the point of view. And there's always a little bit of conflict.
On managing stress:
I train daily, create meditation moments, and have an incredible family — my husband, my daughter, and the team I work with in the Garcia companies. I surround myself with people who are just at the top of their game, so that also automatically reduces stress. Last year, I was able to take all of August off with my husband. The philosophy of rest that I apply to my physique is what I've really begun to experience mentally, as well. I can push myself, but that doesn't create greatness. Resting creates creativity, openness to new ideas, and greatness.
On staying motivated:
Luckily, it's easy for me. Even if something doesn't work, I try again. I run on an engine that keeps wanting to learn, grow, and experience more. I love preparing and strategizing and then seeing it all pay off. It fuels me and gives me great joy, which also keeps me very motivated. I fire and promote myself all the time, which really takes full investment in accountability and awareness of what you're doing. I'm always reassessing, looking for improvement, and trying not to get attached.
On her latest venture, GSTQ:
When I was an extremely awkward 16-year-old in New Jersey playing the French horn, we played the Royal National Anthem, "God Save the Queen." I was like, The entire country is praying for the queen? I don't have anyone behind me in this way. I'm just going to take this phrase, and it's going to be my mantra. As I became very diversified in my career and moved from bodybuilding to Warner Bros. to then going back to meeting with financiers, I was struggling with wardrobe. So this mantra that I've been saying to myself and writing on everything is how I wanted to enter fashion. First of all, it's mindset driven. "Girl, I got you. You are the queen." Being athletic, as well, clothing always served a purpose, and I want to bring in that mentality to GSTQ's apparel. It has polish and swagger and can go from one thing to the other. Women are not defined by whether they're married or not married or by their age. That's what GSTQ is: fashion, community, and mindset. I've got you.