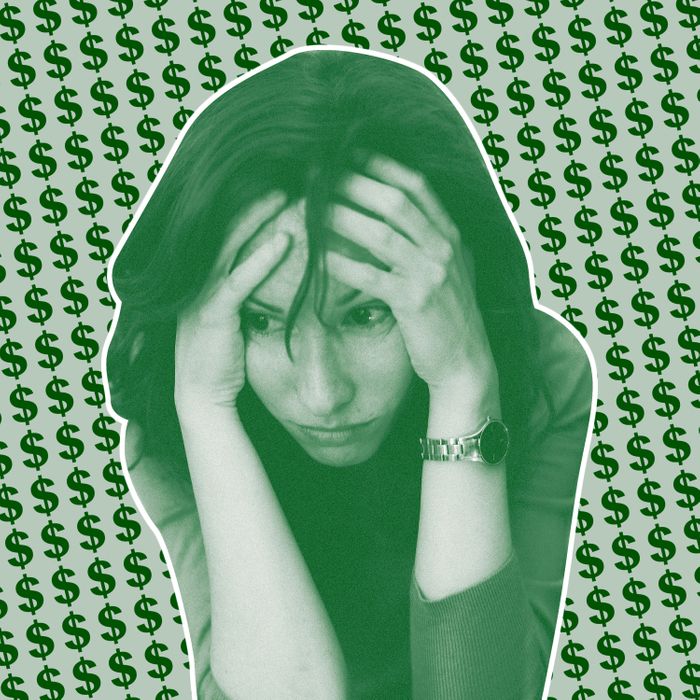 Photo-Illustration: by The Cut; Photo: Getty Images
I'm 27, and my partner and I have lived together since December 2020 and had been together for about a year before that. Our relationship is going well overall, and we've talked a little bit about getting married. The problem is that I haven't told him the specifics about my debt. He knows that I have student loans, but since they've been on hold since the beginning of the pandemic, I've been conveniently ignoring them. (I owe about $60,000 total between undergrad and my master's degree in teaching, and yes, I know it's bad that I'm in denial.) I also have about $15,000 in credit card debt, mostly from my early 20s. I pay the minimums every month. (Again, I know this is bad.) 
I make $66,000 from my job in education, and work has been incredibly stressful over the past two years, so the prospect of facing my financial issues has been overwhelming. I'm also incredibly ashamed of putting myself in this position, so it's not exactly something I'm eager to discuss.
My partner and I haven't talked much about finances because we started dating right before the pandemic, so we've never had to share any big costs like travel. We split our living expenses and it hasn't been an issue. He does not have student loans and has mentioned saving up to buy a home and have kids in the future. I want those things, too, but I'm worried that my financial situation could complicate matters. Part of me is hoping that I can fix this on my own and never have to tell him — this is my mess and I need to clean it up myself. But I also don't want to hide this, in case he feels like I've misled him. How do I come clean?
I get the pickle you're in. It's normal to want to protect people you love from your messes and to feel like you have to clean them up before anyone finds out. But the longer that takes, the more your omission starts to seem like a lie and the bigger the fallout will be.
So you need to tell your partner about this, obviously. And he might get upset. You can't control his reaction, but you can communicate in a way that sets valuable groundwork for how you'll work together (and separately) through other sticky spots in the future. Plus, involving him in your plan to get out of debt could also help you follow through.
Before you dive in, though, it's worth extending yourself some compassion. The pandemic has been especially rough for educators, and while that isn't an excuse, it's understandable that you didn't have the bandwidth to make perfect financial decisions. What's more, a lot of debt is designed to be predatory. Your debtors didn't lend you money to be nice; they did it to make a profit. So the fact that you've fallen behind is very common and the product of systemic issues as well as your personal choices. In other words, you still need to take accountability, but don't waste energy being hard on yourself or ashamed of the position you're in.
You might think that the responsible choice would be to deal with your debt by yourself. But that's not exactly true, says Chrishane Cunningham, a therapist affiliated with the Chicago Counseling Collective. "Talking to your partner about your debt is part of taking accountability," she explains. "Partnership is about teamwork and facing adversity together. And if you're headed toward marriage, this is a perfect opportunity to work on those skills."
Note that teamwork does not mean you should ask for his financial help nor that he should feel pressured to offer it. At this point in your relationship, what he can be expected to give you is emotional support and encouragement. And you have every right to ask for it.
But first, you'll need to tell him. "It's important to acknowledge up front in the conversation that shame is what has kept you from talking about this with him earlier," says Cunningham. You're not assigning blame, but you want to be transparent and clear about why you've kept this a secret. "Explain that you want to build a life together where you are honest with each other, and that's why you are telling him about this — because you take your relationship seriously, and he deserves to know this about you."
This conversation will also go better if you approach your partner with some semblance of a plan, Cunningham adds. No one likes to have a problem dumped in their lap, and he could feel like you're asking him to solve it for you, which is not your objective. If you can outline the next steps you're considering — say, you have an appointment set up to talk to a certified credit counselor, or you've plotted out a timeline to consolidate and pay down your credit card debt — it shows that you're taking responsibility, even if the solution isn't fully baked yet.
Then, you'll need to do something difficult: Give your partner some time and space to process what you've told him. It took years to realize this, but I've found that tougher conversations with my own husband go much better if we start them with, "You don't need to respond to this now. Take a few days to think about it. I just want to put it out there, and we can talk about it when you're ready."
Notice how your partner reacts to all of this information. He might be angry or hurt that you didn't tell him sooner. He might also be upset that your situation could derail or postpone the vision that he had for you both — buying a house and starting a family might need to wait a little longer. These reactions are valid, and you can work through them, but how he expresses them is also notable. "Pay attention to how he treats you if he is upset about this," says Cunningham. You are both laying the groundwork for how you will talk about money and other challenging topics in the future, so it's good to know what you're getting into.
Your partner might also be concerned that your debt could become his down the line. In a more abstract sense, that will be true, because your financial situation will impact what the two of you can do and pay for together. But from a legal standpoint, any premarital debt remains yours after marriage in most states. So for better or for worse, he'll never be stuck with it against his will.
Conversely, there's also a chance that he will adopt a "what's yours is mine" stance and offer to help with your bills. That would be very generous, but it could also be sticky, especially since you don't know the full picture of his financial situation yet. Plus, you're still in the very early stages of even talking about money, and accepting his monetary help at this point could result in  some complicated dynamics. I think that you first come up with a plan that you can sustain on your own, and then if he wants to pitch in, you can discuss it.
Either way, I recommend that you keep talking about your finances regularly. A standing monthly "meeting" to go over bills and how you're doing more generally is a good idea for all couples, especially ones that need practice communicating about money.
Finally, no matter what your next moves are, make sure that you ask for support and guidance along the way. I've been in similar positions where I've stuck my head in the sand because I felt embarrassed or stupid about a financial problem, and the only way out is to admit it to someone I trust. "Whether you need the help of an individual or couple's therapist, a debt advisor, your partner, or your parents — ask for it. Because that's the only way you're going to get it," says Cunningham. This may be your debt, but it's not your sole emotional burden.