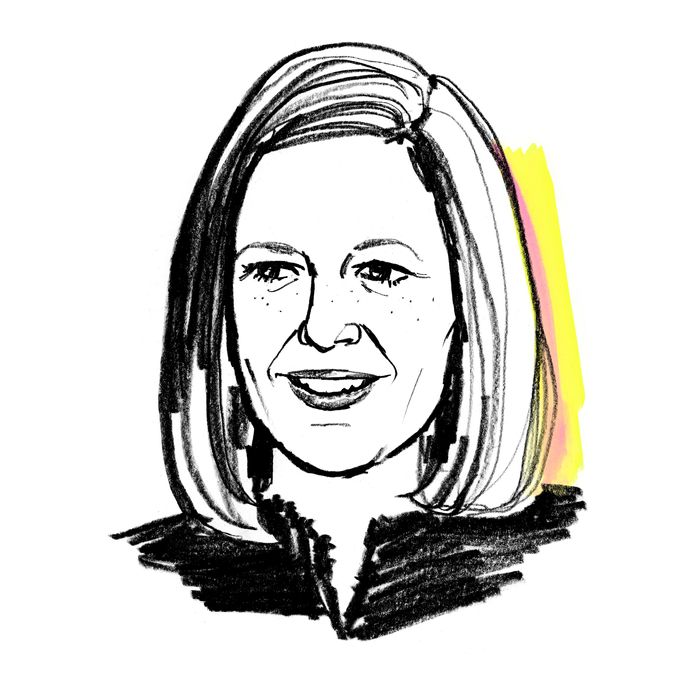 Illustration: Lauren Tamaki
When White House Press Secretary Jen Psaki stepped into the briefing room for the first time last year, it was seen as a return to a functional relationship between the administration and the press corps. Gone were the days of briefings simply never happening, of insulting journalists and exposing them to Covid-19. 
A veteran communications operative, Psaki started her career in her early twenties by knocking on doors with the Iowa Democratic Party, and worked her way up to President Obama's 2008 campaign. She followed him to the White House, where she spent several years, on and off, as the deputy press secretary, deputy communications director, and, later, communications director. In between, she also had a stint as the State Department's spokesperson under John Kerry. Which is to say, Psaki was more than prepared to take on one of the most high-profile and demanding jobs in Washington. She handles the pressures of the job by reminding herself that she has basically done this work before and looking for feedback outside of whatever narrative — positive, negative — dominates Twitter. A little bit of fun with her family and her team helps, too. 
Last summer, she said she planned to stay in the role for about a year — but don't expect her to walk away from the podium just yet. Psaki lives with her husband and two children in the D.C. suburbs. Here is how she gets it done.
On her morning routine: 
I get up at 5:15 a.m., sometimes 5:45 a.m.. I have a three and a six year old who — we're probably enabling them — come into our room in the middle of the night and get into sleeping bags. When I wake up, they're awake. That's the best quality time. Before most of the world is awake I can build Legos like I did with my daughter this morning. But I can't speak, really, before I have coffee. I also eat a lot of toaster waffles, which sounds really sad when I say it that way, but they can be delicious. I leave the house around 7:15 a.m.
On her typical workday: 
You never know what the day's going to look like when you wake up. Typically, I have meetings and calls from 7:30 a.m. to 9:30 a.m. The first is with my team. We talk about the news of the day. We have some laughs. We bat around what's going to be challenging, what we're trying to push out during the day. I have a bunch of meetings with senior staff and I spend about two hours with members of the press team and policy experts, talking about the big issues that are on the minds of reporters or the big news on that given day. I usually see the president around 10 a.m. I get guidance from him on what he wants to say, what he wants to project. I do the briefing early in the afternoon. After that, I have a follow up with my team, more meetings. Sometimes there's another meeting with the president, sometimes a review of upcoming remarks. I try to leave by 7 p.m. most nights so I can see my kids before they go to bed.
On facing public criticism:
I had a little flavor of this when I was the State Department spokesperson, because the Russian propaganda machine decided that I was going to be one of the top enemies and really went after me in a very aggressive, sexist way. When I first started this job, I had convinced myself that reading criticism — including the positive critiques — was good because I could have a better understanding of how people were digesting things I said. Over time, I realized how unhealthy that is. You shouldn't care what someone you don't know says about you on Twitter in a positive way, just like you shouldn't care too much if somebody who doesn't know you at all speaks negatively about you. Removing that from my daily consumption and looking for other ways to get feedback and to better understand whether what we're saying is working or not is a much healthier approach.
On unwinding after work:
On my best days, I have a good book I'm diving into. I just read Fates and Furies. I also love watching things that have nothing to do with politics. Some of them are fun, some are informative, some serious. I just watched Dopesick, which is about the opioid epidemic. Really incredible, sad, enraging, all of the things. But I also love Queer Eye and Emily in Paris. My kids are at the age where they are tough negotiators. Often, they're not asleep until around 9 p.m. So it really depends on the night, but when I have free time, that's what I do.
On handling child care:
You have to figure out what's going to work for you and, most importantly, your kids. We have an incredible nanny — she's a member of our family, and we would not be able to live our lives without her. It's not just because she takes wonderful care of our kids, it's because she provides stability and joy during a very challenging time in the world with COVID, but also at a time when I'm working a lot. My sister, brother-in-law, and their kids live five minutes from us. My husband's parents live in Ohio. It's a nine-hour drive, but they will come at the drop of a hat. My mother-in-law is a retired teacher and she spends an hour on Zoom with my three-year-old every day. My mother lives in North Carolina. She comes up all the time and will care for the kids. All of this makes it possible.
On dealing with the hard days:
I worked for President Obama for most of the time he was in office. Having been here before — having lived through heart-wrenching crises, disappointment, days where everybody in the universe is calling you out and telling you, "Your administration is horrible" — does make you a little bit more zen, makes you both relish and appreciate the incredible opportunity of being in a place like this, observing moments in history, as cheesy as that may sound. It also makes you a lot more chill when it comes to crises. That's been invaluable, even if I hadn't exactly planned it that way. I never really thought that I would end up in this job. The days that are horrible or challenging or feel soul crushing, I have a bit more perspective on.
On knowing when to leave a job: 
Well, you could get fired. [laughs] I do serve at the pleasure of the president. Every job is different. This job feels like icing on the cake to be here at this moment and for this president. I also have two little kids and they are magical unicorns in my life. I don't want to miss moments with them. Even though I try to be present, obviously this job requires a lot. That's just the nature of it. I have always been very open about the fact that I couldn't stay forever, even if I wanted to. What I always tell members of my team is that, if you still have the fire in your belly, stay and figure out what your next challenge is. It's really not about what the title is or what the company is. It's about your experience and what you can bring to the job. Be open, basically.
On how her relationship with work and ambition has changed over time:
I never thought of myself as ambitious, as someone who was trying to climb in my career, until I had my daughter. When I had her I was the White House's communications director, and I remember distinctly feeling very stressed and sad coming back to work. Then, I was sitting in my office the first day back and thinking, I love my job. Why do I feel guilty about that? When I had been thinking about taking that job, someone said to me, "You want to be able to tell your daughter one day you did this job when you were pregnant with her, when she was a baby." That's part of my parenting. I'm passionate about what I do, and I hope I can be a part of making the world a better place. And I hope that's what I pass along to them. I don't think I realized, or even would have said out loud, that I was an ambitious person until after I had my kids.
On failure and disappointment:
There are moments when you handle something poorly and you disappoint a boss. I think of moments I disappointed President Obama, which he would never remember, but still make me cringe. There are moments in your career when you don't get the job you want or think you should get. I was up for this job twice before, and it was heartbreaking at the time. One of the things I've learned is that people will disappoint you. I don't mean to be too dark. What I mean is, when I was in my twenties or early thirties, I would put mentors or put people I looked up to on a pedestal. My best advice would be to look at people for the gifts they have and what you can learn from them, and not to look to perfection, because that doesn't exist out there.
On helping her team grow:
I try to push people to do things that scare them. I've always found that taking risks is the best way to grow. That may mean trying to pull people into meetings they wouldn't, otherwise, normally attend; pushing people to go travel with the president, so they're the ones briefing him or prepping him for other meetings; telling them to go out and try doing television or radio. I don't want to pre-cook your journey, but I want to help push you to take risks and say out loud what it is you want it to be.
On what'd she tell her younger self:
Don't let anyone tell you who you are or what you are capable of. I have found that it is most comfortable for human beings to put others in a box: You are funny or you are serious, but not both. You are smart or you are playful, but not both. Truth is most people are a combo of a lot of different qualities. Even in my job now, a lot of people assume I am serious, direct — and maybe a little intense — all the time and that's only a flavor of who I am. I am goofy. I cry during Hallmark movies. I do dance parties with my kids. All of these are parts of who I am. So I would tell my younger self to keep yourself rooted in all the parts of who you are and don't let others define it for you.
This interview has been edited and condensed for length and clarity.